Adobe Premiere Rush and Pro are in the same category, but both are for different audiences. No matter how many times you use both, you will always like one over the other. The article discusses those two programs and covers Premiere Rush vs. Pro.
The main difference
Premiere Rush is a simple video editor designed for vlogging-style videos, whereas Premiere Pro is an all-in-one video editor offering a wide range of options to edit from social media videos to commercials to even movies.
Both are available in the Creative Cloud package but are also available individually.
Premiere Rush is not a part of Pro, but Rush projects can be opened in Pro as most Rush features are available in this tool.
Premiere Rush
Premiere Rush is a reduced-featured version of Premiere Pro. It's available on desktop computers and mobile phones. Due to its features, it is only offered on a limited number of Android and iOS devices. It takes about 1.8 GB of storage on a Windows PC.
It can sync projects automatically to the cloud (premium required), letting you work on a supported platform at any time. This makes it perfect for bloggers to record and edit while traveling.
Premiere Pro
Premiere Pro is a widely used editor used by YouTubers, freelancers, and people in the video industry. It is available for Windows and macOS devices.
The program on its own is massive, but what makes it perfect is the integration with other programs. It is integrated with After Effects, Photoshop, Illustrator, and other Adobe apps to work on projects that just don't require Premiere Pro.
For example, you can create motion graphics in After Effects and import them in Pro with a few clicks. The program requires about 4.15 GB of storage on a Windows PC.
Ease of use
Premiere Rush is much easier to use. It has a basic layout where you find transitions, audio, graphics, and audio options to the right and sub-tools like graphics and sounds to the left. It is a zoomed-in tool, so you see all options in bigger text.
Premiere Pro is complex because we find several options on the interface. However, there is one thing that makes Premiere Pro a little bit easier is the workspaces. These include editing, color, reviewing, effects, text, and graphics.
According to the set workspace, you see the panels on the interface. The tool is also customizable to let you move around sections.
Importing and exporting
Both support the most common formats, including:
Although both are fine, there are occasions where you find both not playing some files. Overall, Premiere Pro supports more file formats.
Premiere Rush only supports exporting in MP4, but it comes with a few presets such as 720p, 1080p, and even 4K resolution.
On the other hand, Pro supports most of the video, audio, and image exporting options. It comes with platform-specific settings for YouTube, Vimeo, Facebook, Adobe Stock, Apple Devices, etc. Regarding the file support, here is the list:
AAC Audio
AIFF
Animated GIF
Apple ProRes MXF OP1a
A5-10
A5-10
AVI
AVI (Uncompressed)
BMP
DNxHR/DNxHD MXF OP1a
DPX
GIF
H.264
H.264 Blu-ray
HEVC (H.265)
JPEG
JPEG 2000 MXF OP1a
MP3
MPEG2
MPEG2 Blu-ray
MPEG2-DVD
MPEG4
MXF OP1a
Open EXR
P2 Movie
PNG
QuickTime
Targa
TIFF
Waveform Audio
Windows Media
Wraptor DCP
Text options
Both come with text titles. In terms of quantity, we find more on Premiere Rush. The tool has a vast number of animated graphic titles to add to the video. After adding a title, you get a font, font size, colors, and other related data.
Premiere Pro, on the other hand, also has several text titles. As mentioned, it supports importing text titles, and there are services like Mixkit that offer free and premium titles to import.
Furthermore, you get more control because the program has customization options, including color, size, position, and other title-specific options.
Finally, you can use keyframes to change sizes, position, rotation, and other properties at any location of the clip.
Related: Adobe Premiere Rush vs. Elements 2022
Audio options
One of the things that make Premiere Pro and Rush different is the audio library. Premiere Rush comes with a free audio library to use in your projects. Premiere Rush comes with a free audio library to use in your projects. You find a lot of free music and sound effects to use in your projects.
Other than music, Premiere Rush has a few audio adjustment options. Those include:
Mute audio
Change audio volume
Change voice type (voice, music, or other).
Auto volume to adjust the volume levels
Balance sound
Reduce background noise
Reduce echo
Enhance pitch
Mute and unmute audio channels
Some of the above options change according to the selected voice type. Those quick-to-apply options make Premiere Rush a perfect app for bloggers who need a tool that does the basic tasks quickly.
Premiere Pro does not have an audio library but is integrated with Adobe Stock to search, purchase, and download music.
It can do all the options mentioned above and more, but applying those takes a little bit of time and knowledge. This makes Premiere Pro an industry-leading program for adjusting the video and audio.
Both programs support the voice-over feature to record your voice in the project.
Video effects
Like the other sections of Premiere Pro vs. Rush, this section goes to the latter. It offers many effects for cropping, blurring, and coloring the clip. Premiere Rush has some effect presets that apply filters to clips.
Transitions
In terms of transitions, Premiere Pro is the king. It already has several transitions, and you can download free transitions to add to the project.
Premiere Rush has 15 transition effects as of writing this article. Both tools allow you to adjust the transition time.
Stock content
What we discovered in the audio section is what you get in Premiere Rush. However, there are many services that offer free stock music and videos.
Related: Kdenlive vs. Premiere Pro
Other options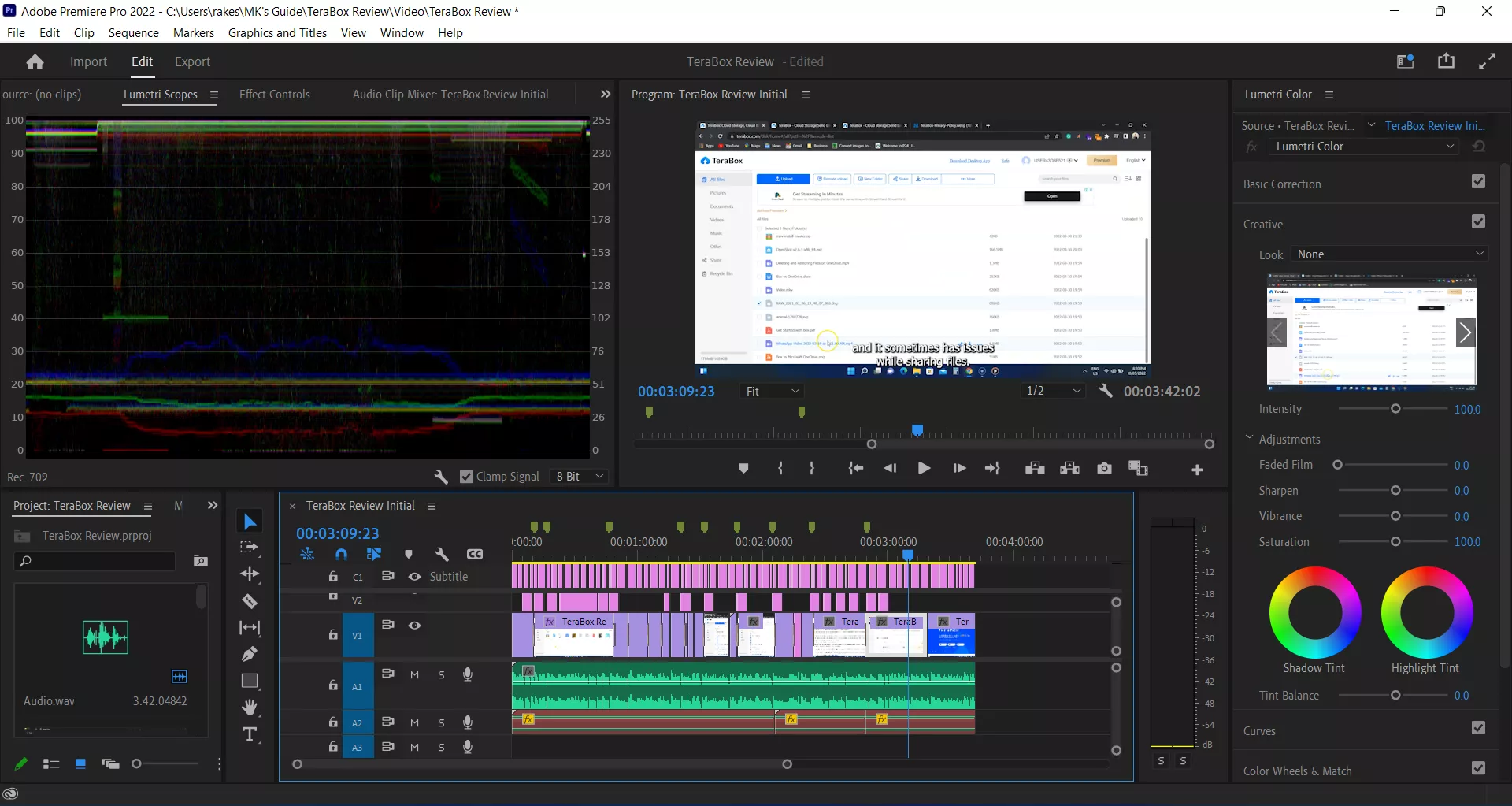 The limit of Premiere Rush is just half of Premiere Pro. It offers other options that we don't see in the former. In fact, many professional video editors do not offer some of those options. Here is the list of some:
Caption editor
Audio caption generator
Advanced keyframes
Video and audio effects
Video reviewing
Color grading
Sequence management
Working on multiple projects
Team projects
Razor tool
Shape tool
Slide tool
Layers
Also, because the program offers so many options, you need a computer with high-end requirements to perform many of those tasks. For example, editing a 4K video requires at least 16 GB of RAM.
Pricing and plans
Adobe has managed to provide simple plans. Premiere Rush is free initially for unlimited exports.
The difference between the free version of Rush and the premium is that you get more graphics titles and audio in the premium plan. You also get online storage to save projects and media files.
Premiere Pro is not a free program. You can try it for 30 days, but you will have to pay after that to keep using it.
Of course, both can't be purchased with a one-time payment, which means you will be paying as long as you use either. Let's break down the pricing.
Premiere Rush is $9.99 per month. You can save some money by paying $99.99 per year. On the other hand, Premiere Pro costs $20.89 per month on the yearly contract. You can save a few bucks by paying $239.88 upfront for the whole year.
Both are also available in the Creative Cloud Package, which costs $52.99 per month on the annual contract. The package comes with over 24 apps, including Photoshop, Lightroom, Illustrator, Audition, and those two.
Premiere Rush or Premiere Pro?
It all depends on what you want to achieve. If your goal is just to upload vlogging videos to social media, Premiere Rush is all you need.
If you want to sit at your desk and briefly edit and polish your video, you must try Premiere Pro. Even though it's complex, and some of its tools may not be applicable to you today, those most likely will be in the future.
Premiere Rush vs. Pro: Links
Wrap up
I hope the article Premiere Rush vs. Pro helped you find the perfect app. I have been using Premiere Pro for a long time and Premiere Rush for over five months, and I can say that Adobe is working on both to ensure that the users don't go anywhere else.