Pros
✔️ Completely free
✔️ Open-source
✔️ Several video effects
✔️ Several audio effects
✔️ Many composition effects
Cons
❌ Occasional crashes
❌ No GPU acceleration
Final verdict
Kdenlive is a bit complex to use at first, but if you are looking for a free video editor, Kdenlive is the program you can at least try.
It offers editing options and great effects to help you create basic to advanced YouTube videos.
Specifications
Service type: Video Editing
Supported platforms: Windows, macOS, and Linux
Offline: Yes
Ease of use: Easy to medium
Pricing: $0 per month
Rating
Rating: 4.5 out of 5
What is Kdenlive
Kdenlive is a free and open-source video editor for Windows, Mac, and Linux offering industry-standard tools and a wide range of audio, video, and composition effects.
Editing options
Kdenlive has many editing options to take simple videos to the next level. From tracks to snapping, you have the below editing options:
Multi-track editing
Audio volume adjustment
Razor tool
Video snap
Markers
Project saving and opening
Basic caption editor
Audio mixer
Color analyzer
Basic audio editor
Project notes option
Effect keyframes
Audio recorder
Subtitle editor
Audio mixer
Option to record voiceover
Kdenlive review: Complex to use
After using it for hours, I concluded that Kdenlive is in the medium difficulty range. It's not as tricky as the complex premium program, whereas it is not as easy as tools like OpenShot.
A beginner must watch a tutorial video or spend a few hours learning about the program. However, the company has made it possible to help you learn each section separately by offering workspaces.
Workspaces are views of the program that only show the required components on the interface. For example, if you enable the Audio workspace, you will see only the related and required tools. Kdenlive comes with five workspaces:
Audio
Color
Editing
Effects
Logging
You can enable any in the top-right section. The editing is the main workspace, whereas the color workspace lets you analyze the clip colors.
Related: Kdenlive vs. OpenShot
Tracks and timeline
Kdenlive takes the same approach with tools like Premiere Pro and DaVinci Resolve. We have two audio and two video tracks. You can mute an audio track or hide a video track from the preview window.
A new track can be added at any time. Kdenlive supports adding video, audio, AV, and audio record tracks. So, yes, you can record your voice if you like.
An advanced text editor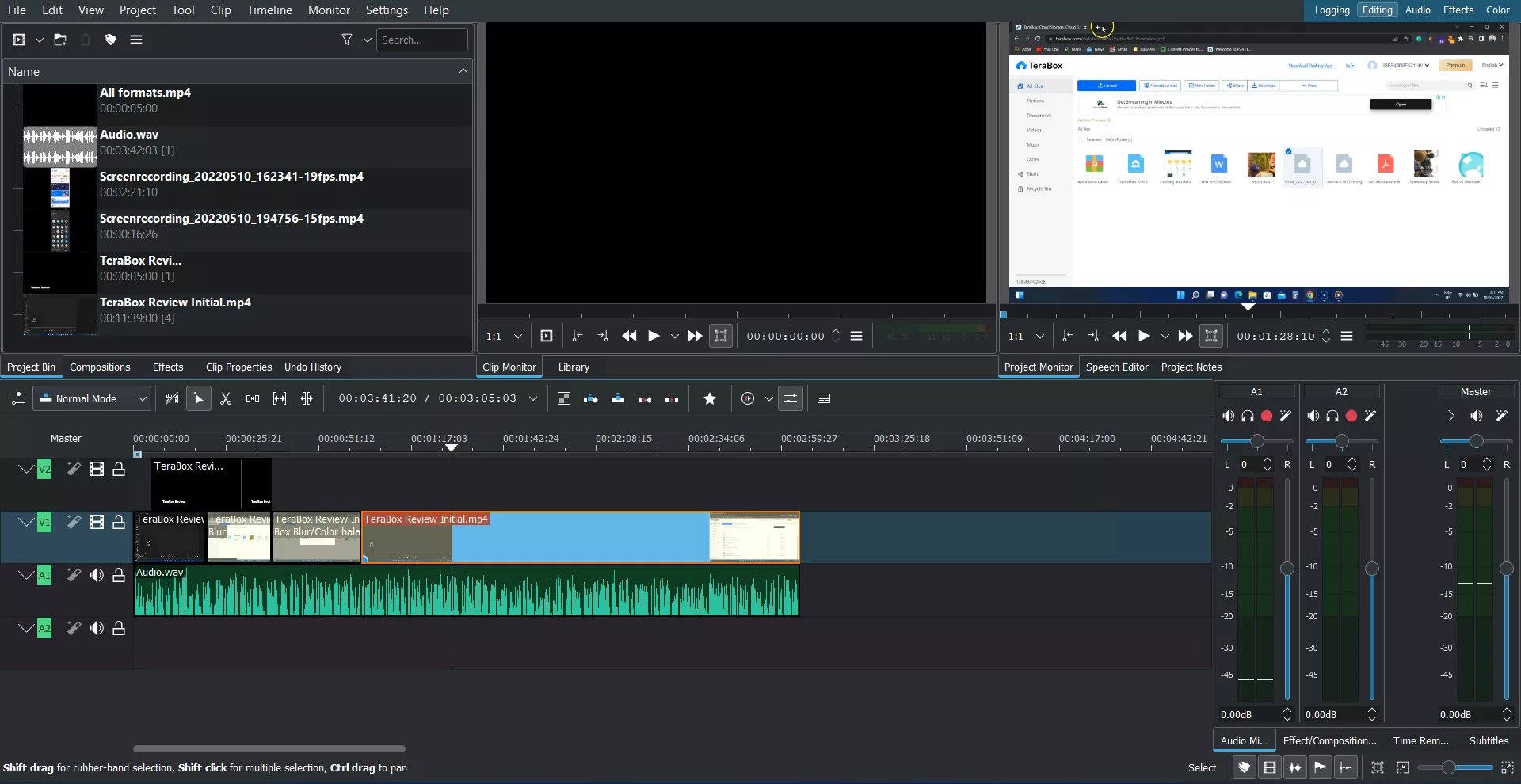 One of the things I like about Kdenlive is that it has an advanced text editor. From text to animations, you can control the entire title. Some of the options we find:
Text color
Text gradient color
Background
Animation
Text shadow
Letter and line spacing
Typewriter effect
Zoom
Rotation
Text patterns
Rectangle and circle shapes
And other common properties. Although the animation is confusing, you get the hang of it after trying it a few times.
The typewriter effect is excellent because it is one of the common effects, and Kdenlive enables this feature with one click.
Lots of audio effects
Another benefit of using Kdenlive is lots of audio effects. While comparing Kdenlive against Shotcut, I discovered that Kdenlive has about 70 audio effects.
Those categorized effects can provide much value if you know their usage. Here are a few popular ones:
Audio equalizer
Bass
Deesser
Normalize
Balance
Related: Kdenlive vs. Premiere Pro
Several video effects
Just like the audio effects, we have plenty of video effects. Those effects can change your video color, blur the video, adjust your images, and more. Some of the effects are:
Blur
3 point balance
Video equalizer
Dust
Stereoscopic 3D
Fade In/Out
Denoiser
Effects options
Both audio and video effects have specific options, such as intensity. If you add the video equalizer effect, you see the brightness, contrast, and other options.
One common feature is the keyframes. The supported effects come with the keyframe option to adjust the effect's impact anywhere you like.
For example, the Denoiser effect has a slider that can be adjusted using keyframes. A tutorial on Kdenlive User Base is available.
Compositions and transition effects
Kdenlive combines composition and transition effects. We have about 40 options, four of which are transition effects (one audio and three videos).
Composition effects can add a nice touch to your project. These can be used for transitions or to add something to get the viewer's attention. Some of these effects are:
Wipe (transition)
Luma (darkens video)
Slide (transition)
Dodge
Hue
Issues
Like OpenShot, Kdenlive sometimes freezes while working with effects. This is one of the significant drawbacks because if the program crashes, you must start from the last saved point.
There is an option to recover the project, but it's like playing with your luck.
Another drawback of Kdenlive is that it does not use GPU to render videos. The program drinks your CPU resources, making the PC slow and hot.
Should you get it
If you are looking for a free Premiere Pro alternative, Kdenlive is the tool to consider. It offers editing tools along with many audio, video, and composition effects that will create amazing videos.
Conclusion
This was the Kdenlive review to help you understand what you will be going into if you install this program. I hope the guide helped. Please share this with others who may benefit.
My name is Madhsudhan Khemchandani. I have a bachelor's degree in Software Engineering (Honours). I have been writing articles on apps and software for over five years. I have also made over 200 videos on YouTube. Read more about me on the About page.