With new technologies, tracking and maintaining health have become feasible. Two popular health-tracking apps, Samsung Health (review), and Apple Health, are great to be your digital assistant.
How do both work? The article covers Samsung Health vs. Apple Health.
Step tracking
Step tracking is the most basic, but both use different algorithms. To find the most accurate service, I did two small tests.
In the first test, Samsung Health displayed 92 steps, and Apple Health displayed 91. In the second test, both displayed 302 steps.
This proves that both apps use the same techniques to calculate your step count. However, I used the same device, so separate devices may show different results.
Both offer an interface for an overview of the steps. Apple Health allows you to add step data manually, and it does not count the calorie data (without the watch).
Samsung Health calculates the calorie data, but you can't add the data manually.
The app can also take the step data from Apple Health if you want to see that in Samsung Health. The option is in the Apple Health Settings.
I have also tested Samsung Health in a separate article. Check it out to see its accuracy.
Activities
Samsung Health
Both come with many activities. Samsung Health comes with around 100 exercise options to track automatically and manually.
You can start the activity, and the app automatically calculates the calories depending on the exercise and time. The app also offers the following:
Food intake
Sleep record
Weight
Water intake
Stress exercise
Blood pressure (other devices)
Stress (other devices)
Blood glucose (manual)
The food intake option offers, if not thousands, then hundreds of food items to track. You see the food data, including the calories, nutrients, and your overall summary.
The app automatically adjusts the calorie data while you can set a target goal. All those features make Samsung Health a perfect app to be your digital health assistant.
Apple Health
Apple Health does not come with many fitness-related activities, but it offers many health-related options and data.
The problem with Apple Health is that you must add data manually for almost all the activities or connect a device to track.
While you are here: Samsung Health or Google Fit
Sleep tracking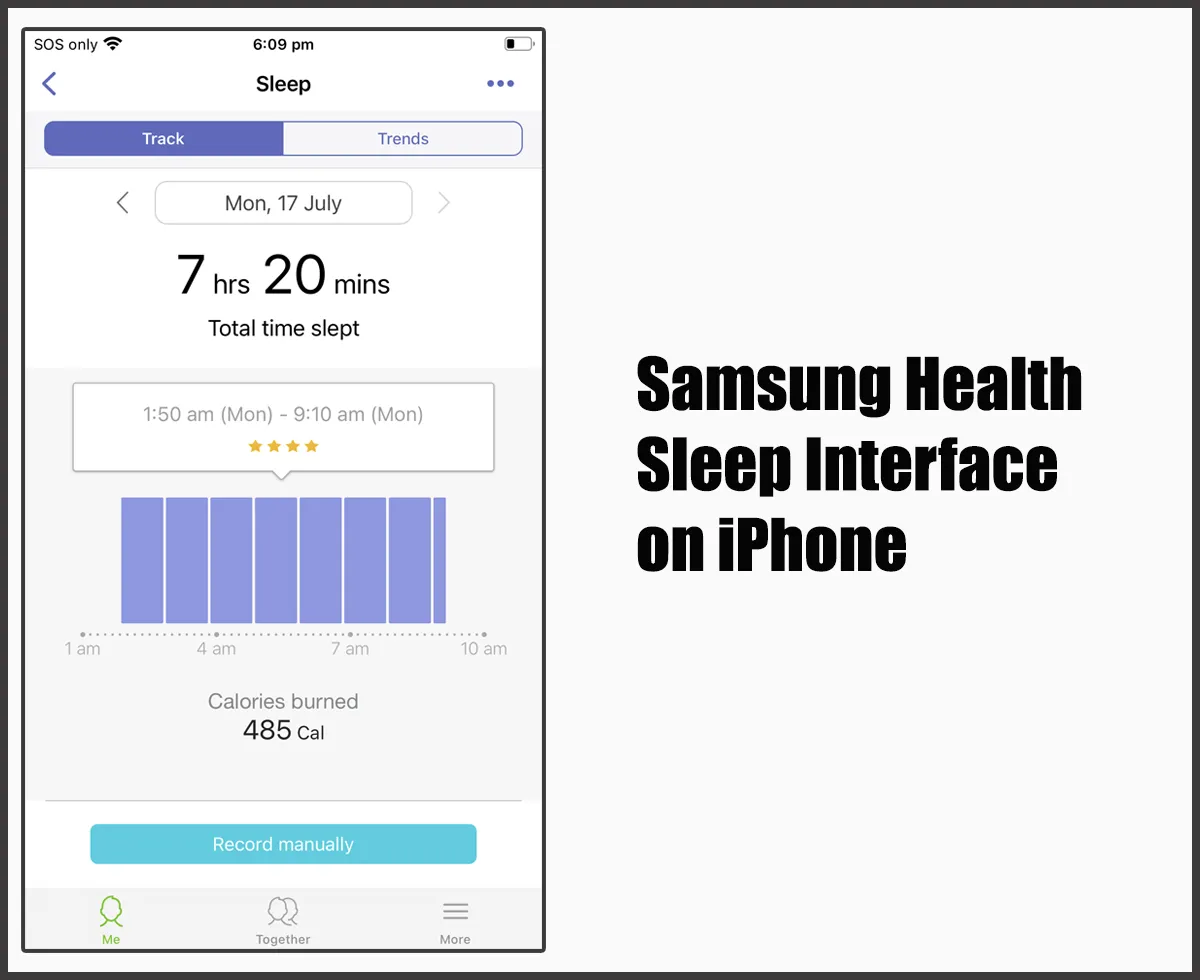 Both have nice sleep-tracking features. Apple Health is built into iOS, so it has better options.
It checks for your off-screen and on-screen times to calculate your sleep. You can turn on the Wind Down feature to transition from awake to sleep.
Lastly, you can enable the alarm clock to wake up at the exact time every day.
Samsung Health can also use your phone's on-screen time to calculate sleeping time. The app has a better sleep duration choosing circle, and it shows burned calories based on the sleep duration.
Food data
Samsung Health has food data for thousands of items. You can track your food and calorie intake if you are on a diet.
The app shows nutritional information and offers multiple serving options for different food types. You can also track your water input.
It does not remind you to drink water, but if notifications are enabled, you will get meal reminders.
Challenges
Samsung Health has a together feature to connect your app with friends and participate in events. This allows you to push yourself and challenge your friends.
The events are hosted monthly, where thousands of participants share their step data and fight to get to the top.
Apple Health has no similar feature but shows articles and apps as you browse. For example, in the steps section, you find more information and apps that offer to track steps.
The same can be found in other activities sections, I don't know if it's a paid partnership, but those apps may be beneficial, considering Apple Health does not track workouts.
Third-party support
Samsung Health does not support the Apple Watch, but you can sync data between Apple Health on your Apple Watch and Samsung Health on your iPhone.
Samsung Health also supports many devices and apps. The accessories tab in the app shows all the supported devices.
In Apple Health, as you browse, you see featured apps. These apps offer support for Apple Health.
More features
In this section of Samsung Health vs. Apple Health, we see some minor features that might make a difference.
Common
Flight of stairs: Both show the total floors you have climbed.
Samsung Health
Achievements: The app keeps a round of your most steps, floors, most active time, etc.
Lock app: You can lock the app and use your biometrics or PIN to unlock the app.
Apple Health
Medical ID: The app generates a medical ID that shows your age, weight, and height. The medical ID can be displayed in the phone lock state.
Clinical documents: You can store your clinical documents to access and share with other health providers.
While you are here, check out Google Fit vs. Apple Health.
Video
The video covers both, and you can see both apps in action.
Summary
Apple Health offers more features but is limited without the watch. Most of the activities you must add manually.
Samsung Health is also limited, but it can track your steps and your workouts automatically. It also has a great food and water tracking system.
Lastly, you will find challenges to help you get into the fitness game.
My understanding is to go with Samsung Health if you don't care about creating an account. If you like a simple step-tracking app with a quick sign-up process, Apple Health is the app you need.
Samsung Health vs. Apple Health: Links
My name is Madhsudhan Khemchandani. I have a bachelor's degree in Software Engineering (Honours). I have been writing articles on apps and software for over five years. I have also made over 200 videos on YouTube. Read more about me on the About page.