Samsung Health (review) is one of the great health apps I have used. From step to sleep tracking, it's a complete package.
However, it's just a digital app, so the accuracy is questionable. This is why I did tests and compared it with others to get the answer to the "Is Samsung Health accurate" question.
Note: I'm not a health expert. I compared the app with other apps and online tools.
Tracking difference
One of the differences we find is that different health apps calculate calories differently.
For example, Samsung Health only covers your steps and workouts, whereas Google Fit also counts your resting calories, also called your Basal Metabolic Rate (BMR) calories.
So, if you use multiple apps, you might see some differences.
Step tracking test
I walked for half an hour to see how both calculated the calories. I did the same test while checking Google Fit's accuracy, but I went for another talk this time. I also used Apple Health for reference.
Samsung Health
Samsung Health recorded 162 Kcal with 3,169 steps and 27 minutes of workout time. The app measures more details than any other app. We can see speed, elevation, and ascent/descent data.
A comparison: Samsung Health versus Google Fit
Google Fit
Google Fit recorded 3,160 steps in the same 27 minutes, but the Cal burned data was 147. This is a difference of 15 calories.
Please note that both use different measuring units (Kcal and Cal); however, according to Philips, both have the same meaning regarding fitness.
Apple Health
Apple Health does not track calories (the app), so I could not compare the calorie data. However, the step count was 3,166, close to both apps. The app shows 3,193, but it already had 27 recorded when I started.
Online tools
To compare both apps, I put the exact details in an online tool. The Omni Calculator showed that a person would burn 144 calories by walking at an average speed.
The time it would take to walk is 29 minutes. The difference between Samsung Health and Omni is 18 calories.
The difference is not a lot, and we must consider that online tools estimate the number. The health apps calculate more data as you have them while walking.
Activity workout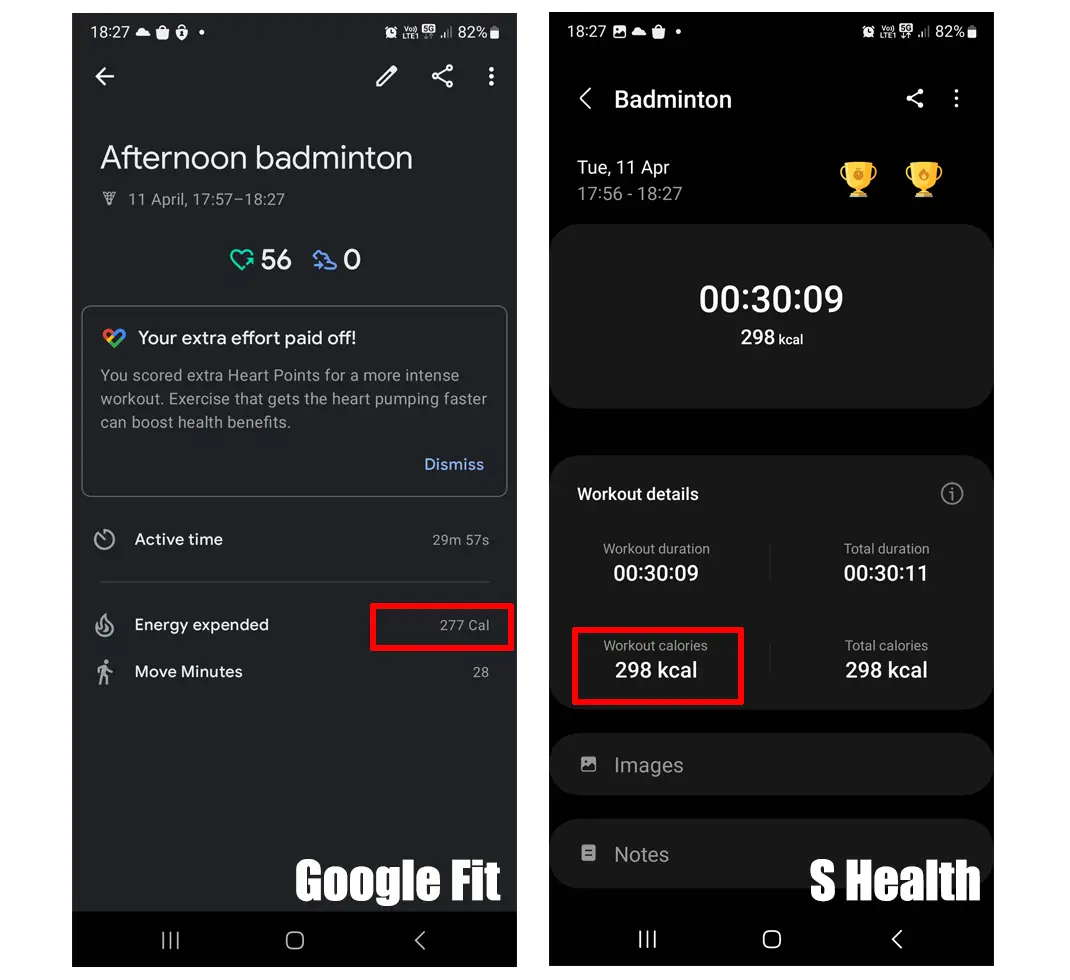 Samsung Health supports tracking and adding over 100 activities. It automatically calculates your calories.
To test the app, I started the badminton activity for half an hour in Samsung Health and Google Fit. Even though the phone was on a table, Samsung Health displayed 21 more calories burned.
So, in terms of workouts, both calculate the data differently. However, which is more accurate is challenging as everyone has their style and workout speed.
Is Samsung Health accurate
From tests, the Samsung Health app is accurate, as its calculations weren't that different from other apps. The step counter was spot on. There was a difference of only a few steps.
The calorie data was slightly higher, but I believe that because it counts many details (more than almost all health apps).
Another comparison: Samsung Health or Fitbit
Samsung Health's other features
Samsung Health is not just for steps. It has tracking features that we don't see elsewhere. Along with workouts and steps, you can calculate your food and water intake.
The app is a great sleep tracker as well. You can ask it to remind you to sleep and record your sleep when you wake up.
It uses your device's rest and pick-up times to calculate sleeping time. All you have to do is tap on the save button.
The app reminds me to check my weight every second day to reach my goals. When you do an activity, the app lets you set a target, updating and motivating you as you go.
Conclusion
Samsung Health is accurate, and even if it wasn't, it offers features that are hard to miss.
Samsung Health is a must-have app for anyone wanting to track workouts, reduce weight, or measure their food or water intake.
Madhsudhan Khemchandani has a bachelor's degree in Software Engineering (Honours). He has been writing articles on apps and software for over five years. He has also made over 200 videos on his YouTube channel. Read more about him on the about page.