Almost every brand releases dual SIM phones, but we don't have an official way to use dual WhatsApp on Android. WhatsApp is widespread, and the internet is cheaper and faster than ever before. Until we don't have a built-in way, we have other options. Today, we are going to learn to use dual WhatsApp on Android in 2020. We are going to see the four ways, but each method represents certain brands.
Dual WhatsApp (Xiaomi, Oppo, Vivo, Asus / Huawei)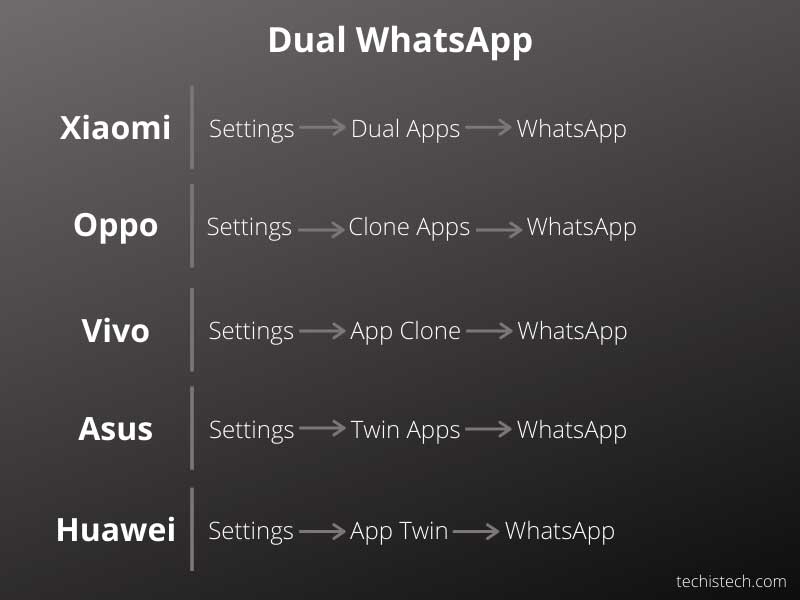 All the mentioned brands have built-in features. Follow the text to find your brand and learn how to activate the second WhatsApp on one of the above.
Xiaomi
Settings -> Dual Apps and tap on it -> WhatsApp
Oppo
Vivo
Asus
Huawei
Dual WhatsApp (Nokia, HTC, LG / Motorolla)
Those brands do not support any feature to use the dual WhatsApp. But, we can use a third-party app. Dual Space is an app cloner. Parallel Space is another one, but Parallel Space doesn't support Android 10. You might also need 64-Bit support of Dual Space depending on your device.
Open the app and add apps by tapping on the add button. Find WhatsApp in the apps menu and import it. Once imported, you are free to use the second WhatsApp on your phone. Make sure to allow permissions to get the notifications.
Related: POCO Launcher vs Nova Launcher (2020) | The Final Comparison
Samsung
Dual Messenger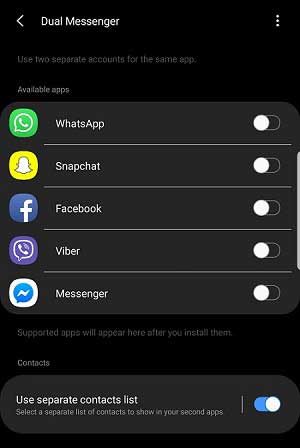 Samsung devices come with a feature called Dual Messenger. Although the name represents Messenger, you can use most of the messaging services.
What is Dual Messenger? According to Samsung, Dual Messenger is a tool which offers to use a second internet messaging service. Follow the below steps to enable the dual WhatsApp account:
Settings -> Advanced Features -> Dual Messenger -> WhatsApp. Once done, the second WhatsApp app will be available in the apps menu.
The feature is limited to certain models. If you can't find the option, your device might not be compatible with Dual Messenger.
Secure Folder
Secure Folder, previously called Samsung Knox allows you to use a different Android OS on your Samsung device. The primary reason for this tool is separating home and work tasks. It is available on most of the Galaxy devices including and after S6.
Read: Facebook vs Facebook Lite | Exploring all the Differences
Activate Samsung Secure Folder
By default, it comes enabled, but for some reason, if you can't find it in the apps menu, then you can find it in the settings.
Set up the Samsung account.
Settings -> Lock screen & security -> Secure Folder. Login with your account when enabling it.
The shortcut is also available in the notification panel.
Conclusion
WhatsApp has been downloaded over 5 billion times, but the company has not released an official way to use dual WhatsApp. The article covered the easiest ways. Please let me know your views in the comments so we can we discuss more.