Last updated: 27 Mar 2021 | Reading time: 3.5 minutes | Watching time: 4 minutes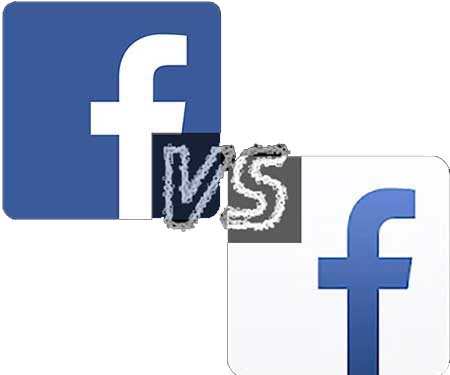 Facebook and Facebook Lite are two different apps. Why there are two separate apps? What's the difference between Facebook and Facebook Lite? The blog post takes a look at both and covers Facebook vs. Facebook Lite (2021).
Table of contents
Quick Answer
Short on time? Here is the quick difference comparison. Facebook takes a lot more space than the Lite version, and it offers over 20 features (more than Facebook Lite). For people with a limited data plan or has an old phone, Facebook Lite would suit better.
| Feature | Facebook | Facebook Lite |
| --- | --- | --- |
| Total features | 24 (13 unique) | 12 (1 unique) |
| Storage on Android | 120 MB to 140 MB | 2 MB to 2.5 MB |
| Storage on iPhone | 420 MB to 430 MB | 20 MB to 25 MB |
Facebook
The common pre-installed app on many devices, the Facebook app has been here for a long time. The app is considered to be one of the most downloaded on the planet. The fast and responsive app sometimes does not work fine on some devices.
---
---
What is Facebook Lite
Facebook Lite app is a light version of the Facebook app. First released in 2015, the app offers all the basic features while occupying less storage and using fewer resources. The app is designed for excuses, such as not enough storage or slow connections. It also supports more OS versions than the original Facebook app.
Facebook vs. Facebook Lite
Features
The main difference between Facebook and Facebook Lite comes to the number of features. Facebook Lite offers the basic functionalities, but in total, more than ten features are not available.
The table below compares all the features of both the apps. The Text in green means that the particular feature is missing in the opponent.
Facebook
Facebook Lite

React, comment, tag, and share
Groups
Marketplace
Memories
Pages
Events
Gaming
Jobs
Ads Manager
Live videos

Mentorship

Messenger Kids

Most recent feed

Movies

Recent Ad Activity

Nearby friends

Oculus VR

Find WiFi

Fundraisers

Offers

Weather

Send or Request Money

Device Requests

Crisis Response

City Guides

React, comment, tag, and share
Groups
Marketplace
Memories
Pages
Events
Gaming
Jobs
Ads Manager
Live videos
Most recent feed

Dark mode
In addition to the above, to save data and resources, the app does not automatically t load the content on the news feed as the Facebook app does, which is the reason for longer load times while browsing through the news feed.
Considering the above features, we can understand that many GPS enabled features are not available on the Facebook Lite app. Also, the dark mode is available in the Facebook Lite, but you will not be able to find in the original Facebook app.
Interface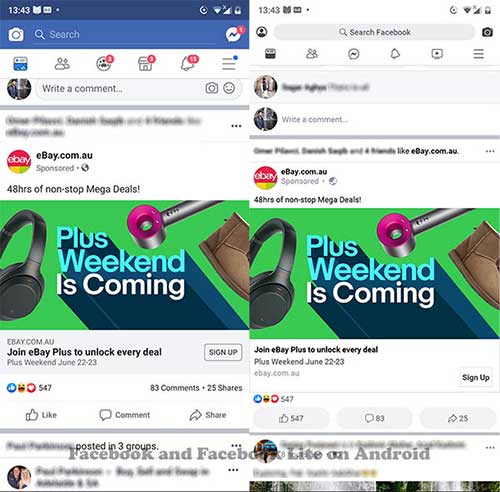 On the Facebook app, there is the news feed, groups, videos, marketplace, notifications, and main menu. The Facebook Lite app comes with feed, friend requests, messenger, notifications, videos, and main menu buttons.
On the top, both offer the search and camera buttons, but you find the messenger button in Facebook and profile button on Facebook Lite.
Other than that, as you browse, you find the difference in fonts, font size, buttons, and more. That's because the app can work properly on low-resolution devices. Facebook Lite reminds you of the old Facebook design and layout, so you are an old school and would like to remind yourself of your early days, then Facebook Lite might be the app to try.
Storage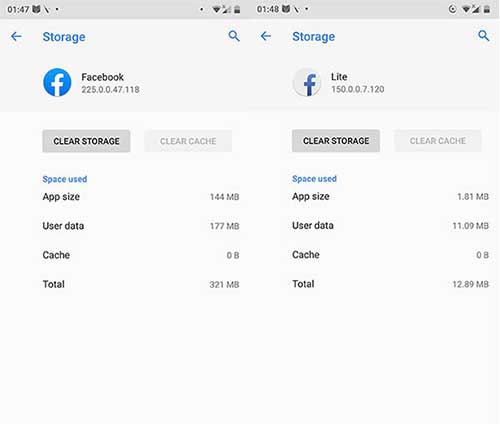 Facebook app occupies 144 MB of storage on Nokia 8 and 153 MB on Galaxy Note 10+, while Facebook Lite takes 2.22 MB on Nokia 8 and 2.34 MB on Galaxy Note 10+. That's a difference of 98.5%Thehe Facebook app takes 425 MB of storage on the iPhone, whereas Facebook Lite occupies 20 MB as of updating this article.
The primary reasons for the huge difference in storage are images, missing features, saved fonts etc. Using reduced pixels images make a huge difference, while saved fonts also impact. There are many little things which we overlook, but together they make a huge difference.

Permissions
For privacy freaks, Facebook Lite may be the best option. The Facebook original app comes with 44 types of permissions, including storage, calendar, camera, contacts, location, microphone, and telephone.
Thanks to Android and iOS updates, you can deny certain permissions, but considering the above features, if you allow all, you pretty much allow the app to enter in own personal life.
Facebook Lite is also not that great, but it offers fewer permissions than Facebook. The major permissions (mentioned above) are the same, but in total, it comes with 33 permissions.
Video
Still not sure? Here is the video covering the difference between Facebook and Facebook Lite.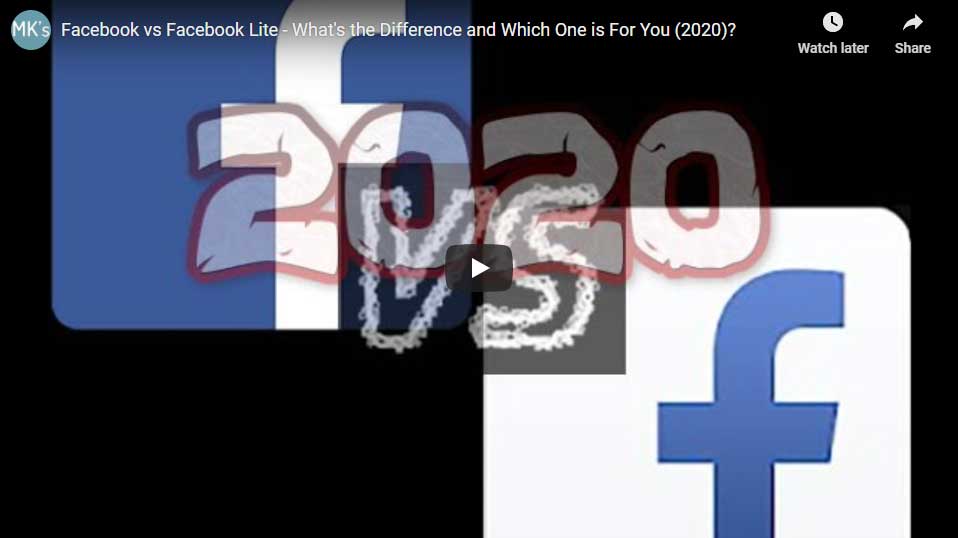 Which one is for you?
The below list explains a few situations where you might want to consider Facebook Lite app.
You don't have enough storage.
You are using an older version of Android or iOS, and it sometimes freezes or lags while using Facebook app.
Your phone or network does not support 3G or 4G. Facebook Lite works good on 2G networks, according to the official blog post on Facebook website.
You don't want unnecessary features such as weather, find WiFi, etc.
You have a limited data plan.
Although both would work fine on many devices, having the perfect app can improve the speed and battery life.
Wrap up
Here is the end of Facebook vs. Facebook Lite. Facebook Lite lacks some of the features but might be helpful t to save memory and storage.
Anyway, I hope the article helped. Let me know what you think and which one you will be using in the comments down below and subscribe to the newsletter for future updates.