Pros
✔️ Multi-in-one tool
✔️ AI features
✔️ Multiple installation methods
Cons
❌ Features are plan dependent
❌ Costly
Remarks
FireCut is a good tool, but not for new creators who have time and energy to do stuff and don't know much about video editing.
FireCut will suit video editors who edit videos all day or work for someone else to speed up the process.
Specifications
App type: Premiere Pro Extension
Supported programs: Adobe Premiere Pro
Offline: Yes
Ease of use: Medium
Pricing: From $9 per month
Rating: 3.5 out of 5
What is FireCut
FireCut is an extension for Adobe Premiere Pro developed by Ali Abdaal, a YouTuber focusing on productivity, investing, and money making.
FireCut has multiple features, including removing silences and filler words, adding zooms and chapters, etc.
It's a paid program, but a 14-day free trial can be subscribed to by providing the card details.
FireCut review: Features
Silence Remover
One of the core features of FireCut is removing silences from the video.
The program has a slider to adjust the tool's aggressiveness. The more tough the cutting is, the longer it will take for FireCut to finish the job.
Overall, its quality is okay because the program does not eliminate static noises properly, forcing you to verify every single clip.
Filler Words Remover (Pro)
In its Pro plan, you will find the option to remove filler words. The tool is programmed to remove umm and uhh types of voices.
The problem is that the feature is only available for videos less than 5 minutes, so you must remove the unnecessary parts and repetitions before using it.
Repetition Remover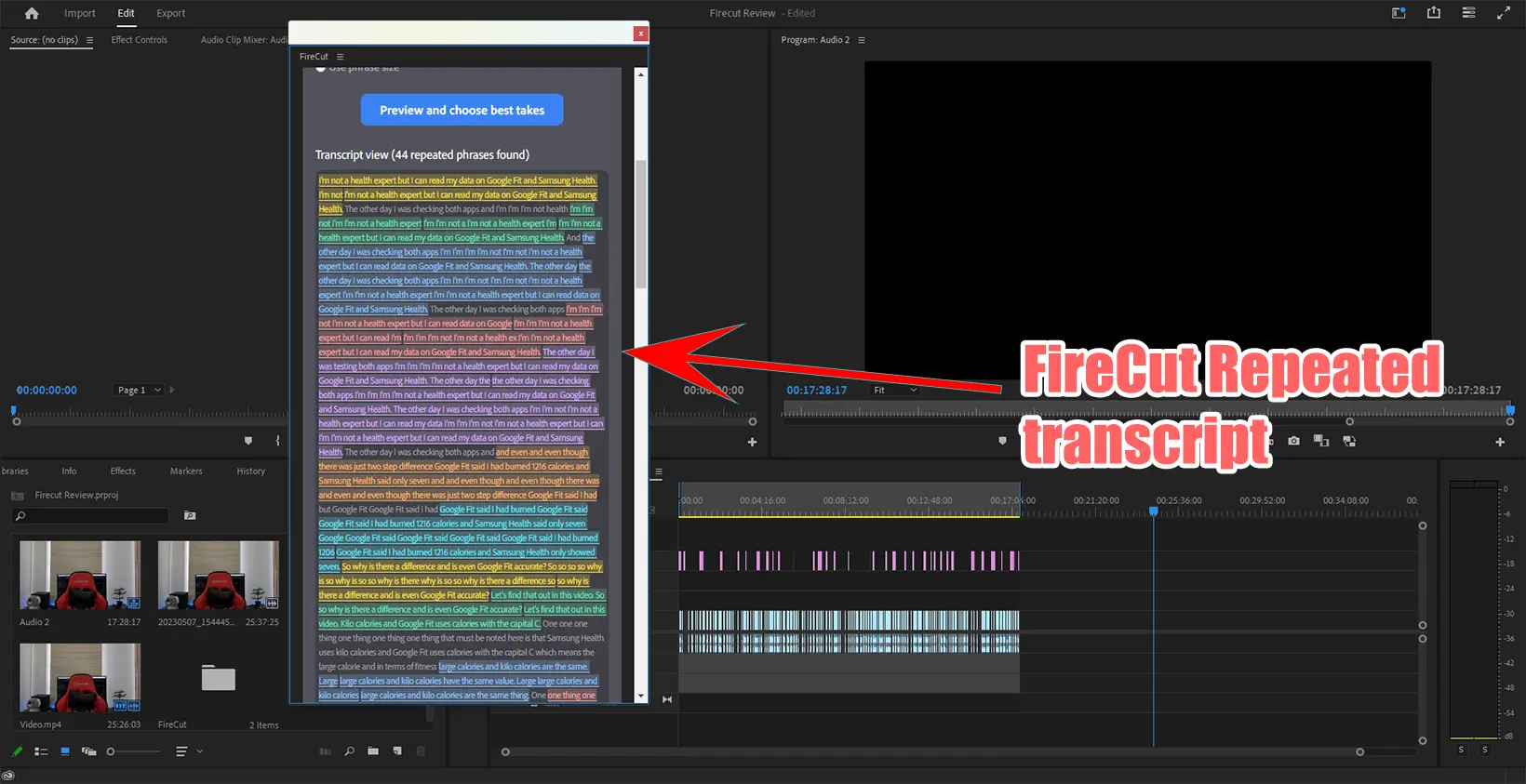 FireCut has an excellent repetition-removing tool that finds the same sentences on up to 20-minute-long videos.
It shows the transcript to verify and remove the repeated words and sentences. The tool is available on its Pro plan, costing $24 monthly.
Zooms Adding Tool (Pro)
Another feature I found was adding zooms to cuts. The AI option detects the cuts and ads and removes zoom.
This makes the transition from one clip to another smoother for the viewer. It makes mistakes, but you should see fewer issues if your videos are in English and loud.
AI Chapters (Pro)
The last great option I found was its AI chapter-adding tool. It works great when the video is fully edited. All you need to do is click the button, choose the sequence options, and let it do the rest.
It shows the list of detected chapters, and you can either add the markers or clips with the marker title. I found AI Chapters to be the most accurate of all the tools.
AI Captions (Pro)
The following program available in the Pro plan is AI Captions. Although Premiere Pro has a great caption generator, you can use this extension to add captions.
However, this program does not have any significant options. You can use the Premiere Pro's default caption generator to get the same results.
Pricing and plans
FireCut has three plans, but its Starter plan, costing $9, is useless for most. It only offers silence cutting and jump cuts features. For this price, the tool should provide more options.
The Pro plan has more features but costs $24 monthly, more than the Premiere Pro subscription.
Its Team plan costs the same but offers admin controls. All its plans let you access the Slack community.
While you are here: Filmora vs. Premiere Pro
Should you get FireCut
In this FireCut review, I found out that it is a fine tool that can help in many ways, but it's not for new creators still learning Premiere Pro.
Premiere Pro is a vast program, so creators should spend at least a year learning its features. If a creator works on multiple projects or their whole day goes into editing, FireCut will be a great addition.
The tool is new and already works beautifully. With updates and feedback, we will see improved options.
My name is Madhsudhan Khemchandani. I have a bachelor's degree in Software Engineering (Honours). I have been writing articles on apps and software for over five years. I have also made over 200 videos on YouTube. Read more about me on the About page.