Wondershare Filmora and Adobe Premiere Pro are two professional video editors. Of course, you won't use both. So, which one should you use? The article discusses both and covers Filmora vs. Premiere Pro.
Quick overview
Wondershare Filmora is a basic video editor with many transitions, text titles, and stickers. Adobe Premiere Pro contrarily is an advanced video editor with keyframes, auto-subtitles, color grading, and team project features.
Tools
Being industry standard, you find all the basic tools in both. Some of the tools both offer are:
blade
selection
snapping
color options
effects
volume control
There are few options in Filmora that we don't find in Premiere Pro. Those include:
audio effects (files)
screen and webcam recording tool
shape elements
Premiere Pro also offers some options that Filmora does not provide. Premiere Pro comes with:
advanced keyframes
advanced audio editing
caption editing and generating
tutorials
team projects
many sequences
some great video and audio effects
Workflow
Both come with adjustable workspaces to make the program your own. Adobe Premiere Pro does a few things for you to focus on the editing part. For example, adding a video to the timeline will put audio on a different track. In Filmora, you have to do that manually.
Furthermore, Premiere Pro also comes with two windows. One for the main video and one for the timeline and media. The media window is hidden, but it becomes visible when you double-click on a video file or a clip in the timeline.
Filmora comes with one playback window to play both timeline and media files.
Interested in Filmora? You might want to check its free and premium alternatives.
Text titles
Filmora is the place for text titles because it provides over 300 titles. All can be accessed in the "titles" section. However, almost all are online, so an internet connection is required to download and use in the project.
Premiere Pro comes with about 75 text titles to add to the project. One benefit Premiere Pro users have is downloading and using third-party templates.
Thousands of templates (text and transition) are available online to download and use in your projects. Some are free, while some require money to use.
Transition effects
You find over 500 transitions in Filmora. On the other hand, Premiere Pro comes with around 55 transition effects. Although, as the text titles, the difference is enormous; you mostly find professional effects in Premiere Pro, whereas you find professional to social in Filmora.
Related: Filmora vs. DaVinci Resolve
Elements
As mentioned above, Filmora comes with elements. Those are basically animated shapes and icons to add to your videos. Again, those are more for social media videos than the professionals.
Ease of use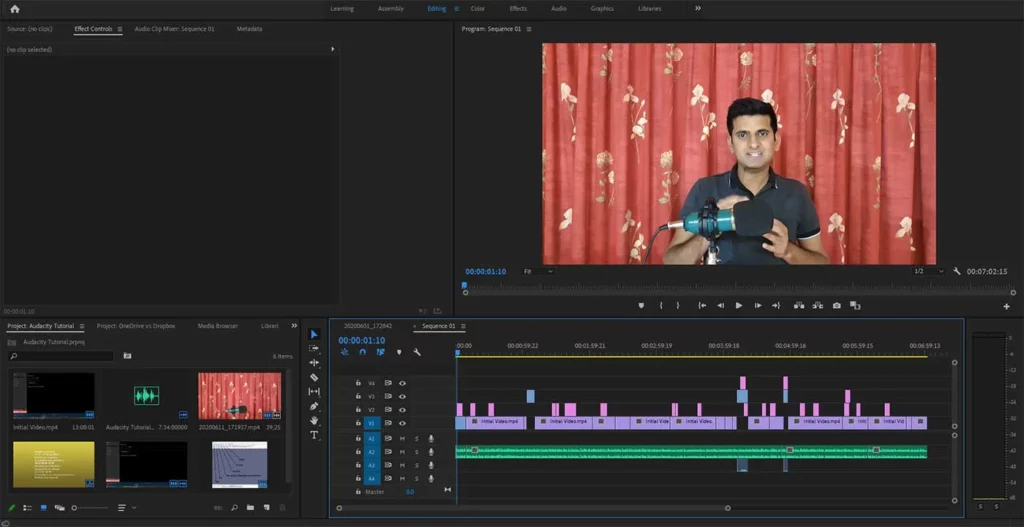 The number of options Pro offers means it's more confusing, especially for newcomers. The program is highly professional and has been used in the Hollywood industry to edit movies.
You have the default workspace regarding the interface, which comes with editing, learning, color, audio graphics, and caption panels. The timeline window is to the right, with all the options to the left.
Filmora, in comparison, is a lot easier to use. As it has one window, you have a lot of space for other stuff. On the bottom, you see the timeline, and the left of the tool shows effects, media files, and clip options.
Specs and storage
Specs are a part of the Filmora vs. Premiere Pro battle. Filmora is lighter than Premiere Pro. You only need 4 GB of RAM with 2 GB GPU to edit 1080p videos. For Premiere Pro, you need 8 GB of RAM with at least 2 GB of GPU to edit 1080p videos. For 4K editing, the requirements for both are doubled.
Regarding the required storage, Premiere Pro takes about 3.6 GB of storage itself, and It downloads Media Encoder (2.6 GB) if you install Premiere Pro through the Creative Cloud app.
So, in total, we are looking at over 5.5 GB of storage. Filmora, on the other hand, takes about 1 GB. The winner of this round sure is Filmora.
Pricing
Filmora is a paid tool; even though you can use it for free, some features are in the premium version. The exported videos also contain a watermark. Premiere Pro is also premium, but you can try the program for 30 days before buying.
Filmora costs $90 for the latest version. The annual plan is also offered if you want to have access to software updates. The yearly plan costs about $63 per year.
Premiere Pro, in contrast, is only a subscription-based tool. You can use it by paying monthly or yearly, but you will have to pay. It comes in a couple of plans: creative cloud membership and single-app membership. Both memberships have below pricing structures.
Premiere Pro individual:
Annually (paid monthly): $20.99/m
Monthly: $31.49/m
Annually (paid yearly): $239.88/y
Creative Cloud:
Annually (paid monthly): $52.99/m
Monthly: $79.49/m
Annually (paid yearly): $599.88/y
Also consider reading: Kdenlive vs. Premiere Pro
Which one is for you?
It depends on what you want and how much you are willing to spend. Filmora is cost-effective, and you can get the Wondershare Filmstock at a discount price if you choose an eligible plan. Premiere Pro is something advanced, and it's what you think of when you want everything available in your hands.
So, if you want a program for social media, Filmora is fine, but if you think you will need more editing options in the future, I suggest using Premiere Pro to learn to use this tool. The sooner you will start, the quicker you will master it.
Filmora vs. Premiere Pro: Links
Summary
Both have pros and cons, but the article Filmora vs. Premiere Pro compared the essential topics of both. I hope the information on this page was helpful. Please share your thoughts in the comments before leaving and subscribe to the newsletter for post updates.