Filmora makes it simple to edit videos, whereas Premiere Pro has tools to take your videos to the next level.
However, that's not the only difference between the two. If you are keen on finding out which to use, this Filmora vs. Premiere Pro review is for you.
Quick overview
Filmora is a video editor aimed to make editing straightforward. You find many transitions, video effects, stickers, and text titles for social media videos.
Adobe Premiere Pro is more progressive as it offers advanced color grading, animation tools, a caption editor, collaboration, and support for third-party effects.
Tools
Both offer the industry standard tools, including:
Blade
Selection
Snapping
Color options
Effects
Volume control
There are a few options in Filmora that we don't find in Premiere Pro. Those include:
Audio effects
Screen and webcam recorder
Shape elements
Premiere Pro also offers some options that Filmora does not provide:
Advanced keyframes
Advanced audio editing
Caption editing and auto-generating
Tutorials
Team projects
Sequences management
Ripple delete
Ease of use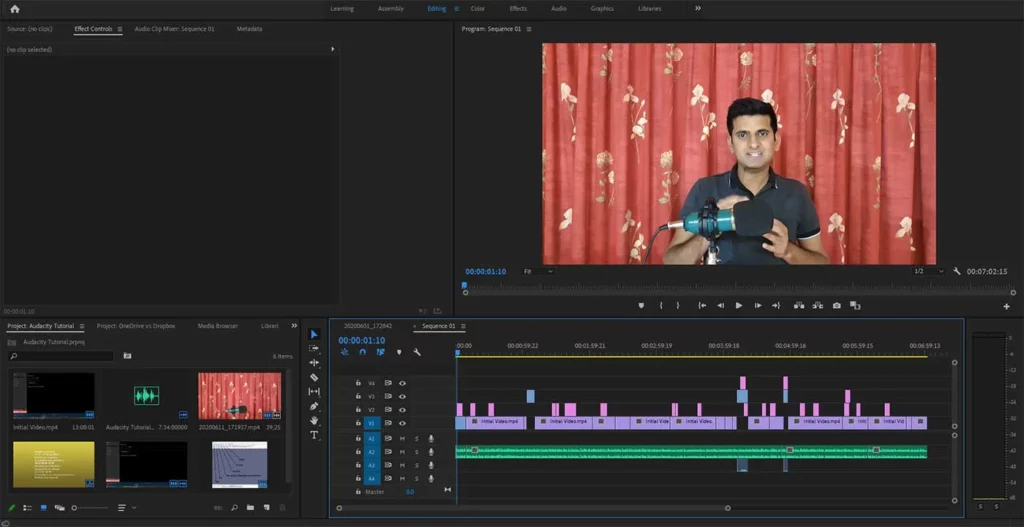 We see a massive difference in usability while comparing Filmora vs. Premiere Pro.
Premiere Pro is a challenging program because it has a wide range of options. Its interface is also crowded, making it hard for beginners to control.
However, it has many workspace interfaces. Each interface has a specific set of options. For example, in the "Caption and Graphics" workspace, you find caption, text, and graphics tools.
Wondershare Filmora is overall easier. It has one preview window giving you space for other stuff. On the bottom, you see the timeline; on the left, you see effects, media files, and clip options.
Workflow and interface
Premiere Pro is zoomed out, which is why you find many options on the interface. It will be hard to work if you have a laptop with less than a 15-inch screen.
When you add a clip to the timeline, it adds the audio on a different track. You can unlink them to separate them.
On Filmora, if you want to see or edit the audio, you must separate them yourself.
Also, Premiere Pro has two preview windows: one for the project and one for individual clips.
Filmora has one which switches to the clip one when you play a clip.
Lastly, if you add an effect to a clip and change its settings, you can save that effect for future use in Premiere Pro. Filmora does not have anything like that.
Related: Best Filmora Alternatives
Text titles
Filmora has over 300 text titles built in. You must download those first, so an internet connection is required.
Premiere Pro does not have as many, but it has the power of third-party titles. You find hundreds of titles online that can be imported into the program.
Transition effects
You will find over 500 transitions in Filmora. On the other hand, Premiere Pro comes with around 55 transition effects.
Like the text titles, the difference is enormous. You mostly find professional effects in Premiere Pro, whereas professional to social in Filmora.
Also, like the text titles, you can download transitions for Premiere Pro from the internet.
Related: Filmora vs. DaVinci Resolve
Color grading
Premiere Pro's color grading is advanced, giving you options when you need them. Its Lumetri Color panel offers basic to creative options to make any dull video colorful.
Some of the things Premiere Pro can help you with:
Scene light improvement
Auto-color the whole scene
Even skin tone to get rid of dark circles and spots
Adjust whites, blacks, shadows, and highlights
However, the tool is advanced, and you must learn to adjust according to your lighting conditions.
Elements
Filmora comes with animated shapes and icons to add to your videos. Again, those are more for social media videos than the professionals.
Integrations
This is where Adobe takes the cake. If you are a blogger and social media content creator, Adobe tools may suit you better.
Most Adobe productivity programs, including Premiere Pro, After Effects, Photoshop, Illustrator, etc., are connected.
For example, you can open an image in Photoshop from Premiere Pro, and the edits will automatically be updated. Similarly, you can open and edit a video clip in After Effects in Premiere Pro.
Specs and storage
Filmora is lighter. You need 4 GB of RAM with 2 GB GPU to edit 1080p videos.
For Premiere Pro, you need 8 GB of RAM with at least 2 GB of GPU to edit 1080p videos. For 4K editing, the requirements for both are double.
Regarding the required storage, Premiere Pro takes about 4 GB and downloads Media Encoder (2.6 GB). Filmora, contrarily takes about 1 GB.
Pricing
Filmora is a paid tool; even though you can use it for free, some features are in the premium version. The exported videos also contain a watermark.
Premiere Pro is also premium, but you can try the program for 30 days before buying.
Filmora costs $69.99 annually. The plan is only for Windows PC. If you like to edit on multiple platforms, you can get the Cross-Platform package costing $89.99 per year.
One thing that separates Filmora from Premiere Pro is its Perpetual plan letting you take the software with a one-time fee. You will pay $79.99 for the lifetime plan and get the same version updates.
Premiere Pro, in contrast, is only subscription-based. It comes in two plans: single-app and creative cloud.
The single app brings Premiere Rush and 100 GB of cloud storage at $20.99 per month.
If you are a content creator and blogger, the Creative Cloud plan will be better, costing $54.99 per month. The plan provides access to over 25 Adobe apps.
Related: Kdenlive vs. Premiere Pro
Which one is for you?
It depends on what you want and how much you are willing to spend. Filmora is great for social media and quick projects. It's also cost-effective.
Premiere Pro is used for social media and advanced projects where options like color grading, captioning, multi-platform exporting, etc., are required.
If you have a big idea to execute, Filmora may get short in helping you achieve that, but Premiere Pro will have most of the tools.
Filmora vs. Premiere Pro: Links
Summary
Both have pros and cons, but the article Filmora vs. Premiere Pro compared the essential topics. I hope the information on this page was helpful.
Please share your thoughts in the comments before leaving and subscribe to the newsletter for post updates.