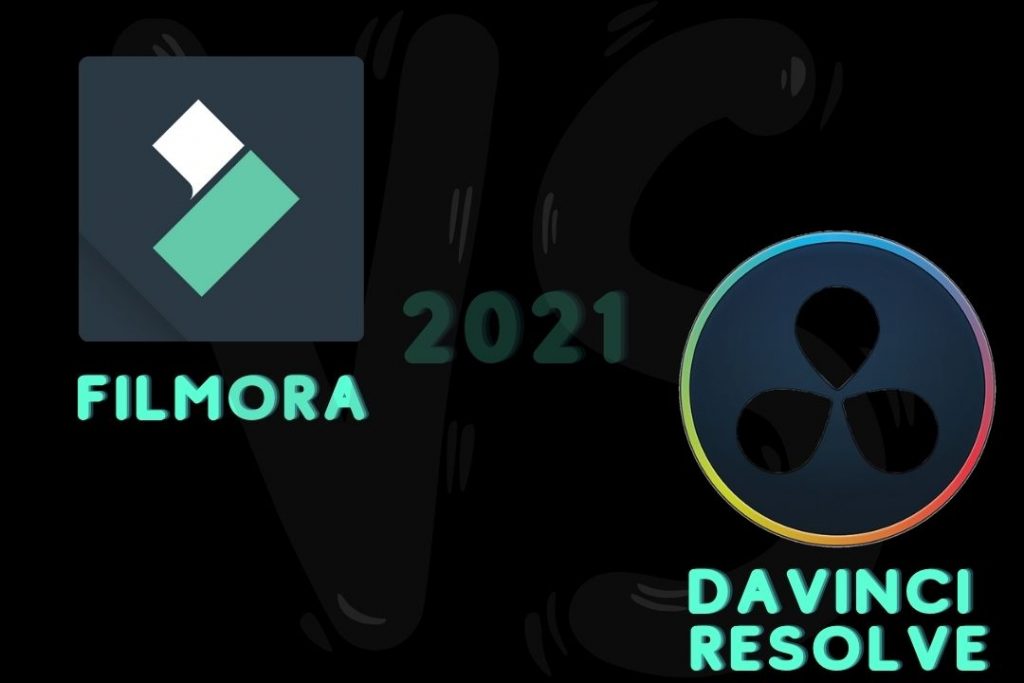 Filmora vs. DaVinci Resolve: Both are two of the best video editors in 2021. Whether you're an aspiring film editor, a vlogger, or just someone who enjoys making cool effects for your friends and followers on social media, you want your finished product to reflect your vision. And for that, you need a video editing software tool that suits your style.
Here is a breakdown of their features, pricing, effects, and ease of use to guide you in choosing the best companion.
Features
Both DaVinci Resolva and Filmora have the basic tools in video editing: the blade tool, which enables you to cut up your video and audio media; the select tool, which enables you to highlight certain parts of your timeline for either copying or tweaking; the text tool; colour correction; volume control, and many others.
Workflow
One key difference between DaVinci Resolve versus Filmora regarding its features is the kind of workflow it accommodates. DaVinci Resolve assumes that you want to do as many things as possible with your uploading content. Hence, it automatically does things you usually would have to do manually in other apps like Filmora.
Related: Camtasia vs. Filmora
For example, if you put a video on your timeline, it automatically separates the video from the audio since they aren't always used side-by-side with each other. Filmora, on the other hand, will only do separate them if you choose the option to do so manually.
In a way, Filmora assumes that you want to do things quickly and easily, while DaVinci Resolve assumes that you want to explore your options and tweak as many details as possible.
DaVinci Resolve also enables you to easily cut up your original video since it has two playback windows: a Source Monitor Window, which plays the files you want to put in your timeline, and a Playback Monitor Window that plays your actual timeline.
This makes selecting portions of your video included in your project easier since you can quickly select them and drag them to your timeline. Filmora only has a playback window, so you would have to make all your cuts in the timeline itself, making the process more tedious, significantly if you're cutting back and forth between two or more videos.
Text titles
Titles are a part of the Filmora vs. DaVinci comparison. You find titles in both tools. Filmora supports 276 text titles, whereas DaVinci comes with 70. Although the difference is huge, DaVinci mainly offers professional titles, while in Filmora, you find many genres.
Transitions
Transitions effects are animation between clips. Both support quite many transitions, but the win goes to Filmora because it supports over 200 transitions to add between clips. DaVinci supports around 60 effects.
Ease of Use
However, not all users are after full control over every single detail in their project. In fact, the sheer amount of options DaVinci offers means that it would take a long time for users, especially beginners, to get the most out of the application.
For example, since DaVinci Resolve was originally conceived as a colour grading tool, it makes sense to have better colour grading features: from masking to keying to adjusting curves.
Related: Adobe Premiere Pro vs. Corel VideoStudio
Its quality is so high that it's actually being used to colour-grade Hollywood-tier films. But for the regular vlogger or student editing his video presentation project, the basic colour adjustment features of Filmora would be enough.
While it's easy to download and install both DaVinci Resolve and Filmora, DaVinci Resolve takes more time since it's relatively larger in size with more features to install. Filmora is also quicker when it comes to updating its features as it does so automatically.
DaVinci Resolve requires you to quit the application, install updated features, and boot it up again: almost as if you're installing another program.
In terms of required specs, if you're still working on getting a higher-end computer and currently making the most of lower-end tech, Filmora might be a better fit because it does not require specifications as high as DaVinci Resolve. That being said, both apps are stable and are not prone to crashing or bugs, provided you're not dealing with unfinished Beta versions.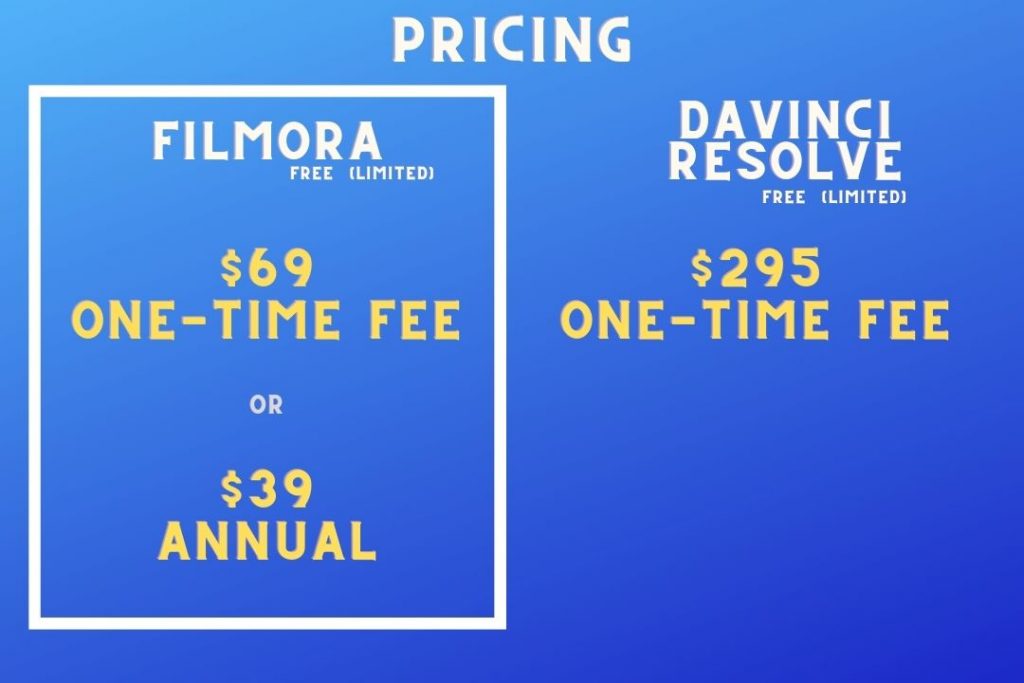 Pricing
Both Filmora and DaVinci Resolve have free versions anyone can use. The free versions both offer video editors the basic features of each app, but each incentivizes their users to pay fees to access different features and effects.
Again, if you want more advanced features than DaVinci Resolve's premium version, DaVinci Resolve Studio would perhaps be more your style. However, it does come at a price. You can get the latest version of DaVinci Resolve Studio for a one-time payment of $299.
Related: Adobe Premiere Pro vs. HitFilm Express
Definitely, this price level is actually more suited for more professional-grade film editors. But it does come with features that any user will appreciate. DaVinci Resolve Studio, for example, gives paying users a GPU Acceleration option.
This feature enables your computer's graphics processing unit (GPU) to work side-by-side with your CPU so you can preview your video's timeline at a high quality in real-time.
Imagine making a music video and finding out just after you render the whole thing that the music doesn't sync up with the visuals. GPU Acceleration would help you see in great detail what your video would actually look like once you're finished working on it.
Meanwhile, Filmora offers different payment options depending on your price range: a $60 one-time fee gives you access to tech support and future updates. You can also opt for a yearly subscription service at $40 a year.
If you want access to unlimited downloads and get new effects each month, you can choose the $100 per year option.
Again, Filmora casts a wide net when it comes to what kind of users it wants to attract. What it lacks in superior, advanced features, it makes up for in user-friendliness and accessibility in terms of cost.
Which one is for you?
So, Filmora vs. DaVinci? Which one should you choose? It depends on the number of features you like and the cost you can afford. Filmora is cheaper than DaVinci, and if you like the stock media, Wondershare also offers Filmstock at a discounted price with the Filmora software.
DaVinci is something more, and it's what you think of while being creative because it does not limit your imagination as much as others.
What's next?
The next thing is to download your favourite software. Here are the links:
(The link to Filmora is an affiliate link, which means, I will get some commiosion if you buy the software).
Conclusion
Ultimately, you will decide which of these programs suits your level of experience, your hardware, and the amount of detail you're concerned within making and editing videos.
To sum it up, Filmora is more friendly to beginners and casual video editors. At the same time, DaVinci Resolve will probably better satisfy those advanced editors who are more particular with details and want absolute control over their product.
Related: Adobe Premiere Rush vs. Elements 2021
It all boils down to what kind of videos you want to put out there, their quality and quantity, and the audience you want to attract. Choosing the correct tool isn't about whether it's the best tool in the market.
It's not even what the best tool is for the best filmmakers or content creators. It's about whether it's the best tool for your needs, for your tastes.