DaVinci Resolve is a great program offering multitrack editing, color grading, and 4K editing features.
Its premium version, called Resolve Studio, offers much more. What are the differences? This is the DaVinci Resolve free vs. Studio battle.
Features only in DaVinci Resolve Studio
DaVinci Neural Engine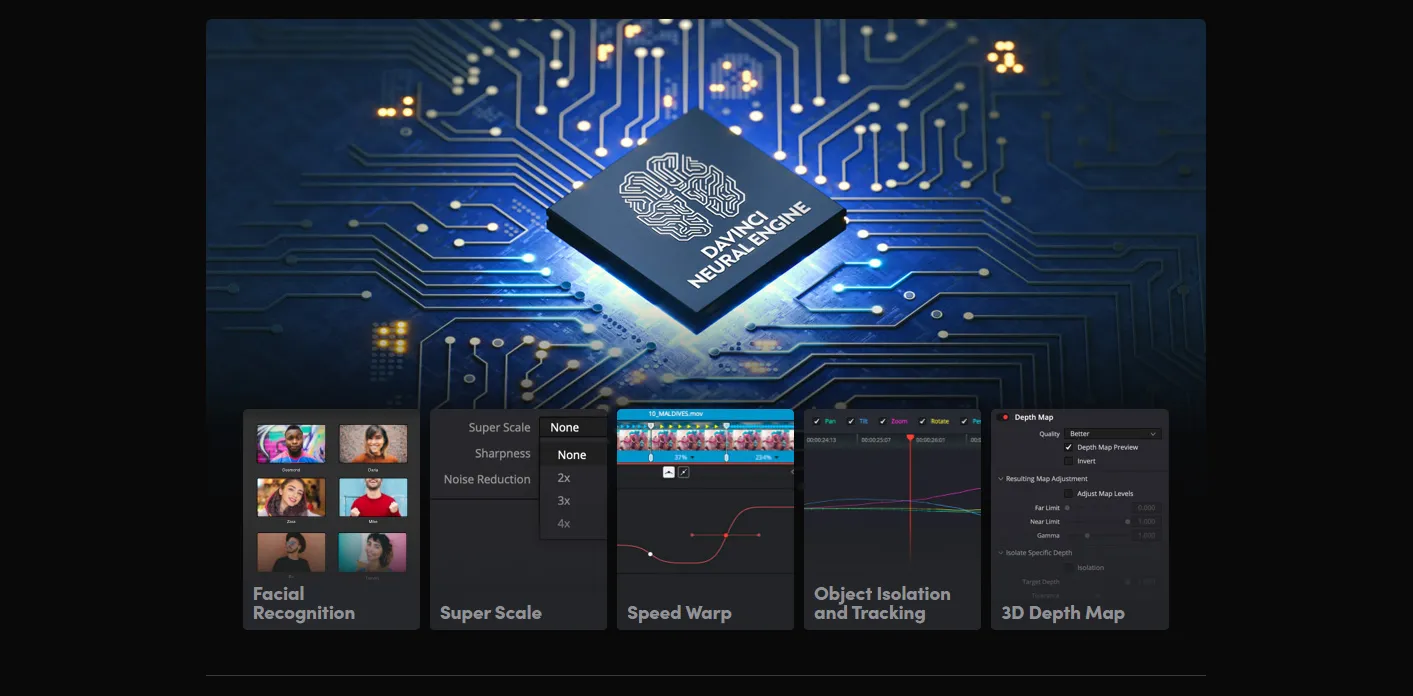 The neural engine speeds up video editing by doing complex tasks with advanced AI, machine learning, and neural networks.
It can detect and track objects in videos. The feature is limited in the free version.
The paid version, however, can perform face detection, object removal, scene cut detection, auto color matching, high-quality de-interlacing, and object isolation.
Performance ready
DaVinci Resolve supports video editing and creation with up to 4K resolution and at 60 frames per second (FPS) only.
Projects with over 4K resolution are supported in the Studio version. It supports up to 32K resolution at 120 FPS with Advanced HDR delivery.
More on DaVinci Resolve: VSDC vs. DaVinci Resolve
More format support
Both can import the majority of image and video files. The Studio program supports 8 and higher-bit files.
According to B&H, 8-bit video files have a maximum of 16.7 million colors compared to over 1 billion in a 10-bit file.
Other formats that Resolve Studio can encode and decode:
IMF (for Netflix, Fox, and other streaming platforms)
DCP
The powerful advanced HDR grading
High Dynamic Range, or HDR, is a technology that makes scenes look more natural by increasing the colors.
Davinci Resolve supports basic HDR grading, while Davinci Resolve Studio supports advanced HDR10+ grading and rendering.
Advanced HDR grading takes more power and memory but gives you more flexibility and color grading features.
Professional HDR scopes
The next difference between the DaVinci Resolve vs. Studio is HDR Scrope.
HDR scopes provide detailed information about the image in graphical forms, such as the parade, waveform, vectorscope, and histogram.
The Scopes are available in both, but Studio has professional Scopes. Those can measure and give more information about ST.2084 and HLG pictures.
Great stereoscopic 3D tools
Another benefit of Studio is Stereoscopic 3D, a technology that creates the illusion of depth.
The illusion of depth gives videos a glowing look. The technology can be used in movies and video games to make 2D videos more like 3D.
Immersive 3D audio
Both the free and paid versions of DaVinci Resolve have a Fairlight section, which has a lot of tools for editing audio for post-production.
However, Studio supports high-resolution and immersive 3D audio. Some of the features that Immersive 3D Audio provides are as follows:
Dolby Atmos support
MPEGH import and rendering
Auro3D
SMPTE ST.2098 support
Re-mixing External Productions
B-chain audio monitoring
3D panner
3D Spaceview
IMF Audio Deliverables
Powerful GPU acceleration
The next feature on the DaVinci Resolve vs. Studio list is that the latter supports GPU acceleration. The free version will take longer to render videos.
The Studio version uses your GPU, which is over 50 times more powerful than the CPU.
More Resolve FX
There are many Resolve FX in both. Still, Studio has over 30 additional GPU-accelerated Resolve FX that are efficient on both the GPU and the CPU.
Here is a list of some Studio version effects:
Lens flares and reflections
Analog damage
Sharpening
Face refinement and beauty tools
Image restoration and dirt removal tool
Film grain
Patch replacer
Advanced noise reduction
Beware, this is not for audio noise reduction. The advanced noise reduction is for images, and the option is available in both versions.
Noise reduction is reducing the amount of noise in an image. This can be done to make the image clearer by reducing the noise.
Studio has advanced tools such as temporal and spatial noise reduction, making it possible to get rid of noise more precisely. Here is an example image to see the difference.
While you are here: Filmora against DaVinci Resolve
Lens distortion
Using lens distortion in DaVinci Resolve Studio, you can make the video look more natural or authentic. The tool uses advanced image analysis and processing algorithms.
Remote grading
Remote grading lets the video editors (colorists) work with DaVinci Resolve Studio. The free version of DaVinci Resolve 18 supports cloud collaboration but not remote grading.
Scripting and automation
Through a developer API, DaVinci Resolve Studio lets us add workflow integration and custom encoding options.
We can make our custom integrated workflows with the help of Python and LUA scripting. The Studio version also allows us to integrate many plugins with its developer API.
Specification differences
Although the app does not require a high-end PC, depending on your project, you will need a powerful enough computer to handle tasks.
For example, having at least 16 GB of RAM is recommended while working on 4K projects. For optimal performance, you need 32 GB.
DaVinci Resolve vs. Studio: Price difference
The DaVinci Resolve is free and has more functionality than most premium software programs. DaVinci Resolve Studio costs $295, with the free features mentioned on this page.
Conclusion
DaVinci Resolve, as suggested, has more features than some paid programs, so it will be enough for YouTube videos.
However, advanced videos that require special teams will benefit from the Studio version.
This was the DaVinci Resolve vs. Studio comparison. Please share your thoughts in the comments below and subscribe to the newsletter to stay connected remotely.
Links
My name is Madhsudhan Khemchandani. I have a bachelor's degree in Software Engineering (Honours). I have been writing articles on apps and software for over five years. I have also made over 200 videos on YouTube. Read more about me on the About page.