When it comes to video editing, you find many subscription-based programs. However, from the plethora of lists, we have some free programs helping small creators.
Two of those programs are VSDC and DaVinci Resolve. How do both differ? In this VSDC vs. DaVinci Resolve debate, you look to uncover that.
Quick overview
VSDC is great for beginners to experienced users to start their journey and create social media videos. In contrast, DaVinci Resolve is much bigger than VSDC and will benefit pretty much everyone working in any industry.
What are both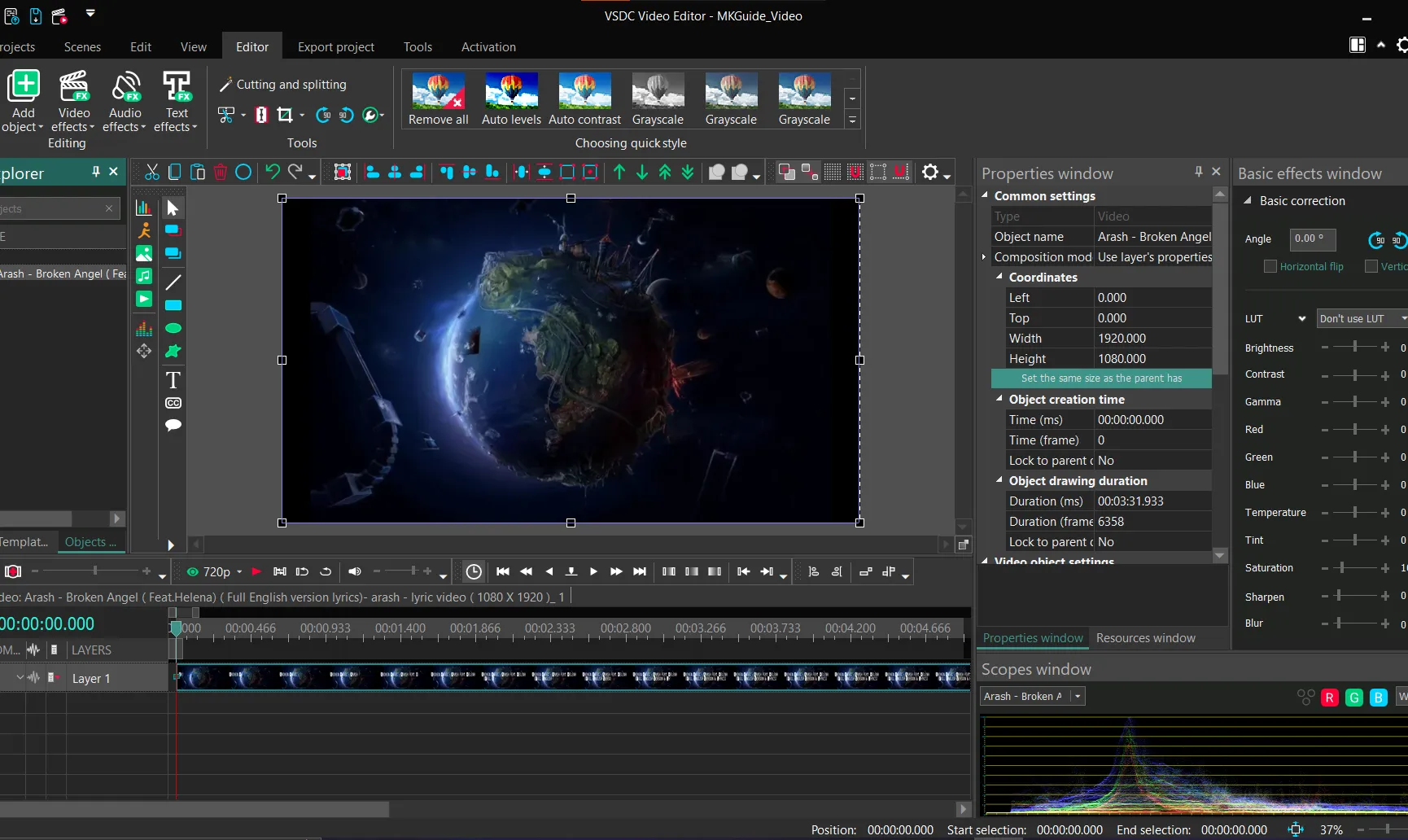 VSDC and DaVinci Resolve are robust video editing software programs offering a wide range of editing options.
DaVinci Resolve is a platform for professionals to edit from social media videos to movies. Available on macOS, Windows, and Linux, DaVinci Resolve allows local and remote real-time collaboration.
VSDC is a windows-based program only. With the help of effects, filters, live color correction, 4K support, and other editing tools, it can create high-resolution videos with a professional look.
Ease of use
In terms of the interface, VSDC is fairly easy to understand. It has an intuitive user interface that makes it easy to find what you're looking for and access all the necessary editing tools.
DaVinci Resolve also provides easy access to editing tools. Its editing panel is organized into pages, each providing a dedicated workspace and specialized tools.
When it comes to exporting, both provide quick export options. Users can choose the platform they want to export to, and the tools will automatically change the video settings to match accordingly.
However, VSDC gives you a bit more freedom when exporting by asking you the end platform (YouTube, Facebook, Instagram, etc.) and resolution before you even create a project.
Winner: VSDC
Video editing options
Both VSDC and DaVinci Resolve offer users many editing options. Each has its own strengths and weaknesses, but either program can handle most editing tasks. Some of the common editing features of both are the following:
Cutting, trimming, and splitting tools
Style and color filters
Color correction
Color grading
Keyframe animation (Resolve has advanced keyframes)
Non-linear editor
Merge audio files and photos into a video
Chroma Key / Green Screen
Multitrack editing
DaVinci Resolve is more versatile in terms of color grading. Its editor has an incredible range of primary and secondary color grading features, including advanced HDR grad tools, camera raw, color wheel, color match, RGB mixer, curves, color warper, etc.
It also has more advanced keyframes allowing you to animate images and videos.
This separates DaVinci Resolve from other video editors, making it one of the few programs being used in the film industry.
Both tools offer easy access to video, audio, transition, and text effects. VSDC divides the video, audio, and text effects into different groups. The opponent also arranges the video effects in separate groups.
Winner: DaVinci Resolve
VSDC vs. DaVinci Resolve: Video effects
Both VSDC and DaVinci Resolve offer many video effects that can be used to enhance the look of your videos. You can use these effects to add creativity and attractivity to your videos.
VSDC offers 129 video effects. These effects are arranged in the following groups:
Quick styles
Adjustments
Filters
Transforms
Transparency
Special FX
360
3D
Nature
The video effects are also divided into distinct groups in DaVinci Resolve. There are 88 video effects, which are arranged in categories, including:
Effects
Fusion effects
Resolve FX Blur
FX Color
Resolve FX Generate
Resolve FX Key
FX Light
Resolve FX Temporal
Resolve FX Texture
FX Transform
Resolve FX Warp
Winner: Tie
Related: Filmora vs. DaVinci Resolve
Audio effects
The number of audio effects in both programs is almost the same. There are 27 sound effects in VSDC, and they are easier to use because they are organized into groups:
Amplitude
Delay
Filters
Time stretch
Pitch shift
Special effects
DaVinci Resolve offers 24 audio effects. Some widespread effects are chorus, delay, echo, phase meter, stereo fixer, vocal channel, etc.
Winner: DaVinci Resolve
Transition effects
DaVinci Resolve is the winner when it comes to transition effects. In VSDC, there are only 11 transitions, whereas, in DaVinci Resolve, there are 63 video transition effects and 3 audio transition effects. The effects are put into categories:
Dissolve
Iris
Motion
Shape
Wipe
Fusion Transitions
Resolve FX Color
Resolve FX Stylize
The official VSDC page provides helpful insights on using transitions in projects.
Winner: DaVinci Resolve
Text options
Of course, you can add custom text and customize it to suit your style. Both come with various options, including fonts, size, styles, and alignments.
DaVinci Resolve, besides a text editor, comes with over 60 pre-built text titles to quickly add to the project. This makes DaVinci Resolve better if you use lots of text.
Winner: DaVinci Resolve
Related: VSDC vs. Shotcut
Exporting options
The next section of VSDC vs. DaVinci Resolve is exporting features. As mentioned, VSDC asks for the export options while creating the project. You can also adjust the settings on the export screen. The below table gives you an idea of exporting options.
| Device type | Export Formats |
| --- | --- |
| PC | AVI, MPG, MOV, WMV, MKV, RM, SWF, FLV |
| Web | MP4, WebM, FLV, SWF, GIF, APNG |
| iPhone/iPad and Android | MP4 |
| DVD | DVD, VCD, AVI, MPG |
| PS | PSD, DVD |
| Xbox | WMV, AVI, MP4, DVD |
VSDC exporting formats
Resolve's media and delivery section allow us to export video in different formats. It arranges the export formats into the following groups based on the usage.
| Category | Export formats |
| --- | --- |
| | |
| Custom, IMF | AVI, DCP, DPX, EXR, IMF, JPEF, MP4, TIFF, MFX OP-Atom |
| YouTube, Vimeo, Twitter, Dropbox | MP4 |
| Final Cut Pro 7, Premiere XML | MP4, MFX OP-Atom |
| AVID AAF, Pro Tools | MFX OP-Atom |
DaVinci Resolve exporting formats
Winner: Tie
Pricing
This is where you find the major difference. Of course, both are free, but you can get extended options.
VSDC's Pro plan costs $19.99 and provides the following additional features:
Motion tracking
Hardware Acceleration
Al Art Generator
Edit the beat
Audio waveform
Video stabilization
Advanced Mask tools
Chroma Key
Voice over
Technical support
DaVinci Resolve Pro plan costs a one-time $295. It includes everything in the free version, DaVinci Neural Engine, advanced HDR grading, HDR scopes, stereoscopic 3D tools, extra filters, and audio plugins.
Links
Conclusion
VSDC is an excellent choice for beginner filmmakers as it is easy to use. It is a lightweight software package and can run on medium-level systems. When it comes to using video effects and exporting video in different formats, VSDC is more flexible and easier to use.
DaVinci Resolve is better for more advanced filmmakers because it has more powerful tools. The interface is very modern and professional. It takes some time to get used to, but once you do, it's easy as pie.
So, this is for the VSDC vs. DaVinci Resolve article. What do you think of both? Please share your thoughts in the comments and improve this article for other readers.