The internet is full of task management programs. In this battle, two tools are TickTick and Todoist. What would the comparison look like? The article helps you decide between the two by covering TickTick vs. Todoist.
Introduction
TickTick
TickTick is a task management app that helps to organize all aspects of your life. It is a one-stop destination to add tasks and get them done in an organized way.
Anyone from an individual to a team can use this application. However, its free plan is suitable only for individuals as you can't share your work or invite anyone for free.
Todoist
Todoist is also a task management tool used mainly by small and medium-sized businesses. You can add up to 5 members for free, but this limitation is removed in the premium plan.
Features
Both offer simple to advanced to-do list options. Here are the common features that you see in both:
Tasks and subtasks
Task descriptions
Task priorities (four priorities)
Projects
Tags
Task comments
Task repetitions
Sending tasks in emails
TickTick features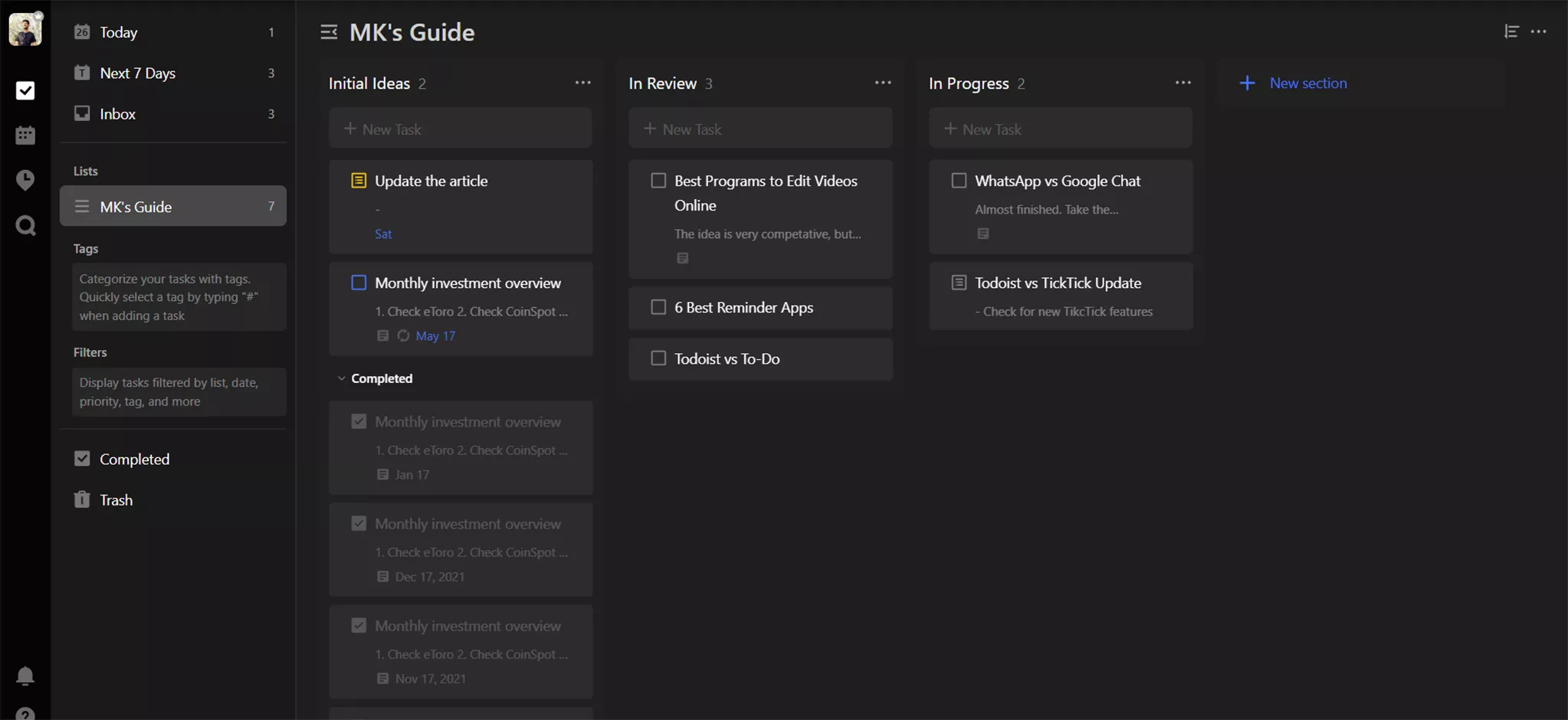 Pin tasks: You can pin the most important tasks to the top of the list.
Habits: Habit Tracker is a check-in option for your work. The tool reminds you on specific days at a certain time about your work or anything else you want it to remind you. You get to fill in the habit name, frequency, goal, and reminder options.
Show timer: Instead of the task due date, you can see the time counter for tasks. For example, you see 1D next to the task due tomorrow.
Task durations: You can set task durations for lengthier tasks.
Convert to note: You can convert the task description to a note.
Rich text editing description: The task description supports rich text formatting, so you can copy a whole article and paste it there.
Reminders: TickTick offers to set two reminders per day for free, while Todoist brings this option only in the paid plans.
Location reminders: Creating location-based reminders is possible on mobile devices. The option will remind you when you are close to a destination.
Folders: You can create folders to organize your workflow.
Pomodoro timer: On mobile devices, the app brings a Pomodoro timer to help you work efficiently with your time.
Todoist features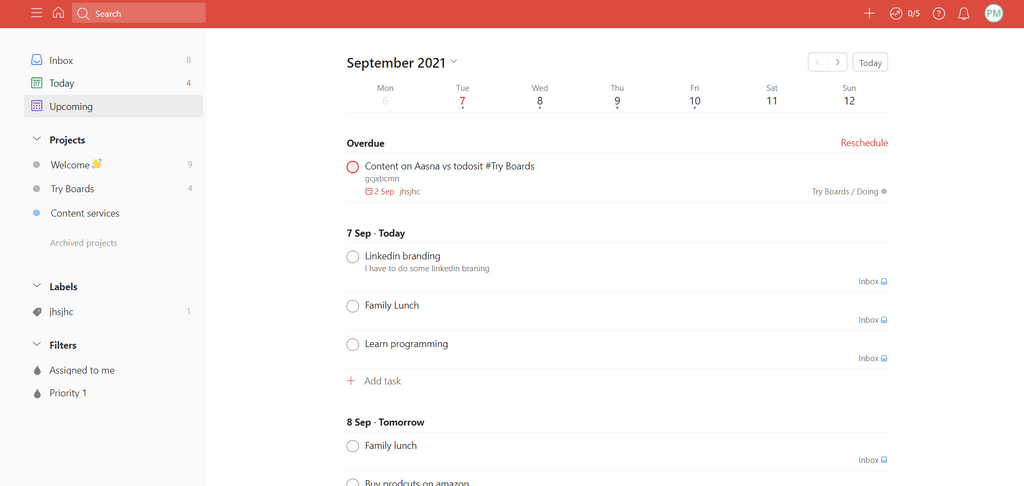 Goals: The app helps to set and achieve goals (a similar option in TickTick is the habit tracker).
Task history: Todoist shows the task history for free.
Filters: Todoist offers the filters option for free, while TickTick puts this feature in the premium version. Filters, with the help of queries, allow you to organize tasks.
Advanced natural language: With the help of Natural language commands, you can set the task day, time, date, etc., in the task title. Although both support the natural language, Todoist supports more natural language commands.
Attachments: Todoist supports attaching files to tasks. TickTick only supports one attachment per day.
Delay till tomorrow: On a desktop PC, you can quickly move a task due today to tomorrow by dragging and dropping it at the bottom.
Related: Trello vs. Todoist
Collaborations
Todoist supports adding users and sharing tasks to collaborate on projects. You can add up to 5 users per project for free. TickTick requires you to subscribe to the premium plan to use the collaboration option.
Kanban-style boards
Yes, you can see tasks in a Kanban view. Both support adding sections to projects. The sections are then used to set columns (lists), while the tasks under each section play as cards. You can move around and change task status.
Platforms
The common platforms, including Windows, macOS, iOS, and Android, are supported by both. TickTick supports Apple Watch, while Todoist, in addition to Apple Watch, supports Wear OS. You also find them as Gmail add-on and Outlook add-in.
Mobile apps
Apps are part of the Todoist vs. TickTick comparison because mobile is also used for task management. The mobile apps of both are similar to the desktop ones in terms of features.
Both use the default Android and iOS layouts, while you can sign in and up using the same options. Moving to widgets on Android, you find ten widgets for TickTick, while Todoist comes with three widgets in total.
Integrations
This part of the TickTick vs. Todoist article looks at the integrations both offer. Along with calendars, both support a wide range of plugins. Some TickTick apps are:
Zapier
Gmail
Amazon Alexa
Spark
Outlook
Slack
Shortcuts
Google Assistant
On the other hand, you find the below tools on Todoist:
Gmail
Slack
Dropbox
Trello
Alexa
Google Assistant
Zapier
Google Drive
Both do not limit integrations, while you can request third-party apps if you can't find the app you need.
Related: TickTick vs. Google Tasks
Premium and pricing
TickTick offers one premium plan, while Tofoist has one for individuals and teams. The Premium plan of TickTick unlocks:
Calendar view
Customized filters
Folders
Historical statistics
Separate reminders for each task
Collaborations
Previous changes
Premium themes
Premium white noise for Pomo timer
The plan costs $17.99 per year, about $2.33 per month. Students can also get a 25% discount on the premium plan and only pay $20.99 for the subscription.
The Pro plan of Todoist costs $48 per year ($4 per month). You can also subscribe to the monthly plan and pay $5.50. The Pro plan offers:
Up to 300 active projects
150 filters
Up to 100MB of file attachments
Reminders
Activity history
More themes
TickTick vs Todoist: Links
Conclusion
Both are well-established software packages. If you want an app for yourself, either will work fine. If you need a task management app for your team, I recommend trying TickTick first because it is cost-effective.
You should also write down the features you need and see which app offers those features to find the best program.
Anyway, the comparison TickTick vs. Todoist ends here. I hope it helped you see the difference between the two. Before going, please share your thoughts in the comments so that others can benefit.