Discord is a well-known resource for hosting chats. However, Mumble is gaining popularity as people realize its potential for voice chat and its general audio quality.
Is Mumble a better choice, or does Discord still reign supreme? The article covers Mumble vs. Discord.
The difference
Mumble and Discord are communication apps allowing you to join servers and connect with the community. You can also create your servers and invite users.
For example, if you are developing a game, you can create a server where all the users can come and chat.
The main difference is that Discord servers are hosted on Discord, whereas Mumble servers are self-hosted.
There are channels in each server, such as general, updates, introduction, etc. Depending on the user level, they can join channels and discuss.
Mumble vs. Discord: Interface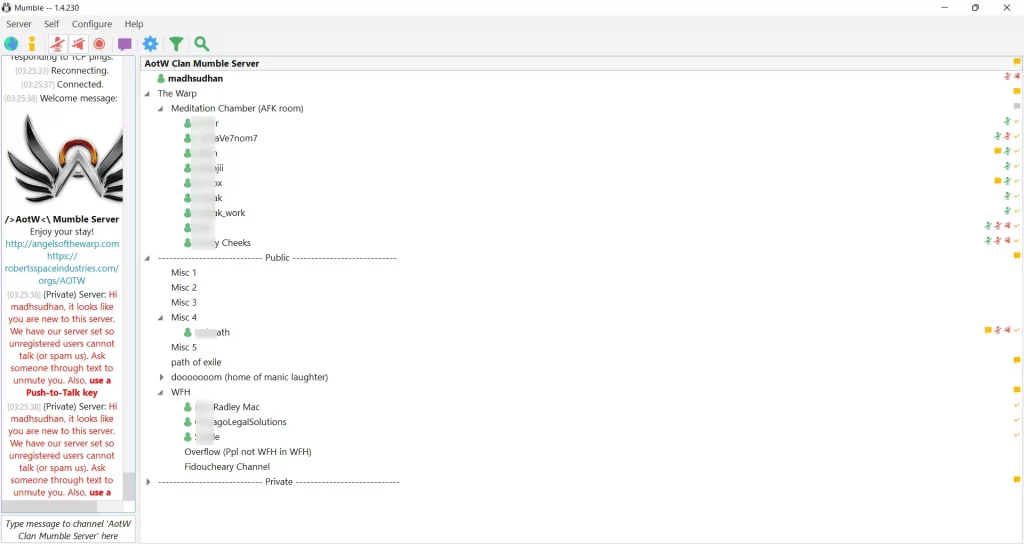 Many users, especially gamers, love Discord for the design of the interface.
It is clean and attractive and doesn't shout for attention over your gameplay and other elements on the screen. Yet, it is still user-friendly and easy to read.
Mumble, in comparison, looks dated, as the main focus has always been functions rather than the interface. Still, you can get your hands on it pretty quickly.
In Mumble, you can easily see who is talking and keep this in the ideal position without obstructing gameplay.
Video and voice chats
Discord is an excellent choice for those who want the whole online communication experience. The text chat channel has the feel of Slack but with some added features and quality.
This means that it is a functional tool and has enough familiarity not to overwhelm users when setting it up for the first time.
However, there is also the option of voice and video messaging.
Mumble, meanwhile, is much more limited. This option is all about voice communication.
Many are, however, impressed with how Mumble sounds, with the audio quality making the Mumble name a little ironic. Most can hear speech with more than enough clarity.
Another benefit of Mumble is that the range of dedicated servers and Opus as an audio codec allow for barely any latency.
This makes all the difference with online gaming, where voice chats are essential.
Accessibility and dealing with servers
Discord servers are also pretty easy to connect to, where you can easily join online via an invite, and numbers are nearly unlimited.
This is perfect for those streaming games on Twitch and interacting with their community, as the platform should hold up as you build your viewership.
The downside here is that there isn't a self-hosting option. You have to run your chat through a company server.
This is where you need to choose between a self-hosted option and downloaded software or stick with the accessible browser option of Discord.
Those that want to go for the Mumble software should find a free download compatible with most systems.
Channel powers
A bonus with Discord is the ability to create a clean and well-managed community. You can set up moderators, ban people that may break community rules, and create controls over messages.
Mumble also supports rules privileges to ensure that users don't misuse the server, but Discord is much easier to manage than Mumble.
File sharing
There is better integration of other sites and media on Discord, including YouTube, Spotify, and Twitch, letting you see and open files directly on Discord.
It is possible to add images to a channel on Mumble, but as the primary focus of this program is voice chat, there isn't the same multimedia experience.
Furthermore, Discord allows for screen sharing, while Mumble doesn't.
Integrations
As mentioned, Discord supports many apps out of the box. The power of Discord integrations is Zapier, an automation program to connect Discord with hundreds of apps.
Mumble lacks this option, too, as we don't see any apps supporting it yet.
Other differences
Mumble
Mumble has the Push-to-Talk button, a handy instant mute system.
Mumble has an automatic volume adjustment for greater consistency.
Discord server limit is 500,000, whereas Mumble has no limit on total channel users.
Discord
Discord currently allows for cloud synchronization, whereas Mumble doesn't.
Discord servers can use bots for welcome messages, polls, and other crazy things that Discord does not offer.
Pricing
Discord offers a Nitro subscription for $9.99 per month for those who want to increase their server's existence. The user gets:
More emojis
Attachment limit of 500 MB (8 MB regular limit)
Monthly credits to boost a server
Profile badges
A personal profile
Up to 4K quality streaming
You can apply for Nitro Basic if you don't want many premium features. The plan asks for $2.99 monthly and gives you a 50 MB upload, custom emojis, and profile badges.
Mumble is open-source and free; however, a cost is involved if you want to self-host your server. The server costs as little as $2 per month.
Which is better?
Users looking to build a high profile online will get more out of Discord because of the easy set-up, interface, and perks.
But, more casual gamers who want to chat while playing shouldn't overlook Mumble because of the low latency, clarity, and self-hosting options.
If your community is more on mobile phones, you might benefit from apps like Telegram and WhatsApp. Check out Discord's comparison with Telegram and WhatsApp.
Links
Summary
Mumble vs. Discord is a commonly searched term because both are in the same industry. Mumble may slow you down initially, but it can add massive value.
Thanks for reading this article. You can improve this article by commenting on issues and suggestions down below. Also, add your email to the mailing list to stay updated.