An engaging presentation has a bit of everything, and to get that everything feeling, you must have a perfect app.
Two presentation apps are Prezi and Google Slides. If you are looking for the best between the two, this is Prezi vs. Google Slides to help you decide.
Note: Prezi is for designs, video conferences, and presentations, and this article focuses on presentation features.
What are both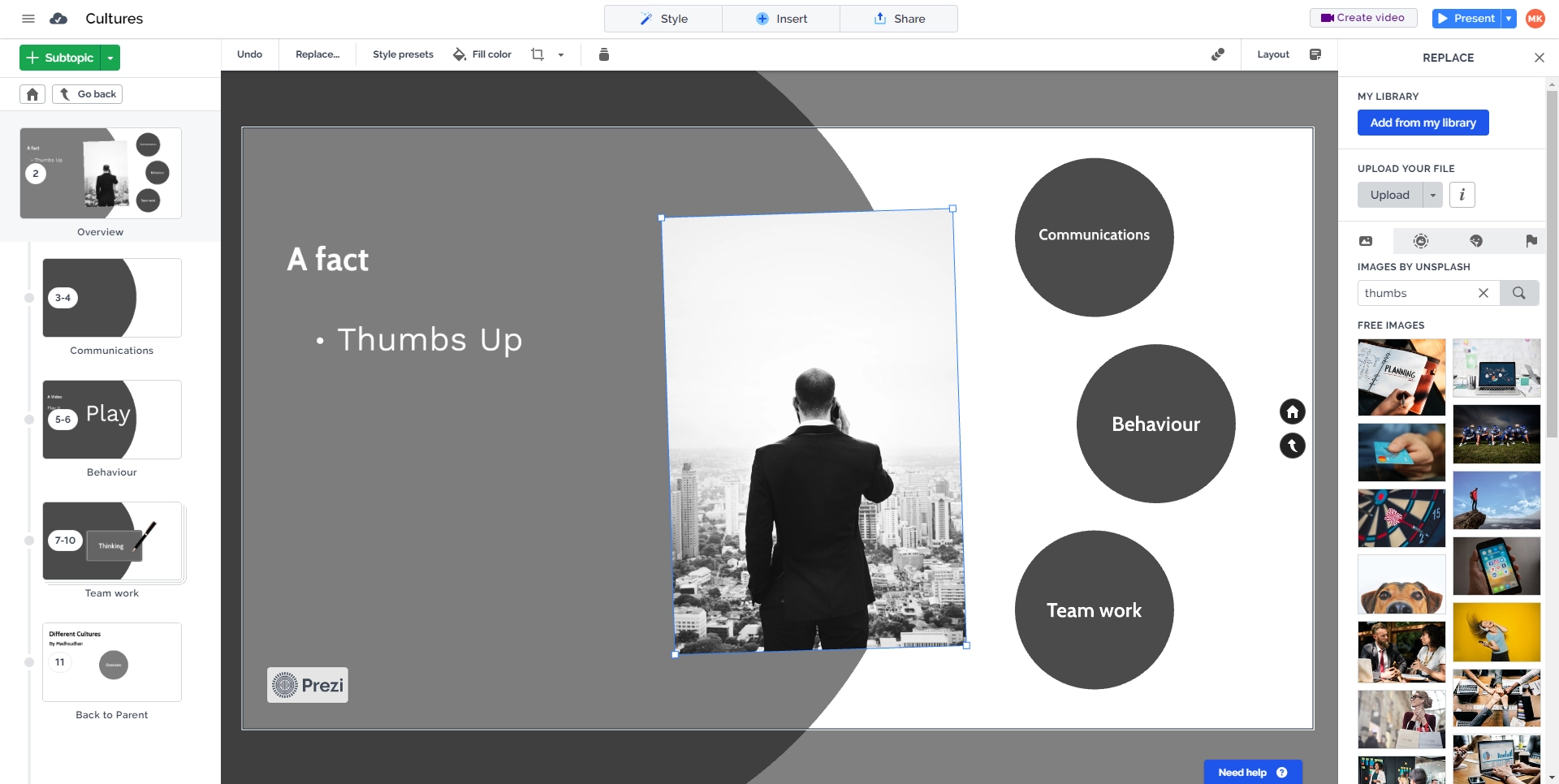 Prezi is presentation software that personalizes your experience depending on your student, educator, or business role.
It can be used for:
Creating designs and presenting
Video conferences
Recording video presentations and presenting later or sending them to others
The app supports inviting your team or friends to collaborate.
Prezi does not use an individual slide approach but a canvas-based method for presentation. You can zoom in and out on the subject of the presentation.
The program has 100 million users, with over 360 million presentations created.
Google Slides is a free collaborative cloud-based presentation program. You can add images, videos, and audio to presentations.
The good thing about Google Slides is that it is connected to other Google apps, like Google Sheets, Gmail, and Google Drive, allowing you to log in and start working anywhere you want.
Tools
The content we can add
Prezi lets you add many options, including text, images, GIFs, icons, animations, PDFs, and media.
Google Slides allows adding:
Text
Images (computer, web, Google Photos, Drive)
Audio from Google Drive
Shapes
Tables
Videos (YouTube and web)
Charts (new charts or from Google Sheets)
Word art
Lines
Animations
Special characters
Image options
In Prezi, you can upload pictures directly from your computer. It also supports images from cloud storage platforms like Google Drive, Dropbox, and OneDrive.
Moreover, it is integrated with Unsplash, but you can't search for Unsplash images for free. Lastly, we can add GIFs, stickers, and icons.
Google Slides supports images from your device, Google Drive, Photos, and Google Images.
Video options
Both allow adding videos from YouTube and the web. Prezi supports uploading videos from your computer in premium plans.
Downloading presentations
Prezi saves your presentations in your account. To download or convert any to PDF, you must upgrade to one of the premium accounts.
Google Slides offers to download files in multiple formats. You can download presentations in the below formats:
Microsoft PowerPoint
OPD document
PDF document
Plain text
JPEG (current slide)
PNG (current slide)
Scalable vector graphics (current slide)
Prezi vs. Google Slides: Features
Importing presentations
Both allow you to import PowerPoint presentations to your account. Prezi also supports importing PDF presentations.
Prezi Designs and Video
Prezi also has a video conferencing program that lets you add media and present or record videos. The program also has a design program to create and share visuals.
Charts
Prezi has fewer charts than Google Slides. However, its charts have built-in animations and tools to help you quickly visualize data.
Google Slides lets you add bars, columns, lines, and pie charts. You can import Google Sheets documents to create charts.
Related: Prezi vs. Canva
Comments
You can add comments in Google Slides. You can access Q/A history and speaker notes concerning your presentation.
Templates
Having templates to brainstorm presentation ideas is helpful. Both offer templates, but Prezi has slightly more.
All these templates are categorized, making it easier for the user to find the desired template.
You can modify and customize the theme and layout of these templates according to your brand or presentation style.
Prezi library
Prezi library is a section to save your most used elements. You can save any element from a presentation and use it in other presentations.
For example, the About section can be saved in the library and used in every presentation with one click.
Mobile app
Prezi's mobile app allows viewing and presenting presentations, but editing is impossible. In the Google Slides app, you can edit and present slides on your mobile phone.
Although editing on mobile is a bit time-consuming, you have the option if you have no choice.
Integrations and add-ons
Prezi supports many third-party apps, including Google Drive, Slack, and Zoom. Google Slides also supports integrations. Here are a few that can be integrated:
Microsoft Excels
Google Forms
OptiSigns
LucidCharts
Slido
The main power of Slides is its add-ons. Prezi has nothing major besides Unsplash, YouTube, and other video embedding programs.
Google Slides has many free add-ons. Those can let you add GIFs, create to-do tasks, translate text, add polls, add stock images, etc.
While you are here: Canva or PowerPoint
Collaboration
Since both are online programs, both allow collaboration. You can invite your teammates with the link to comment, edit or present in real-time on a project.
Pricing and plans
This is where we see the difference in the Prezi vs. Google Slides battle. Google Slides is entirely free. Prezi is not.
Prezi's Basic individual plan is free of cost. The plan is for users to try the platform. The Standard plan costs $5 per month, which gives access to:
Unlimited content adding
Privacy control
Premium images, icons, and backgrounds
Advanced image editing tools
PowerPoint converter to convert presentations to engaging slides
The plan also supports some premium Prezi Design and Video features.
The Plus plan costs $15 per month, and along with the Standard plan features, you get:
Smart branding
Offline access on the desktop app
Presentation voice record
Remote presenting
The Premium plan costs $59 monthly and offers presentation analytics and phone support. Prezi also brings student and educator plan discounts and business plans for teams.
Which one is for you
For individuals who want simple presentation software that does the job, Google Slides is a perfect choice. Those who work in large corporations and have regular presentations should try Prezi.
Prezi offers great templates and animations to convert your basic presentation into something next level.
If you are a beginner, Prezi might be difficult for you to handle and manage compared to Google Slides. But if you want your presentation to stand out among others, you should give it a try.
Prezi vs. Google Slides: Links
Madhsudhan Khemchandani has a bachelor's degree in Software Engineering (Honours). He has been writing articles on apps and software for over five years. He has also made over 200 videos on his YouTube channel. Read more about him on the about page.