Samsung Internet or Google Chrome? Both are pre-installed on Samsung devices and available on other Android phones.
The article explores the two and covers Samsung Internet vs. Google Chrome.
Interface
Samsung Internet has a bottom row for all options. The top shows the website address, bookmarks, and reload options. You can move the top row to the bottom.
In terms of customization, Samsung Internet gives us more control. Google Chrome does not allow the moving of options or rows.
Most options on Google Chrome are on the top.
Dark mode
Samsung Internet has also changed the way the dark theme works. The app follows the device's theme, so if the dark mode is enabled on your phone, the app will be in the dark mode.
However, an option called "theme sites" lets you change the website's layout.
For example, in the dark theme mode, the website's colors will be switched. In the above image, the website is in light mode, yet the app displays it in dark mode.
Google Chrome offers a dark theme but in an ordinary way. It changes the app's colors, but websites will be in their original colors.
Related: DuckDuckGo vs. Firefox
Platforms
This is the major reason in the Samsung Internet vs. Google Chrome battle why users choose one from the other.
Samsung Internet is only for Android devices (traditionally). It is possible to use it on your computer using the Chrome extension, and you can test it on your iOS, but official apps are not yet offered.
Account
Samsung Internet uses your Samsung account, whereas Chrome uses your Google account. Both sync your browsing history, bookmarks, passwords, etc. Google Chrome also saves your payment information.
The Samsung Internet mobile app syncs the data. The Chrome extension does get the data from the app, but it does not send any, so whatever you browse on your PC won't be available in the app.
Tabs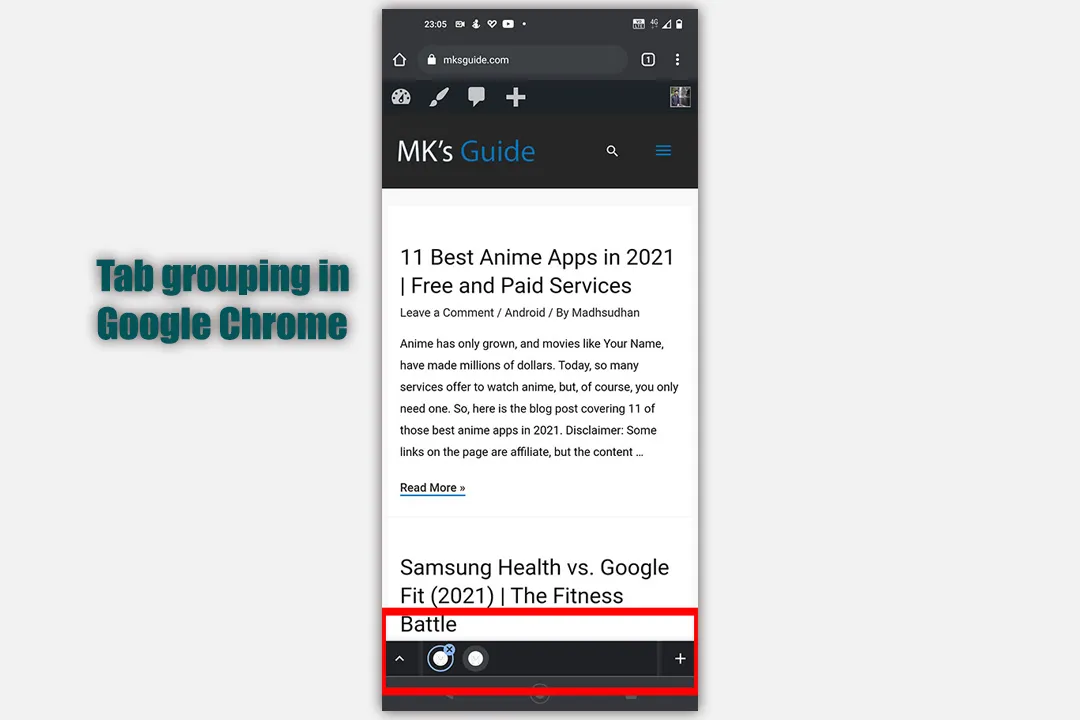 Google Chrome may be the browser for you if you open many tabs. You can create tab groups to organize your tasks. Each work type tab can be stored in a group for better workflow.
Samsung Internet does not support tabs, but it comes with three layouts to choose from. You can select list, stack, or grid view in the tabs section.
Private mode
Samsung Internet comes with a secret mode. When enabled, all new tabs open privately. You can go back to normal browsing by turning it off.
The secret mode can be password-protected with a biometric or a PIN.
Google Chrome contrarily offers to navigate the normal and private tabs simultaneously. The options, such as history and cookies, are not saved and synced.
Related: Google Chrome vs. Brave Browser
Privacy and security tools
Privacy is essential, and many browsers have tried to take many steps to ensure that users browse the internet safely.
Samsung Internet
The browser comes with a built-in smart anti-tracking feature that blocks tracking cookies and scripts from websites. The option is disabled by default but can be enabled in settings.
You can block unwanted web pages and ask the websites not to track you. Moreover, the browser can warn you when you visit a malicious website.
Google Chrome
Google Chrome comes with a Do Not Track option, which prevents websites from taking certain kinds of data. The app also offers to disable payment methods on websites.
Passwords
Samsung devices come with an app called Samsung Pass, which works with other apps, including Samsung Internet, to sign quickly.
You must verify by inserting the PIN or any other form selected in the app. This makes browsing more secure.
Samsung Pass is unavailable on all Android devices, so you can't enjoy the freedom on your non-Samsung Android phone.
Google Chrome can save your password in your Google account, and your passwords can be accessed after verifying your credentials.
One thing I don't like about Google Chrome is that you can log in to websites with saved passwords. Google Chrome does support an option to verify the user each time they log in.
Related: Mozilla Firefox vs. Brave
Add-ons
Samsung Internet goes one step ahead by offering extensions. Google Chrome does not provide any.
You can find add-ons such as ad blockers, Amazon Assistant, safe browsing, etc. The ad blocker is solid and does a great job.
Battery Test
The battery round of Samsung Internet vs. Google Chrome shows some exciting results. Two tests (Wi-Fi and mobile data) were conducted for this round by playing the same video at full volume.
Results for Wi-Fi test:
The battery usage tracking feature showed 5 minutes for Google Chrome, while for Samsung Internet, it was 4 minutes. Still, there was a 50% difference in battery life.
Samsung Internet consumed about 0.3% of the battery, whereas Google Chrome consumed 0.6% of the battery life.
Results for mobile data test:
The video covers the battery part of the whole comparison. You can check out the full comparison video on YouTube. On mobile data, the results were different.
Both consumed 1% of the battery even though the played media was shorter than the Wi-Fi video.
This also proves that both browsers consume more battery on mobile data. Overall, Samsung Internet gets this round.
Extra features
This section of Samsung Internet vs. Chrome covers some extra options for both.
Samsung Internet
Change the text size on websites.
Separately save video URLs in the history
Scan QR codes.
Google Chrome
A lite mode to save data
A one-tap share URL to PC browser feature
Manage cookies, permissions, and cache for each website
Similar
A voice-to-text feature to search on the internet.
The default search engine is Google.
Which one should you use?
If you use Chrome on other devices, you should use Google Chrome. The app is more powerful when you combine the desktop and mobile versions.
If you don't use Google Chrome on a PC, or your phone work is entirely independent of the PC, you should try Samsung Internet. Its features may surprise you.
Samsung Internet vs. Chrome: Links
Wrap up
The Samsung Internet vs. Chrome article covered essential topics. I hope the text helped. Please let me know which app you are going to use.
Also, if you have any thoughts about both, in the comments below, we can discuss more.