StreamElements takes OBS to the next level by offering chatbots, tipping features, donations, and merch options. It also has widgets that can help you display anything you like.
But, as a new streamer, it would be challenging to understand StreamElements widgets. So the article explains all StreamElements widgets.
Info
All those widgets are taken for the overlay editor on the StreamElements website. However, many custom StreamElements widgets are developed by the community, and those were not included in this article. You can check out the 10 best custom widgets article by StreamElements.
All StreamElements widgets
Alerts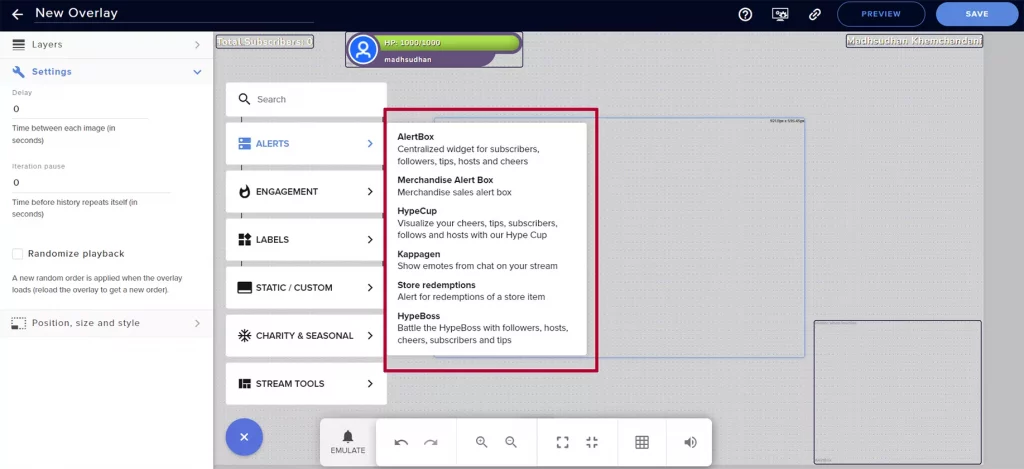 The Alerts widgets can be used to display alerts from followers and tips to store redemptions.
AlertBox: AlertBox is an all-in-one alert widget to display followers, subscribers, tips, cheer, hosts, raids, and purchase alerts. Each can be enabled and disabled.
Merchandise Alert Box: A special alert box for merch sell notifications.
HypeCup: The HypeCup is a type of cup that visualizes alerts. You can modify it to add something to the cup when the same alert triggers.
Kappagen: The widget can display an emoji or a supported image on the screen when the same alert triggers.
Store redemptions: It displays store item redemptions. You can display an image with the alert as well.
HypeBoss: A new fun type of widget to make your stream a battle. It adds a health status bar that increases with new subscribers, tips, and followers. You can modify the colors and values.
Interested in StreamElements? Check out its fight with Streamlabs OBS to see which one is better for your work.
Engagement
You can show how your viewers are engaging with your stream using the engagement widgets.
Countdown: A countdown timer to count and display a timer. You can use it to show the remaining time, and add a custom message with and after the timer.
Contest: To play and display the current contest. Contest title, options, and contest duration can be specified.
Giveaway: Your current giveaway for your viewers. It supports purchasing tickets. You can set the title, description, and giveaway image. Other features include adjusting ticket costs and maximum tickets per user.
Media Request: Display internet videos and music in the stream.
Merchandise Goals: Display your merch goals to reach them.
Subscribers Credit Roll: You can scroll up to a hundred subscribers during the live stream.
Labels
As the name suggests, label widgets are to display information on the screen. The widget type offers the most extended StreamElements widgets. Most of the types are split into the latest, total & all time, and goals sections.
Subscribers
Latest
Display your latest subscriber with a custom message.
Display your new latest subscriber.
Show your latest re-subscriber.
Display your latest subscription gift.
Showing your recent subscribers is possible.
Display your top gifters list.
Total & All-Time
Show your total subscriber count of the current live stream.
Display your all-time subscriber count.
Show your all-time top gifter on the screen.
Goals
Show your subscriber goal to your viewers.
Followers
Latest
You can show your latest follower with a custom message.
Display your recent followers on the screen.
Total & All-Time
Show your total follower count of the live session.
Display your all-time follower count.
Goals
Display your follower goal during the live stream.
Bits
Latest
Show your latest and recent cheers.
Total & All-Time
Show your total Twitch cheers.
Display the list of your top cheerers.
Show your top cheer(er) by time segment.
Display the total cheer amount with a custom message.
Goals
Tips
Latest
Show your latest tipper.
Show your most recent tips.
Total & All-Time
Total tips amount during the live sessions.
Count your total tips during the current session.
Show the top tip amount.
Show the name of the top tipper.
Display a list of your top tippers.
Goals
Hosts
Latest
Display your recent hosts.
Show your most recent host.
Raids
Latest
Display the latest raid.
Other
Train count to display several viewer activities.
Display your recent activity with the Event list widget.
The Now Playing widget is for displaying the currently playing tune with the help of Media Request.
Bot counter can display your chat command count in real-time.
All StreamElements widgets: Static / Custom
These widgets display fixed info, such as your name, custom message, video, etc.
Display text using the text widget.
Show an image using the image widget.
Play a video with the help of the video widget.
Rotate images and videos using the Add rotator/slideshow widget.
Like images and videos, you can rotate your product list using SE.Merch Products Rotator.
Build a custom widget by adding HTML, CSS, and JavaScript.
Related: Browse all my topics on streaming to get into the streaming spirit.
Charity and Seasonal
Those StreamElements widgets can display your seasonal temperament. For example, you can display the snow effect during the winter holidays. The section also comes with charities if you like to raise funds during vacations.
Seasonal
Look out, a GHOST: Display a small animated ghost on the screen during Halloween.
Trick or Treat: Display a figure from many pre-made figures on Halloween.
Let it snow: The widget adds a snow effect during the live stream.
All you need is love: If you like to show valentine's images or animations, this is the StreamElements widget you need.
Holiday decoration: Several holiday-focused images and videos for your stream.
Egg-cellent Easter Decorations: Display bunnies, chocolate eggs, and other Easter-related images.
World cup widget: Many soccer images if you are into soccer.
Charity
You can display DonorDrive, Extra Life, and Tiltify AlertBoxes on the screen. The widgets also support tracking and showing donations for all three.
Stream tools
Display your stream chat on the screen. StreamElements comes with a chatbot, so you are away from spam messages.
Where to add and adjust widgets
StreamElements comes with an overlay editor, as mentioned above, and you can use the overlay to design the whole stream interface.
Once satisfied with the changes, the overlay link can be pasted in OBS.Live to get the overlay data. The official post explains this in more detail.
Summary
StreamElements is a great platform to stream on Twitch and YouTube, and the overlays make it a one-stop for many streamers. I hope the article on all StreamElements widgets helped you. Please let me know if I missed any, and I will add them to the list.