Both Streamlabs and StreamElements use OBS, but both are different programs. How do both compare? The article covers Streamlabs vs. StreamElements.
What are both
Both platforms are mainly used to stream games on Twitch, YouTube, Facebook, and others.
Streamlabs uses OBS source code with its skin and features to bring a fully functional program.
StreamElements is directly integrated with OBS, so it feels much like OBS. It also brings additional features for better streaming.
Streamlabs vs. StreamElements: Interface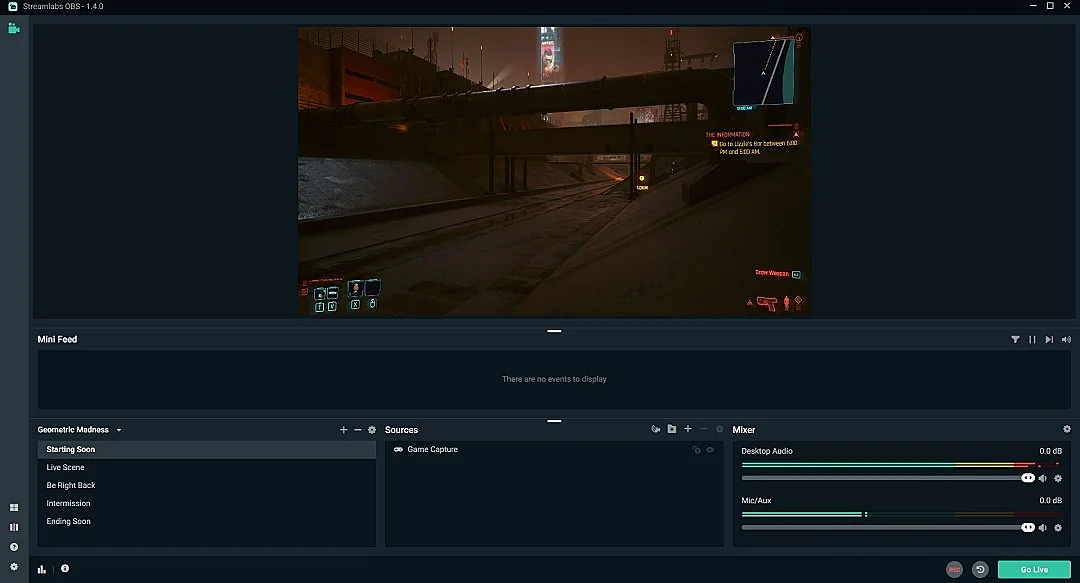 Both resemble OBS, but Streamlabs OBS has a more distinct look. It feels like a premium program with a sleek design. However, the rich interface is one of the reasons it's heavy.
StreamElements looks almost like OBS. You will find some color changes, but that's pretty much it.
Themes and overlays
Overlays are pre-made scenes to make the stream more personal. Those so-called themes have sources such as images, titles, webcams, game displays, and more.
Streamlabs has more overlays than StreamElements. The program has thousands of themes.
Some are free, while others need the Ultra membership. Check out the best free overlays if interested.
StreamElements has multi-purpose fully-featured themes, but the list is not that big. The app offers an overlays editor where you can add StreamElements widgets and create your overlays.
Supported streaming platforms
Streamlabs supports Twitch, YouTube, Trovo, and Facebook platforms. You can also add a custom RTMP destination.
StreamElements also supports the same platforms, but we don't have the RTMP option.
Accepting tips
Streamlabs OBS offers to create a tip page to connect your PayPal, credit cards, and Skrill payment methods. Once set, users can use any method to support the creator.
StreamElements supports PayPal, but they also have SE.Play that charges less fee than PayPal. The service supports 15 countries.
Tests
Tests are an essential part of this Streamlabs vs. StreamElements battle.
I did the same tests while comparing Streamlabs with OBS, and because StreamElements is just a plugin, I don't see much changing here.
Power test
In this test, I checked the power usage while recording gameplay. The power usage of StreamElements before and during the recording was low.
For Streamlabs, the usage on starting was moderate and very high during recording.
Winner: StreamElements
Performance test
At start-up, CPU utilization jumped for both, but StreamElements's effect was minimal compared to Streamlabs.
The average increase after opening StreamElements was 10%, which is half compared to its opponent (20%). While recording in both, I did not see any significant difference.
Winner: StreamElements
File size test
After recording gameplay for 50 seconds, I did not see significant video size differences. Also, StreamElements saves videos in MKV by default, whereas Streamlabs in MP4.
Winner: Tie
Additional features
Both offer a chatbot to protect you and your viewers from spam. Below are some of their unique features.
Streamlabs
Easy payments: Streamlabs offers options to request payments from viewers.
Charity: The program brings a charity option to host free fundraisers. They do not charge anything or take any cuts.
Dashboard: The dashboard in your Streamlabs account gives you access to views, view time, events, and other data types to help you grow.
StreamElements
Browser-based: The tool works on the server, making it faster than Streamlabs.
Mercury: Mercury by StreamElements is a program that automatically adds sponsorship content to stream description to let you make more.
Titanium: Another program, Titanium helps TikTok creators find sponsors and get paid through StreamElements.
Mobile apps
Both offer a mobile application to stream from your phone. Streamlabs has an app for iOS and Android, supporting screen and webcam streaming with chat and notification overlays.
It also has a remote control app to control the desktop software from your mobile. This helps you avoid switching apps on your PC while streaming.
The StreamElements app is only available for Android to live-stream your webcam.
Winner: Streamlabs
Pricing
Streamlabs is free, but a premium plan titled Ultra is available. The program costs $149 per year or $19 per month. The plan brings 8 apps:
Streamlabs Ultra (more features)
Streamlabs Web Suite Ultra
Streamlabs Mobile Ultra
Streamlabs Console
Talk Studio Pro
Video Editor Pro
Cross Clip Pro
Podcast Editor Pro
Each app brings its premium options, making Ultra a one-stop toolkit for growing your audience.
StreamElements does not offer any paid plans. Their policy, however, states that they may change pricing terms in the future.
The bottom line
If you have minimal broadcasting and live streaming knowledge but have a high-end computer, go with Streamlabs.
If you have a low to mid-range PC and don't know about live streaming, you must learn to use StreamElements.
Lastly, if you have a low to mid-range PC and know how to live stream, choose StreamElements.
Streamlabs vs. StreamElements: Links
Madhsudhan Khemchandani has a bachelor's degree in Software Engineering (Honours). He has been writing articles on apps and software for over five years. He has also made over 200 videos on his YouTube channel. Read more about him on the about page.