Streamlabs and OBS are popular streaming tools. The former is mainly used for streaming and broadcasting, while the latter is used equally for streaming and recording. Streamlabs or OBS?
The article covers tests and features to help you decide on this Streamlabs vs. OBS comparison.
Features
At the core, Streamlabs uses OBS source code, and because of that, you will see many of the same options. But, the way Streamlabs is presented is different. Let's take a look at some of the features of both.
Streamlabs OBS
Built-in-chat: Streamlabs offers a built-in chat feature with a web-based chatbot to filter out spam. On OBS, you need to install a plugin to enable the chat.
Test button: The test button enables you to oversee all the arrangements before going live. It also helps you find out whether your stream alerts have been organized properly.
Themes: Streamlabs OBS supports a wide range of free themes.
No customization charges: It offers a variety of overlays to customize the program.
Easy payment setups: Streamlabs offers built-in payment options to request payment from fans.
Undo changes: The program allows you to undo any mistakes with the Ctrl + Z command during a streaming activity.
Charity: The program allows starting a charity for free or without taking any cut.
Free sound library: The program offers a free sound library for alerts and notifications.
Dashboard: Video stats, events, view time, and many other statistics can be viewed on the Streamlabs dashboard. The tool gives you insights to help you work on the weak spots.
OBS
Minimal CPU usage: From the test I conducted, OBS consumed minimal CPU resources. Because of that, your gameplay and streaming are smooth compared to Streamlabs.
Starts quickly: While testing, Streamlabs took 5 to 8 seconds on average to open, while OBS only took about 3 seconds.
Over 100 plugins: The tool has about 118 plugins to extend its functionalities.
Gets updated frequently: As OBS is one of the oldest broadcasting software out there, it gets updated regularly.
No Visual C++ Redistributable: Streamlabs installs Microsoft Visual C++ while OBS does not.
Optimize on first-time start: OBS shows a wizard to optimize the program for streaming or recording.
Available on Windows, Linux, and macOS: OBS is available on all three desktop platforms. Streamlabs is available on Windows. It can be partially installed on Linux with the help of the OBS Linux Browser plugin while it is in the beta stage on macOS.
Common features
Auto game detection: Both automatically detect the active game.
Open-source code: Both have open-source code. You find OBS and Streamlabs source code on GitHub.
Ease of use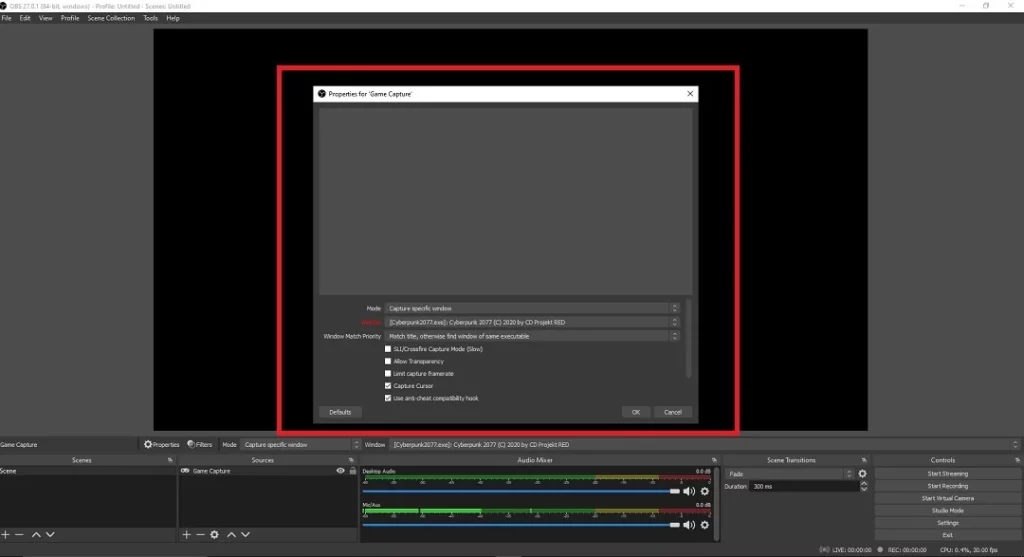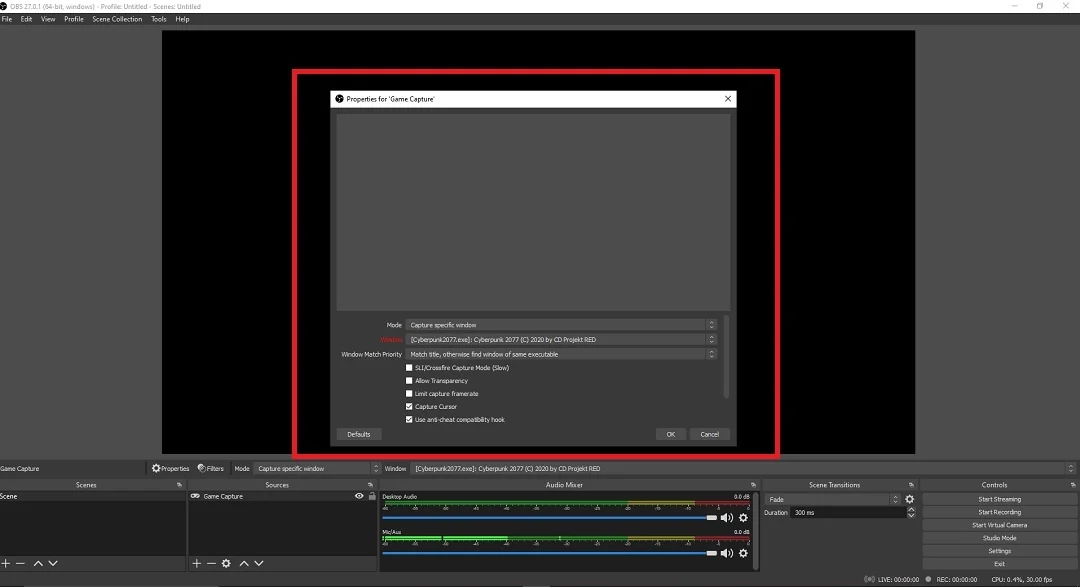 Installing both is pretty straightforward. You install the latest version from the website and follow the steps.
Regarding ease of use in Streamlabs OBS vs. OBS, Streamlabs is more accessible. Because of its easy-to-navigate interface, many new streamers tend to use Streamlabs.
OBS, at first, can be overwhelming, and it also doesn't have many built-in features making it challenging to communicate with your followers.
Related: Streamlabs comparison with StreamElements
SLOBS vs. OBS: Tests
From here, we take some tests and see which performs better.
Performance test
In terms of performance, OBS wins the battle. While testing OBS, I saw a 5 to 10 percent increase in CPU usage. In contrast, the performance impact of Streamlabs OBS was 15 to 20 percent which is reasonably high compared to OBS.
Winner: OBS
Recording test
In the first test of Streamlabs vs. OBS, I recorded the Cyberpunk 2077 game for at least one minute on the same configurations. Streamlabs, by default, saves videos in the MP4 format, and OBS saves in MKV.
Despite the format differences, both videos consumed 21 MB of storage, respectively. One should not be surprised because both tools use the same source code.
Winner: Tie
Power usage test
Like the performance test, the Task Manager of Windows helped me to see my PC's power usage. It turns out that Streamlabs is a heavy program.
While recording a video in OBS, the power usage was low, but while recording the gameplay in Streamlabs, the power usage was very high at all times.
Winner: OBS
Streaming platforms
Streamlabs OBS is available for Windows only, as mentioned above, while OBS is available for Windows, macOS, and Linux. An app called DroidCam OBS allows you to use your phone's camera in OBS.
In terms of supported streaming platforms, OBS is the winner. Streamlabs supports a few:
Facebook
Twitch
YouTube
TikTok
OBS, in comparison, supports around 90 streaming services. You also have an option to add a custom service if you have all the details.
Winner: OBS
Mobile apps
Streamlabs offers a separate app for Android and iOS to stream your mobile phone games. You also get options to chat with fans and access the prime subscription features to enhance and grow your channel.
Winner: Streamlabs
People also like: StreamYard vs. OBS
Pricing
Streamlabs comes with a premium toolkit called Prime. It's available for $19 a month or $149 if paid yearly.
Prime is for pro gamers who want to grow their channel. You get options to:
Use pro themes
Stream on multiple platforms simultaneously
Access apps on their website
Customize the tip page according to your brand's style
Add links to your stores for fans to shop
Paid sponsorships
Which one should you choose?
OBS is for streaming and recording games. It does not affect the computer's performance and power, so it's best for those with low to mid-range computers, but if you want chatting features and an easy-to-use tool, Streamlabs OBS is a better choice. But again, you will need a high-performing computer to run it along with heavy video games.
OBS is a little confusing at first, so you will most likely have to learn to use it.
Links
Conclusion
When it comes to Streamlabs vs. OBS, it is impossible to declare one better than the other. Both have their pros and cons. Here we end this article. Feel free to share your thoughts about the two and help me improve this article by sharing your suggestions.