There are 8,000 free presentation templates in Canva's directory, and those many can make it challenging to choose the perfect template for your next presentation.
Today, we discuss the 14 best Canva presentation templates.
Greyscale Bold Big Text Simple Presentation
Slides: 30 | Usage: All Purpose
With 30 pages, this is the longest presentation template on this list. This simple universal presentation has all you need to create basic to complex slideshows. The template also offers 30 icons to use in your project.
It uses a black-and-white theme, where one page has a white background followed by a black background. The font only uses Roboto, so changing it will be quicker if you are not a fan.
Green and Blue Thin Geometric Lines Finance Report Finance
Slides: 15 | Usage: Reporting and data
Are you looking for a finance template to present at the next company meeting? Here is a simple yet elegant multiple-color template.
It already has budgets, revenue, balance, and income slides. All you need to do is understand and modify it to suit your style.
It uses green and blue background colors, while you see Open Sauce, Open Sauce Light, Open Sauce SemiBold, and Lexend Deca fonts.
Gradient Modern Webinar Presentation
Slides: 15 | Usage: Webinars
With fifteen slides, the modern gradient presentation is best suited for webinars.
With beautiful light-black, purple, and light-red colors, you see terrific gradients as you browse the template. Regarding the content, you will find the following:
Table of contents
Outlines
Definitions
Information
The template was created by Maven.co and is fully customizable to make it your own.
Black and White Building Architecture Presentation
Slides: 15 | Usage: Webinars
In every industry, the importance of black and white is unavoidable. The good old classic combination works everywhere.
The building architecture presentation template has 25 slides containing everything you need.
The template has both black and white backgrounds. We also find icons, tables, charts, and other data items.
Related: VistaCreate vs. Canva
Professional Real Estate Project Status Presentation
Slides: 27 (2-minute and 40-second video) | Usage: Reporting
Our first video presentation template is about reporting the value of assets. All the pages are animated, and you can change the animation to another provided by Canva. Moreover, you find:
Agendas
Meet the team
Goals
People icons
Mission and more
The template has black backgrounds and white text, using Roboto and Bellaboo fonts to populate the slides.
Elegant & Neutral Brand Guidelines Presentation
Slides: 10 | Usage: Branding
Elegant & Neutral template uses Dream Avenue and Now Thin fonts that give this template a unique look. The template is for brands to represent their label or have a progress meeting.
The brown background may not suit the white text, but the template is 100% customizable, so you can change the fonts and background.
Green Elegant Farmer Story Presentation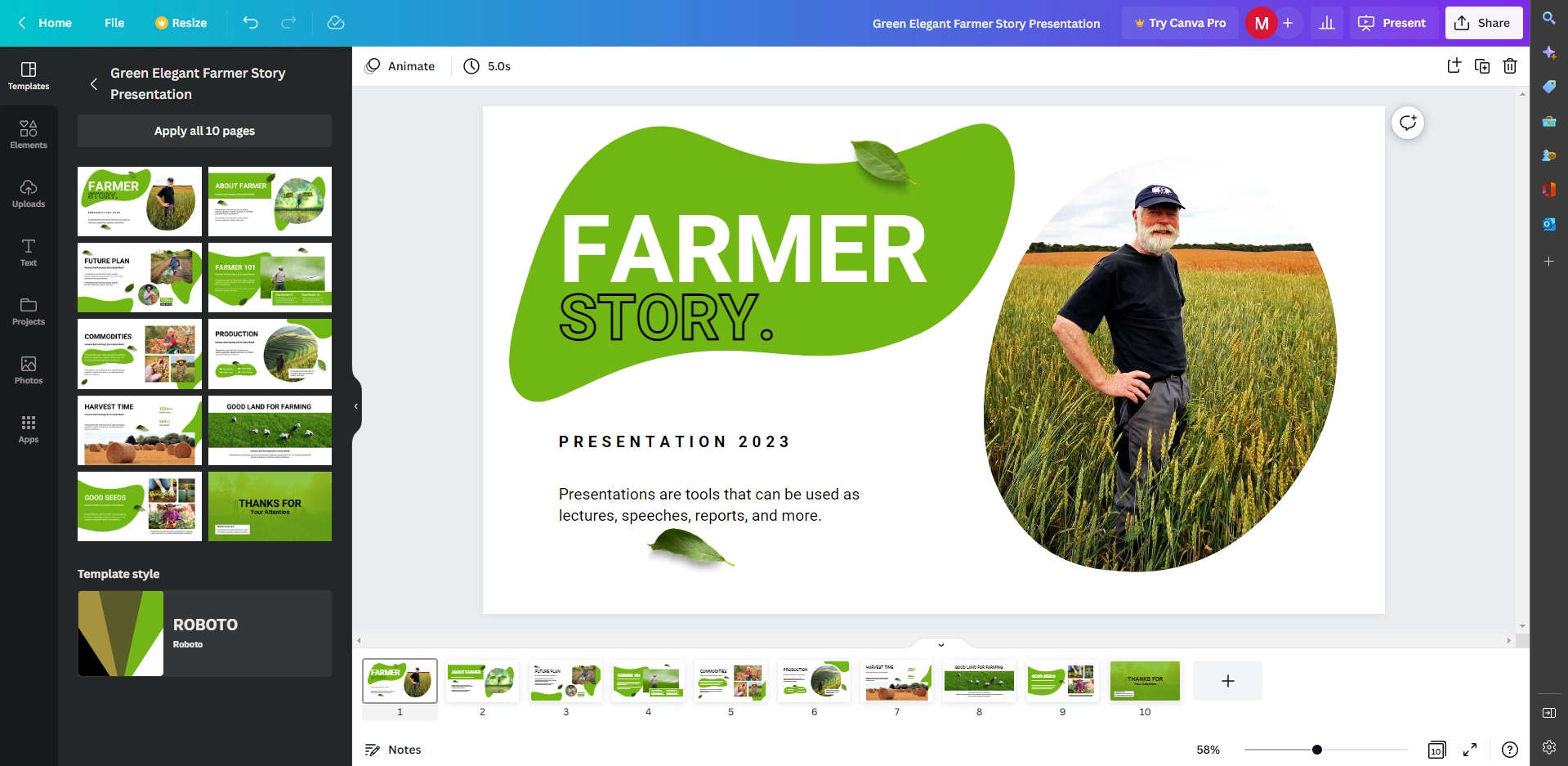 Slides: 10 | Usage: Envirnoment
The template shows the farmers' story but can be used in any environmental presentation.
The template contains pictures and facts elegantly placed to capture the viewer's attention. The template is entirely free for Canva users.
Professional Sales Pitch Presentation
Slides: 21 | Usage: Sales Pitch
If you want to pitch to someone, here is the best Canva presentation template. The classic and popular white, blue, black, and brown colors make it a lovely template to win shareholders' hearts. It has many slides, including:
About
How we work
Tables
Team
The full HD presentation developed by Canva comes with Fira Sans Bold, Fira Sans Medium, and Fira Sans Light fonts, and it's free to edit and use.
Black and Blue Simple Technology Business Plan Presentation
Slides: 20 | Usage: Business and planning
If you are planning for something, you might want to check out this template. The black and blue themes are perfect for business planning.
With twenty pages, you get many styles, including tables, pyramid graphs, and icons. The template also offers 26 icons to use in your presentation.
Violet Employee On Boarding Professional Presentation
Slides: 26 | Usage: Process
Do you have a thorough onboarding process? Perhaps you want a detailed presentation for all those who come to join your team.
Violet Employee onboarding template is one of the best Canva presentation templates.
With 26 pages, you find different data types, including images, hiring process, company info, kits, and what to expect. It uses three primary colors and two fonts, which can be modified.
Soft Cream Black Simple Minimalist Travel Plan
Slides: 13 | Usage: Travel
If you go somewhere with your friends or workmates, this template will keep everyone updated with the whole arrangement.
The template contains the following:
Flight details
Hotel details
Some popular places
Restaurants
With the above information, the whole team can be one step ahead and enjoy the trip.
Green Black Minimal UI Photography Online Portfolio Presentation
Slides: 6 | Usage: Portfolio | Free in Canva Pro
A portfolio presentation template especially for photographers. From individuals to big brands, the template is perfect for showcasing their skills.
What I most like about this template is the color which makes it hard to ignore.
It uses two primary background colors with DM Sans, Questrial, and Rubik fonts, making it one of the best Canva presentation templates in 2022.
Green Yellow Modern Company Profile Presentation
Slides: 27 | Usage: Brand Profile | Free in Canva Pro
With 27 slides, this is the template you need to showcase your company's profile. The background splits into yellow, blue, and black colors, while the text is white.
It uses five fonts in total, giving you a nice color-to-font ratio. Furthermore, you will find below the page types:
Company Overview
Factors
Mission and vision
Problems
Solutions
Portfolios
Consider reading: Canva User and Company Stats
Black White Orange Creative Presentation
Slides: 16 | Usage: Creativity (all-purpose) | Free in Canva Pro
The last best Canva presentation template is for creativity. As the name suggests, it uses white, orange, and black colors. The template mostly has image elements with text and lists.
You can customize it to present in any situation. It does not come with icons, but for pro subscribers, the Canva library is full of icons and shapes.
Wrap up
With thousands of presentation templates, it's easy to miss a few. So, if you did not like any from the list, you might want to check all the templates yourself.
With that being covered, it's time to finish this best Canva presentation templates report. I hope you found the template for your next meeting. Please share your selection below and help others decide.
Madhsudhan Khemchandani has a bachelor's degree in Software Engineering (Honours). He has been writing articles on apps and software for over five years. He has also made over 200 videos on his YouTube channel. Read more about him on the about page.