A 2013 startup with a mission to provide an excellent web-based design tool has grown to be one of the best companies in the world.
Today, millions of users use Canva, and over 6 million designs are created in a single day, which is a whopping number considering there are other design programs as well.
In this article, you will find the information you need about the company, its users, revenue, valuation, and more that will give you a new insight into how Canva has grown.
Top Canva statistics
Over 75 million users use Canva.
Canva has about 2,500 employees.
80 designs are created on Canva every second.
Canva's revenue in 2021 was $1 billion.
Canva users
As of March 2022, Canva has over 75 million users in 179 countries. The figure has increased from 60 million in 2021.
In 2020, the service was home to over 40 million users, increasing from 30 million in 2019. The 2017 and 2018 figures are missing, but the expected number is around 15 million and 20 million. Canva's total users in 2016 were about 1.5 million, rising from 750,000 users in 2014.
Among the 75 million Canva users, over 500,000 are paying for the paid plans.
Employees
Canva currently has around 2,500 employees. The company hired 1,350 new members crossing the 2,000-employee mark. In 2019, Canva's employee number was just 700. It also receives thousands of applications every year.
Revenue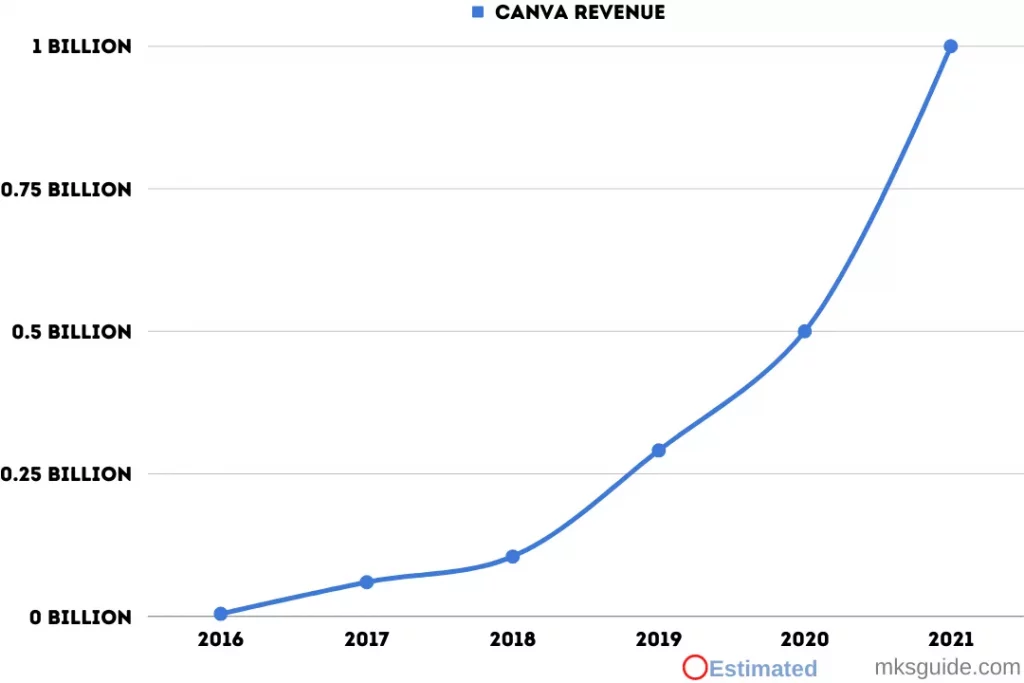 In 2021, Canva reported revenue was $1 billion. This is two times what it reported in 2020. In 2020, it generated $500 million in revenue.
Since 2016, the revenue has been multiplying. During the 2016 and 2017 financial years, Canva generated $23.5 million, whereas, during the following financial year (2018-2019), it generated $86.3 million in revenue. In 2019 alone, the company reported revenue of $291 million.
Sources: Wikipedia and GETLATKA
Related: Canva vs. Photoshop
Total designs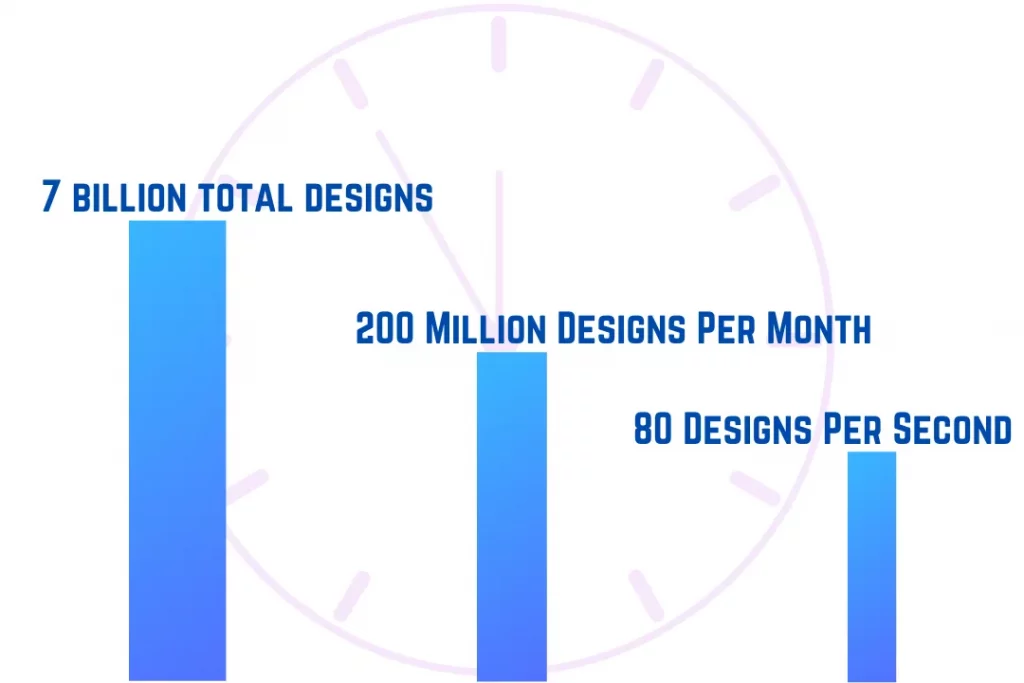 Here are the stats you should know about designs on Canva:
Over 3.5 billion Canva designs were created in 2021.
Among this massive number, over 227 million designs were the presentation designs.
Of the same number, over 480 million designs were video designs.
Over 8 billion designs have been created with Canva.
About 80 designs are created on Canva every second.
This is 4,800 designs every minute.
This makes it to 288,000 designs every hour.
Sources: Canva
Valuation
Canva was valued at $1 billion in 2018. Since then, it has been increasing. In 2019, it raised money with a valuation of $2.5 billion. Their valuation increased from $2.5 to $6 billion in 2020.
The massive boost it got was the year 2021, in which Canva's valuation jumped from $6 billion to $40. By the end of 2021, Canva was valued at $40 billion.
Looking at the revenue and valuation data, we can estimate that Canva's valuation will be around $90 billion by the end of 2022.
Sources: Canva, Forbes, and Bloomberg
Canva awards
Canva ranked the as number one design company in 2022, according to Fast Company. It was also the 10th most innovative company in the world.
The iOS app also won the best App Store Award in 2021.
The company won the "Overall Design Collaboration Company of the Year" award by RemoteTech Breakthrough.
Sources: Fast Company, Canva, and Canva
Related: 12 Best Canva Presentation Templates
App downloads
Over 100 million users have downloaded the Canva app from Google Play Store. It has an average user-based rating of 4.7.
The app also has over 1.1 million ratings with an average used-based rating of 4.9 stars on the Apple App Store.
Source: Google Play and App Store
Website visits
Over 300 million people visit Canva every month (including all their services).
Around 17% of the traffic coming to the Canva website is from the US.
Between 1 million and 10 million users in the US search for the term "Canva" on Google every month.
Sources: SimilarWeb and Google Keyword Planner
Other stats
The Canva team planted over 1 million trees through their one print, one tree program.
One Woman's ALS Journey raised over $750,000 using Canva for their designs.
Canva's headquarters are in Sydney, Australia.
They have offices in two other cities: Manila and Beijing
Sources: Canva
Conclusion
Canva has grown, especially in the 2020 era in which work took a different path. Even though everything is coming back to normal, Canva's popularity has stayed.
I hope this Canva user and company stats article helped you see the essential data about its users. Please let me know if I missed any, and I will add them to the report as soon as possible.