Among note-taking apps, Evernote is one of the most widely used. Evernote has made taking notes as simple as possible by including many useful features.
It has templates, and you can download up to 20 templates as a free user. In this post, I have researched the best Evernote templates.
Business Plan
You will save a ton of time using this template while creating a business plan for your idea.
It includes every step by default to make it easier to follow along and better grasp how to accomplish your business objectives.
The elements of this business plan template include the following:
An outline of your mission and vision
Market analysis
Situational analysis (SWOT)
Marketing plan
Financial summary
Success metrics
Milestone timeline
Business plan review log
Eisenhower Matrix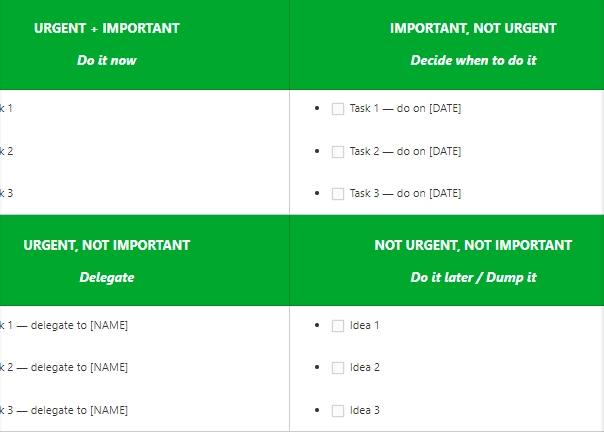 The second one of the best Evernote templates is Eisenhower Matrix. You can use this template to prioritize your tasks according to their urgency.
There are four sections of Eisenhower Quadrants:
Urgent/Important
Important, not Urgent
Urgent, Not Important
Not Urgent, Not Important
Tasks that aren't important or urgent can be rejected or postponed until the other tasks are finished. This shows you a clear image of what needs to be completed first.
Read next: Joplin versus Evernote
Social Media Calendar
Regularly publishing content on your social media platforms is crucial for growing engagement and momentum, but doing so can take time.
Evernote created a Social Media Calendar to build up a weekly to-do list, important dates for the week, and a seven-day calendar to simplify your life.
You can use this template by setting the dates and adding your photos, videos, and text on the days you wish to publish it.
This calendar template can be used if you want to introduce a straightforward social media plan to your team and need a convenient place to keep it.
Best Evernote Templates: Hiring Tracker
This template is excellent for HR managers since it makes it easier to hire the ideal candidate for the job while saving time.
This template, which includes their contact information, resumes, cover letters, interview dates, etc., can be used for applicant monitoring.
Daily Mental Health Journal
Mental health is one of the critical factors in our life, and Evernote and Talkspace have created this template to help those who struggle to main good mental health.
The template includes a list of questions that will assist you in self-evaluation and setting mental health as a top priority.
This template will help you:
Discover better days with journaling
Build your intentions with reflections
Make your mindset a habit
Be humble with gratitude
Its features make it one of the most popular and best Evernote templates.
While you are here: Nimbus Note or Evernote
Meeting Notes
The Meeting Notes template is one of the most used to capture the essential parts of meetings. For each meeting, you will create a new note.
It has meeting details, follow-ups, decisions, and closures sections with required columns to add as much information as possible.
Novel Plotting: 3-Act Structure
This template is perfect for anyone who wants to write novels. The three-act structure used in this template is a traditional pattern for presenting stories. These are:
Act I — The Beginning (This includes story elements such as the opening scenes, setup, CTAs, etc.)
Act II, Part 1 — The Middle (This includes story elements such as the Choice, Rising Action / Mounting Problems, and Midpoint / Reversal)
Act II, Part 2 — After the Reversal (This includes story elements such as More Troubles, Disasters, and Turning points)
Act III — Resolution (This includes story elements such as Plan / Resolve, Climax, and Denouement)
By following this template, you can see the progress and make better decisions about your writing.
2023 Monthly Calendar
The best templates are never complete until they have a project management template.
This Monthly Calendar template is ideal for teams looking to organize their goals and objectives for this year.
Using this handy calendar, you can keep track of important tasks, meetings, birthdays, and everything in between. This template allows you to:
Track goals
Plan ahead
Remember special dates
Create a family calendar
Make weekend plans
Write everything down
Check schedules on the go
With this template, it's as simple as it gets, yet productivity often benefits from simplicity.
My name is Madhsudhan Khemchandani. I have a bachelor's degree in Software Engineering (Honours). I have been writing articles on apps and software for over five years. I have also made over 200 videos on YouTube. Read more about me on the About page.