Productivity apps have empowered our personal and work life. From to-do apps to note-taking programs, there are plenty of options.
Two popular note-keeping programs are Joplin and Evernote. Which one is for you? Let's find that out in the Joplin vs. Evernote comparison.
What are both
Evernote is a note-taking app that surged in popularity from 2011 to 2014. It has over 25 million users, making it one of the most popular apps.
It has plenty of options, from fonts to tables. It supports sharing notes with others and giving them specific access.
In the paid version, you can create tasks, set due dates, set reminders, and assign tasks to team members.
Joplin is also a note-taking app, but the main difference is that Joplin does not limit storage and stuff because it is offline. You must carry your files to use the app on another computer.
The team has built a plan called Joplin Cloud if you like to sync between devices.
Platforms
Evernote is available on macOS, Windows, Android, and iOS. The Linux version is still in the private beta and is still in early access. Joplin is compatible with Windows, macOS, Linux, Android, and iOS.
Both also have browser extensions to screenshot pages and save them to your accounts.
The Evernote extension offers multiple capture features, including full-page, area, and screenshots. It works on Chrome, Firefox, Opera, Safari, and Edge.
Joplin's extension also supports saving links and taking screenshots; however, it only works with Firefox and Chrome.
Note-taking tools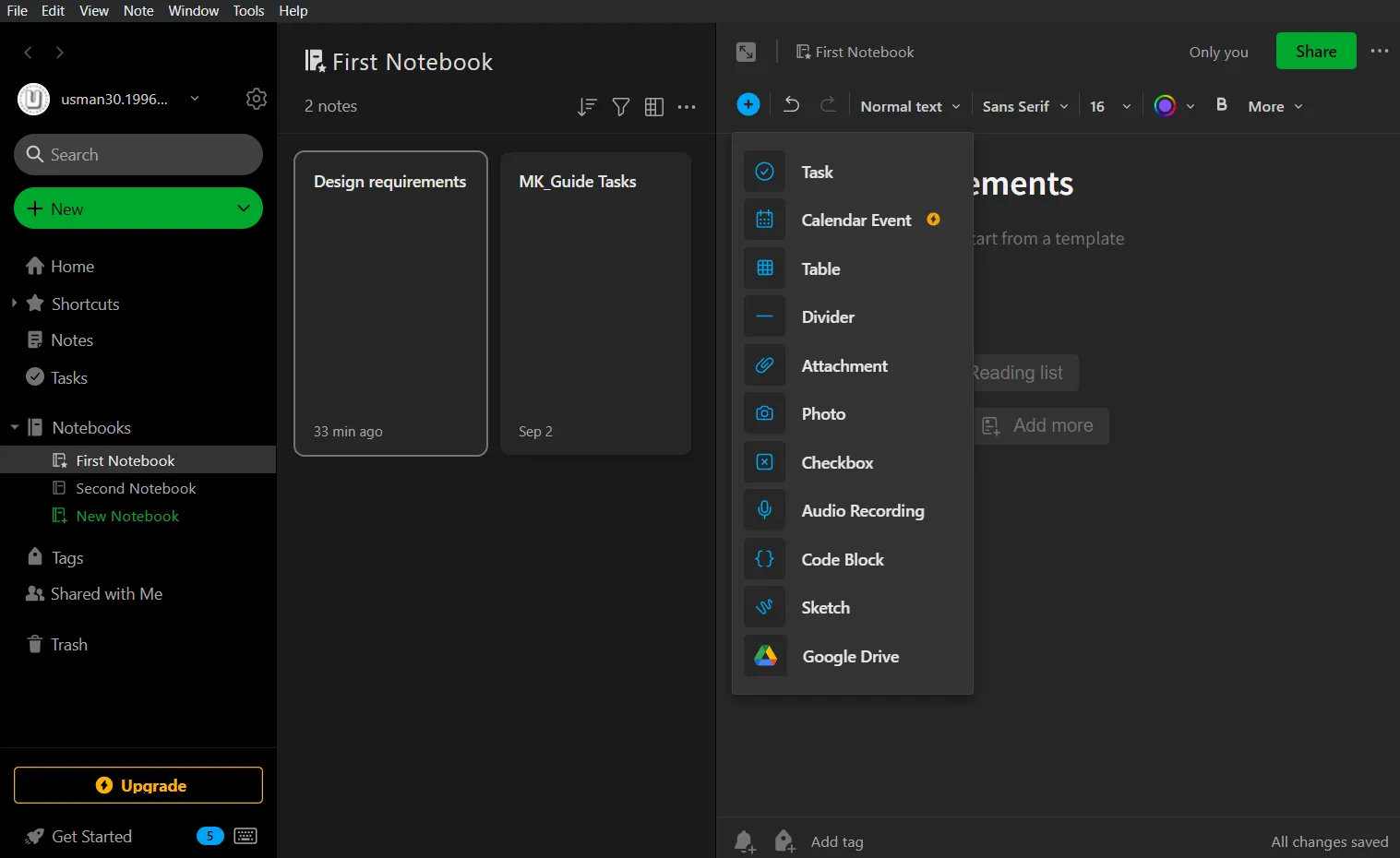 Both offer a variety of note-taking tools. In Evernote, the editing tools are accessible via the toolbar at the top of the page.
It also provides numerous text customization options. Here is a list of the editing tools:
Font style, size, and color
Highlight text
Bold, italic, and underline
Strike-through, superscript, and subscript text
Text alignment
Indent
Bullet, numbered, and check the list
Insert link
List of to-do items
Table
Divider
Include audio and images
Audio recording
Code block
Sketch
Integrate Google Drive
Joplin has both Markdown and rich text editors. The markdown editor enables us to format text using keyboard symbols. Other than that, Joplin offers the following tools for editing:
Bold, underline, and italic
Strike-through, superscript, and subscript text
Highlight
Insert link
Inline code
Code block
Attach file
Checklist, numbered, and bulleted
Headings H1, H2, and H3
Black quote
Horizontal line
Table
Date/Time
The table below highlights some of Joplin's most commonly used markdown symbols.
| Symbol | Usage |
| --- | --- |
| #, ##, ### | Heading 1, 2 and 3 |
| **Text** | Bold text |
| *Text* | Italic text |
| * | Bullet list |
| > | Black quote |
| `Text` | Inline code |
Markdown symbols
Templates
This round of Joplin vs. Evernote goes to the latter. Evernote allows us to create notes from professionally built templates. Evernote has about 60 templates that can boost your work life.
The templates are divided into different categories, such as:
Creative Writing
Home and Garden
Personal Well-Being
School
For inspiration, check out my top Evernote templates right now.
Joplin does not offer any templates, but you can create a custom template and save it to use in other notes. The procedure is slightly different; we need the Templates plugin to complete the job.
Another comparison: Joplin against Obsidian
Third-party apps
The productive world has managed to connect apps with other apps, and Evernote follows the same path.
We don't have any official Joplin integrations, but it supports many plugins to enhance the app's functionality.
All plugins are hosted in the GitHub repository, and some knowledge is required to install those.
Here is a list of apps supported for integrations with Evernote:
Google Calendar
Slack
Microsoft Teams
Salesforce
Gmail
Google Drive
Collaboration
This one is an important feature, and Evernote takes the cake as it is online. You can share notes via a public link or by sending an email invitation.
When sending an invitation via email, you can provide the following access to others:
View
Edit
Edit and invite
Joplin, as mentioned, supports syncing and collaboration, but only in the paid plans.
Related: Nimbus Note vs. Evernote
Note exporting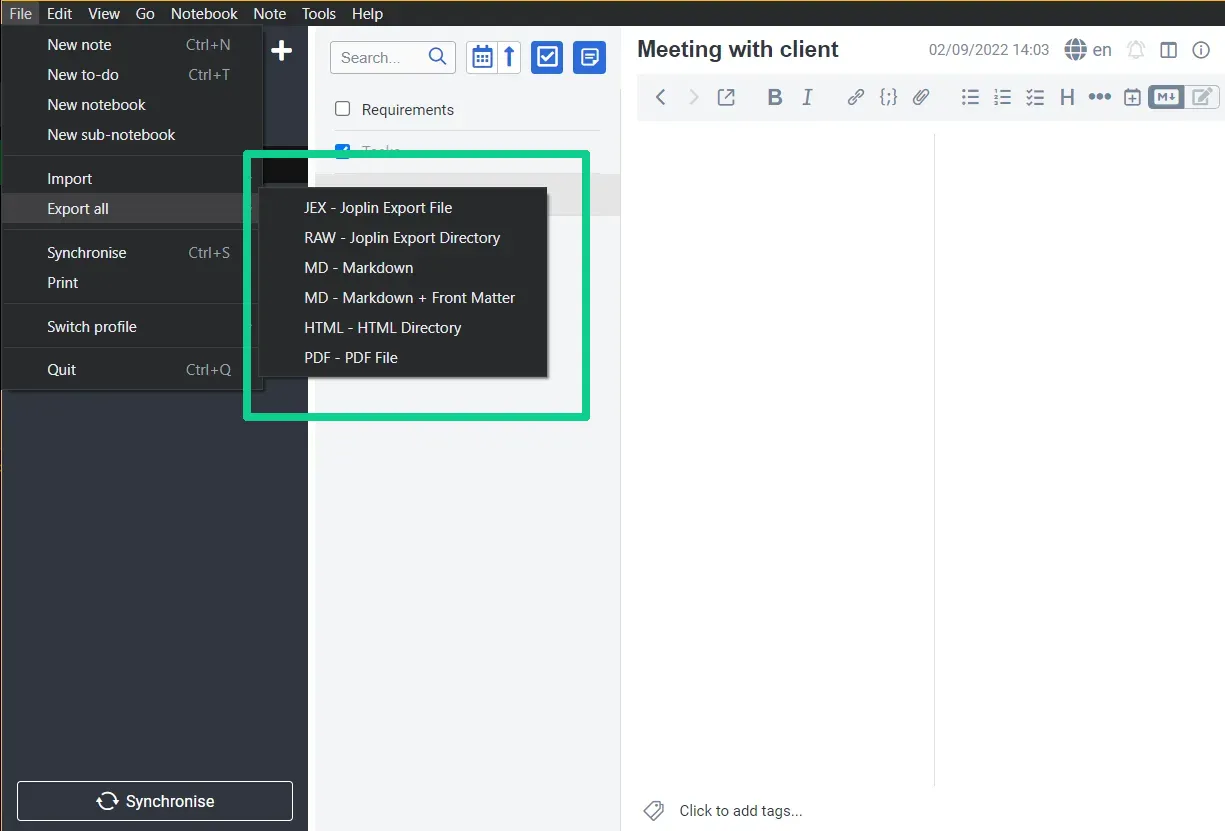 Exporting notes is something every note-taking app offers. Evernote supports exporting notes in PDF, ENEX, and HTML formats. Joplin, on the other hand, can export in JEX, Markdown, PDF, HTML, and RAW formats.
Pricing
Evernote offers a 25 MB max note size in the free plan with a monthly 60 MB upload limit. Synchronization of up to two devices is also supported.
To extend these features, it provides two paid plans. The personal plan costs $14.99 per month in a monthly package and $10.83 per month in a yearly package.
It provides a 200 MB note size, a 10 GB monthly upload limit, and synchronization to unlimited devices.
Other than this, it allows you to create and assign tasks, set reminders, and set due dates.
The second plan, Professional, costs $17.99 in a monthly package and $14.17 in a yearly package. Other than all the personal plan features, it offers the following features:
Monthly upload limit of 20 GB
Unlock all widgets and customization options
Assign tasks and track progress
Export to PDF
Integrate with other premium apps
---
Joplin Cloud can sync notes to multiple devices and collaborate with team members. There are three price plans for Joplin Cloud.
In a monthly package, the Basic plan costs 2.99€ per month; in an annual package, it costs 2.40€ per month. It includes the following features:
Maximum note and attachment size of 10 MB
Total storage limit of 1 GB
Publish notes online
The Web Clipper extension
Synchronization across unlimited devices
In a monthly package, the Pro plan costs 5.99€ per month or 4.79€ per month (annually). It offers 200 MB per note size, 10 GB storage, sharing, and collaboration.
The Team plan costs 7.99€ per month or 6.69€ per month (yearly). Along with all the pro plan features, it allows you to manage users, configure access control while sharing, and get help from priority support.
Summary
Evernote and Joplin are useful for taking notes, keeping track of information, and planning tasks.
Evernote has a clean and straightforward interface. It includes a lot of editing tools and customization options. You also find templates and support for more platforms
Joplin's markdown editor gives us more freedom to format notes. However, it has some limitations compared to Evernote.
For basic note-taking and editing, Joplin is enough, whereas if you want a fully rich-text editing program, Evernote will do better.
Joplin vs. Evernote: Links
Madhsudhan Khemchandani has a bachelor's degree in Software Engineering (Honours). He has been writing articles on apps and software for over five years. He has also made over 200 videos on his YouTube channel. Read more about him on the about page.