Joplin is one of the easiest note-taking tools, and Obsidian is one of the programs used for brainstorming.
When I use both side by side, I see clear differences and which one to use for what purposes.
I have been doing Joplin vs. Obsidian fights for a long time, and this article is my work and experience.
Takeaway
Joplin is your normal block-based note-taking app. It's for notes, wikis, and documents.
Obsidian is for projects and project visualization. It helps you link pages and create a knowledge graph.
Both have plugins and are end-to-end encrypted.
Both apps are free, but premium plans are available.
What are both
Titled as note-keeping programs, both are used for multiple purposes. Joplin is a simple Markdown language app to save notes, reminders, to-do, ideas, numbers, etc.
It has two split interfaces: one side is the editor, while the other is the viewer. You can switch to one view at any time.
Joplin supports Markdown, but we see a tools row that quickly adds the Markdown terms.
The application is offline, so if you are privacy-centric, you shouldn't worry about your data. The program is available on desktop and mobile, and it offers both free and premium sync options.
The up-against is Obsidian. Obsidian is a game-changer tool and more advanced than Joplin.
Obsidian is offline as well, and it has multiple ways to transfer files and a premium add-on to enable cloud sync.
It is a brainstorming and knowledge-graph app to plan projects and solve problems. It is titled Your Second Brain because it visualizes the projects and helps you take better actions.
The reason I'm talking about Obsidian for brainstorming is because of its knowledge graph view.
Obsidian Knowledge graph
Both programs let you link pages from one to another, but Obsidian creates a connected graph with each page as a node.
Although the graph looks simple, you can create amazing-looking and detailed graphs with customizations.
Also, some think that Obsidian is limited to some use cases, so I created a list of examples and use cases that may help you get into its universe.
Note-taking options
Using Markdown, you can convert plain text to rich text. Obsidian thoroughly relies on markdown format, so we don't have any tools.
Joplin has a row of options, as follows:
Bold
Italicize text
Highlight
Strikethrough
Underline
Hyperlink
Code block
Fire attachment
Code writing
Bullet and number lists
Checkboxes
Headings and subheadings
Tables
Horizontal lines
Quotes
Alarms and reminders
Date and time
While you are here, check out Obsidian versus Notion
Joplin vs. Obsidian: Templates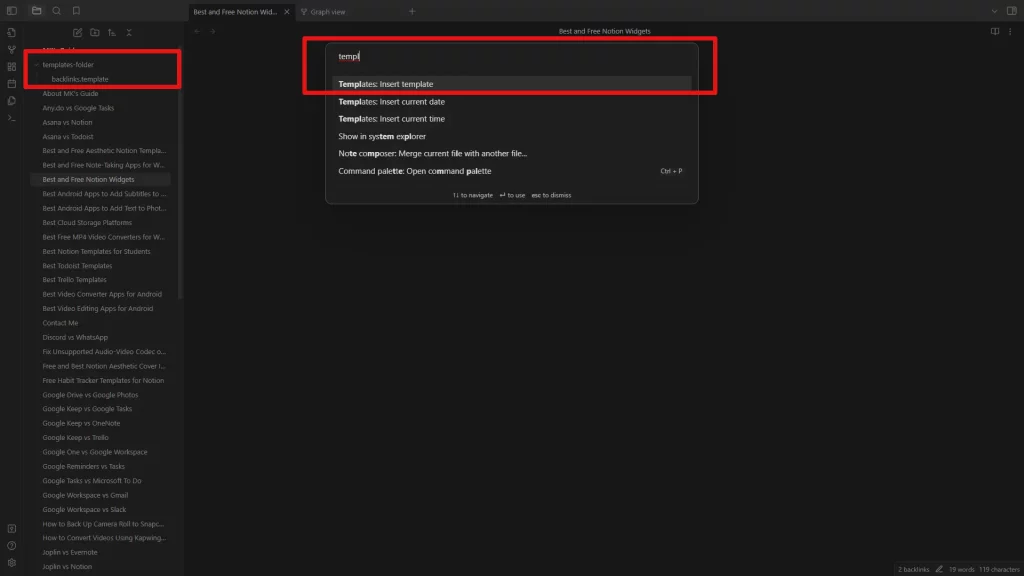 Neither program has community-created or owner-provided templates. However, you have options to create templates for personal usage.
Joplin has a free plugin, and I have written an article on using it.
Obsidian also offers a Templates plugin. Once enabled, you can create a folder and templates inside it.
Then, you can add a template using the Command Palette.
Plugins
We discussed plugins in the above section, and let me tell you that plugins are a massive part of both apps.
Joplin has around 200 plugins, while Obsidian has over 900. The difference is enormous, but Joplin has popular plugins, including Kanban, tabs view, auto backlinks, etc.
Overall, we find many great plugins to create datasets, search through notes, and generate text.
Both store plugins in GitHub repositories, and each developer adds instructions to install the plugin.
Both have straightforward built-in ways to show plugin data from GitHub and install it without going to the website.
Collaboration
Looking at Joplin vs. Obsidian, I did not find many differences. Both do not support collaboration because of their offline nature.
However, we find multiple ways to carry your files across devices. Overall, Obsidian has more options:
You can copy files offline on a USB or an external drive.
You can use a cloud storage platform to set up sync.
Lastly, Obsidian provides the Sync add-on for $8 monthly to sync files online.
Joplin also supports cloud sync using popular cloud storage platforms and offers Cloud subscriptions to sync files online. You can get an upgraded subscription to collaborate on projects.
Both offer end-to-end encrypted security options to keep your files away from everyone else.
Platforms
Both are available on Windows, macOS, Linux, Android, and iOS devices. Joplin also has a web clipper extension for Google Chrome and Firefox browsers.
Note exporting
Joplin allows the export of notes and notebooks in different formats. Here is the list of supported formats:
JEX- Joplin export file
RAW- Joplin export directory
MD- Markdown
MD- Markdown + front matter
HTML- HTML directory
PDF- PDF file
The good thing about Markdown is that the notes can be imported into any supported application, including Obsidian.
Other noticeable options
Joplin
Joplin saves a note's history. We can set the total days in the settings with the default to 90 days.
It checks for any changes every ten minutes and saves the data. The feature only works on desktop computers.
The program also supports creating to-do notes designed to add and complete tasks.
Obsidian
Obsidian has a Command Palette to do quick tasks. Many plugins are also operated through this interface. The icon is the last on the right sidebar or can be opened by pressing the CTRL+P shortcut.
Open the menu and type in the command you want to give.
Obsidian has options to create daily notes for better task management. A new note automatically adds the date as the note's title.
Canvas in Obsidian is another fantastic discovery. The endless interface lets you create diagrams of connected properties and visualize them to understand the project.
Canvas can break down the tasks, show a project's flow, and help follow a proper setup.
Pricing and plans
Joplin Cloud has a few options. The Basic subscription costs 2.99€ monthly or 28.69€ per year and offers a 10 MB attachment limit, 1GB cloud storage, and unlimited device syncing.
The Pro subscription has two extra options: a 200 MB upload limit and 20 GB of cloud storage. The main option is collaboration. You pay 5.99€ per month or 57.48€ per year.
The Team plan costs 7.99€ per creator per month or 80.28€ per year, and along with extra storage limits, you get features to manage multiple users.
Obsidian comes with three paid plans. The Personal plan is free and requires no account or sign-up. You can access plugins, API, and community support.
The Catalyst plan is a one-time payment of $25. It includes early access to insider builds, special badges, and access to an exclusive dev channel.
The Commercial plan is $50 per user per year, supporting commercial rights and priority support.
Obsidian, as mentioned, also has a Sync plan costing $8 per month, allowing you to sync between devices.
My recommendation and summary
As a regular user, here is a simple version of which one to use. Joplin is for text and image notes.
It works great to jot down your thoughts, keep track of meetings, save phone numbers and messages, and do other text-based activities.
Obsidian is for ideas and planning. You can create simple notes, but you won't enjoy Obsidian fully.
When you have projects that need thinking, tasks that have connections, or anything else that connects to another thing, Obsidian is the best.
Both have amazing plugins and features, making them great note-taking apps.
Joplin vs. Obsidian: Links
My name is Madhsudhan Khemchandani. I have a bachelor's degree in Software Engineering (Honours). I have been writing articles on apps and software for over five years. I have also made over 200 videos on YouTube. Read more about me on the About page.