I have been using Obsidian for years, have made several projects myself, and have seen several projects online.
If you are starting with Obsidian and don't know where to begin or how to visualize your project, you will learn some of the Obsidian use cases.
Website page backlinking
The day I learned about Obsidian, I started working on this website project. Obsidian is a perfect application to track which pages are linking to which to build a strong website profile.
As I add new pages and update existing ones, I update links to that page in Obsidian to see which pages are linked too many times or have been left behind.
This also helps me link to priority pages more to help them grow.
Category backlinking
As the website grew, I found it hard to manage everything in one project. So, I started creating Obsidian for each category to manage links specific to categories.
This now helps me grow my website evenly. If you are a blogger, Obsidian will help you grow your business.
Game and app development
A couple of years ago, I started working on a massive game. I gave it so many hours, but I never finished it.
However, I used Obsidian for the whole project to visualize the gameplay, set up missions, and understand the game's flow.
I made pages for level and menu items and linked them in Obsidian. This helped me build pages first and then connect them later.
If you have a game or app project that you want help with, Obsidian is a wonderful app for that.
With a slight knowledge, your team members can quickly grasp the project's overview and work on their parts.
Idea generation
Generating and brainstorming ideas can be done on a piece of paper or a regular note-taking app, but Obsidian's rich interface and graph view will make it easier for ideas to come to life.
In most project types, we think of the future, and our thinking is limited, so you can create some idea pages in Obsidian and link them to see the future of your project.
With the help of filters and tags, you can further customize the graph according to your needs.
Web development
Like blogging and game development, web development is another Obsidian's use case. Websites have pages; some have 10, and some have thousands.
Thanks to Obsidian, we can see the linked pages to ensure that all pages are connected and accessible.
Remember the game I talked about in the game development section? How did I create a website? Well, I used Obsidian to brainstorm the layout and connections.
When the whole project was straightforward, I started working on the website. I finished the project in 2 hours because of the Obsidian graph and themes I downloaded.
General task management
Obsidian has basic task management features, but with the free plugins, you can create tasks and reminders.
If you have a to-do app that does basic stuff, you can eliminate that and use Obsidian for your notes and reminders.
Obsidian can not replace the top apps such as Todoist and TickTick (comparison), but it's suitable for simple tasks.
Once you have a proper list, you can link the tasks with each other or create daily notes as mentioned below and link tasks to days to prioritize your work.
Gym and fitness
I don't go to the gym, but I'm experienced enough to know that Obsidian can track your gym activities. If you have exercise days or follow a flow, you can track your progress in Obsidian.
Trainers can create projects and share them with their clients using Obsidian Publish. Then, with real-time editing, exercises can be updated regularly.
In the backend, trainers or individuals can add activity instructions and track their progress.
Meeting minutes
We are coming to the end of this list as my mind is limited. However, I can't leave without mentioning meeting capture.
The notes can contain details like projects, tasks, employees, and anything else possible. Each activity will have a separate page.
Then, meetings can link to those activities as they happen. For example, a panel discusses the South City project, and then a link can be made to the South City project.
This will help the members see what meetings talked about what projects. This is a fantastic idea, as you won't have to explain everything.
Bes of the best: Best Obsidian Plugins
Book library
I like to read books (occasionally), and what's the best way to list and manage your books? It's Obsidian.
If you have a long list, add those to Obsidian and link the next book with the one you just finished to see which books you read when.
This is just an example, but if you are a book reader, I'm sure you will develop something more suitable.
Daily notes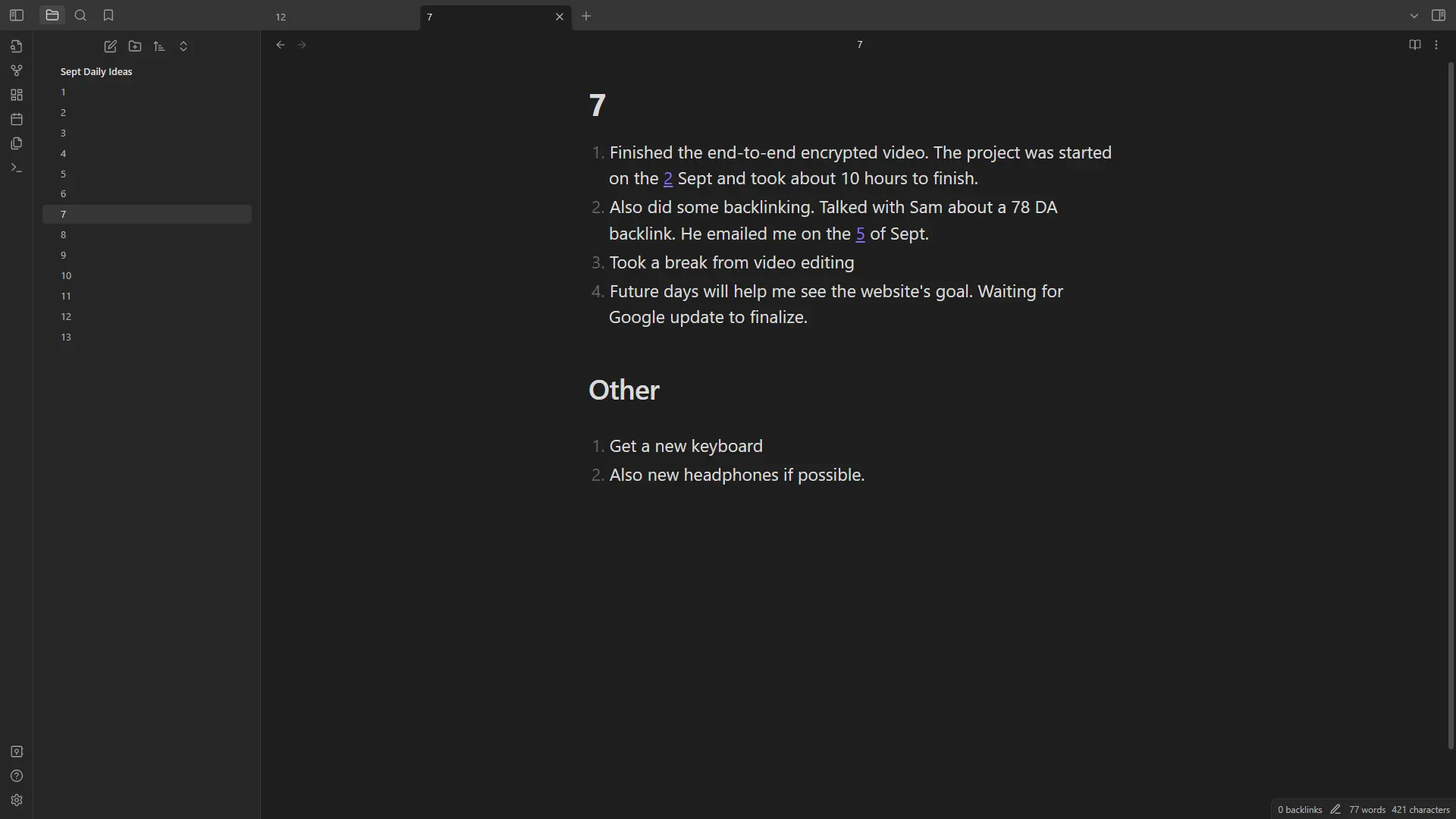 Another one of the great Obsidian use cases is capturing your daily notes. Obsidian has been promoting this example for a while, and they even have plugins to help you create notes.
For each day, a new note is created. Then, you can add as much information as possible.
Linking Obsidian notes is easy, so you can link projects from one to another or link days with each other to organize your workflow.
Project/client list
Many think that Obsidian is best used for backlining. This is true, but backlinking can happen in any industry or project.
I have worked at a company for some time and know how to manage your clients or projects.
This is why I'm presenting this project or client list as one of the Obsidian use cases. If you like to keep a list of client projects, you can create pages for clients and their projects.
Tag the projects or clients, change their colors, and link the other pages to see which clients have what projects.
In the note area, you can add information for that specific project or client.
YouTube cards and end screens
Obsidian has many use cases, and the last one I have is for managing your YouTube channel.
I have a YouTube channel with over 200 videos, and after uploading 100 or so videos, it got harder to track which videos linked to which videos in card and end screens.
Obsidian helped me organize that to prioritize the top videos. Like in blogging, you can apply the same methods.
Create a page for each video. Then, link the pages in the cards menu and end screens. You can also add the videos mentioned in the video descriptions for better tracking.
Use the tags feature to separate important videos from normal ones and have your progress as you add videos.
Summary
Obsidian is one of the great note-keeping apps. If used properly, it can save you from many headaches.
In any scenario, you can take slight or full advantage of this free program.
I hope those Obsidian examples gave you ideas on how and where to begin your journey. Don't forget to share it with the others and save it to come back later for the updated list.
Madhsudhan Khemchandani has a bachelor's degree in Software Engineering (Honours). He has been writing articles on apps and software for over five years. He has also made over 200 videos on his YouTube channel. Read more about him on the about page.