Most note-taking apps use 256-bit encryption, less secure than end-to-end encryption.
However, some apps have gone that far by offering full-on security. What are those apps? The blog post explores the best end-to-end encrypted note-taking apps.
Obsidian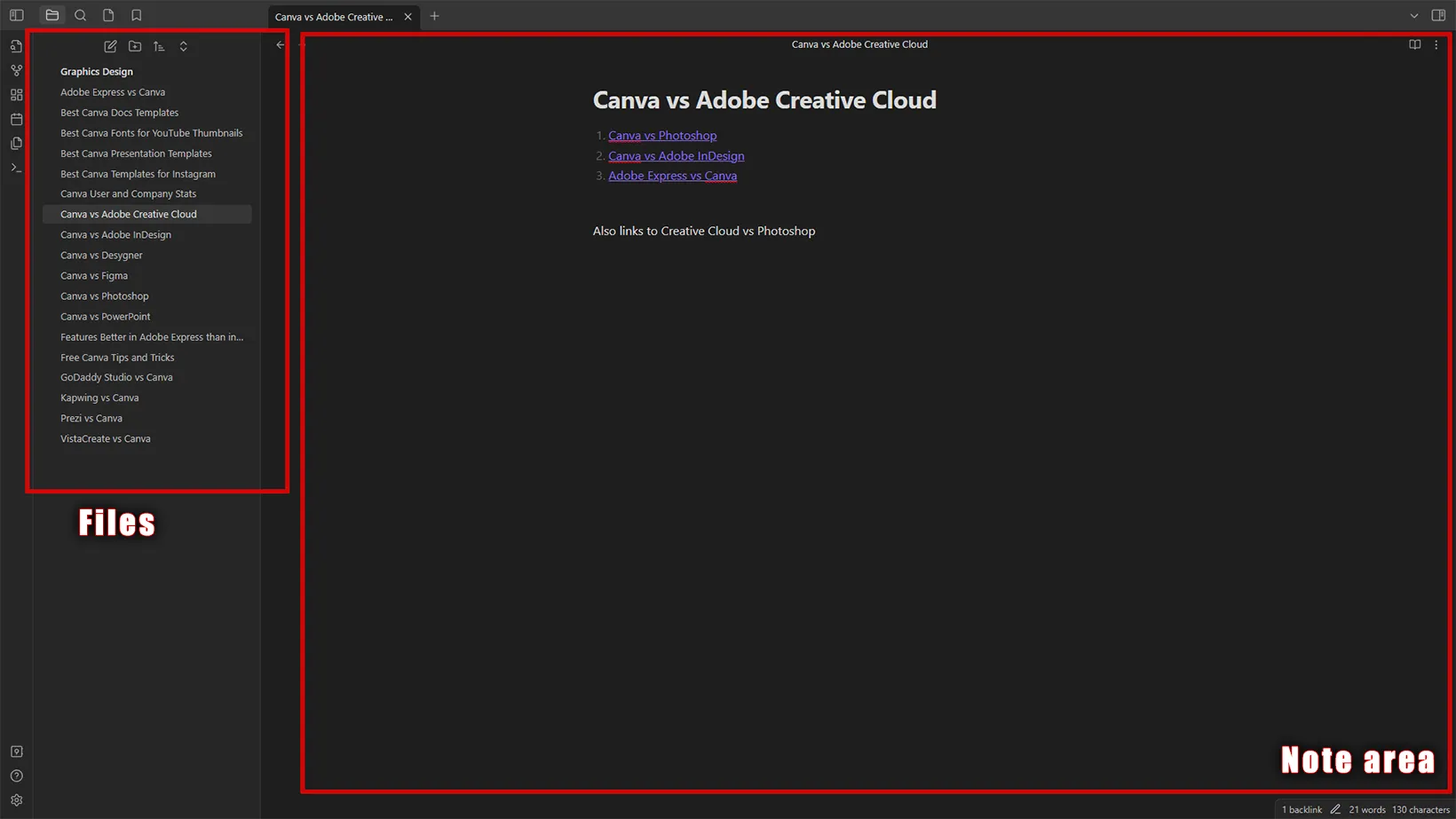 Obsidian Pros:
Free and offline
Online end-to-end encryption is available
Markdown powered
Obsidian Cons:
Limited to specific cases
Obsidian is one of the tremendous note-taking apps. It's offline for free, so you can take files anywhere. Also, it provides free sync options using your preferred cloud storage platform.
Furthermore, for those looking for its premium sync options, the add-on takes care of everything for $8 per month. The cloud sync is end-to-end encrypted to ensure that no one can see your files.
Obsidian has a fantastic knowledge graph view that helps you visualize the project. As you add notes, you can link a note to others.
Using those links, Obsidian creates a graph to help you see which project part or activity links to which project tasks.
I use Obsidian for this website to see what pages are linking to build a strong backlink profile. However, it's a powerful app for projects such as:
Blogging
Game development
Web development
Building constructions
Task management
Team management
Joplin
Joplin Pros:
Free and offline
Online end-to-end encryption is offered
Markdown powered so you can move or import notes
Joplin Cons:
Doesn't have many rich-text editing tools, but it is good enough for standard note-keeping
Another one of the best end-to-end encrypted note-taking apps is Joplin. The free offline app uses the Markdown syntax to add notes.
It's not connected to the Internet, so you can work worry-free. Joplin has two interface tabs. To the left is the editor to edit notes; to the right, you see the live changes.
Like Obsidian, Joplin has an end-to-end encrypted cloud version to save files online automatically.
Also, as it supports the Markdown language, you can export notes and open them in other supporting apps.
I have been using Joplin for a long. I even made a tutorial video for those interested.
Read next: Joplin or Obsidian
Evernote
Evernote Pros:
An experienced note-taking app with options for everyone
Not too complicated that you make your miserable
Evernote Cons:
The free version is limited compared to other apps here
I have been hearing about Evernote since my day one of blogging. It has been here a long time, and also one of my favorite note-keeping apps.
Also, it's end-to-end encrypted nature makes it a perfect candidate for this list. Evernote clearly says that its desktop applications are end-to-end encrypted for better security.
The app is slightly expensive and does not offer many options for free. You can create and edit notes on one device only. However, the app is full of tools, including:
Rich test editing tools
Amazing collaboration tools
Adding tables
Document scanners
Image, audio, video, and file attachments
Furthermore, it offers many free templates to create project notes. Evernote's premium plan starts from $10.83 per month and offers an unlimited device limit and extended file attachment size.
Something related: Joplin or Evernote
Apple Notes
Apple Notes Pros:
Completely free
Has basic note-taking features
Apple Notes Cons:
Apple products only
No advanced note-keeping tools
The next on this list is Apple Notes. Unfortunately, Apple Notes is available on Apple products and the web.
Most Apple applications are end-to-end encrypted, which is why Apple praises itself for being a privacy-focused company.
I have been using Apple Notes for a while on my phone, and let me tell you that it's not Evernote or Obsidian, but it's better than simple note-taking apps like Google Keep.
The app is also free, so you won't pay a single dollar. You will see options including:
Checklists
Media attachments
Tables
Drawing
Headings
Text styles
Sharing and collaboration
Check out Evernote versus Apple Notes while you are here.
Coda
Coda Pros:
A fully-featured document app
Database management
Coda Cons:
Block limit on each page in the free plan
Another one of the best end-to-end encrypted note-taking apps is Coda. It is a hidden gem you find when others don't suit you.
It's full of blocks that can take your notes to a level other apps can't reach.
It has over 50 block types offering simple text to embeddable apps to create documents to share with the world.
It also has an AI assistant like ChatGPT to write articles and suggest content.
Furthermore, it is a tool to create amazing databases. You can create a page for your project and add sub-project or task pages and keep going to make an amazing tree of tasks according to their priorities.
ClickUp Docs
ClickUp Docs Pros:
A many-in-one tool to replace them all
ClickUp Docs Cons:
It's many in one nature makes it challenging to learn
If you want a complete productivity package, ClickUp is an excellent end-to-end encrypted platform offering over ten productivity options.
ClickUp was my friend when I was managing my own company some time ago, but I'm working alone now, so I use other less-featured apps.
With ClickUp, you can do the following things without paying for anything:
Docs
Task management
Kanban boards
Calendar
Table
Timeline
ClickUp is hosted on Amazon Web Services, offering end-to-end encryption to its users.
Regarding tools, ClickUp Docs uses blocks like Coda, and we find most blocks to create complex notes. Some of those include:
Headings
Media
Dividers
Buttons tables
Embeds
ClickUp is an advanced application, and mastering it will take time.
But once you learn to use it, you can eliminate applications such as Google Sheets, Calendar, Trello, and the standard task management apps.
Conclusion
Note-taking is a severe part of productivity, but some users get worried if their notes are open to employees and hackers.
This is why having an encrypted note-taking app is essential. We didn't cover one here, but the best end-to-end encrypted note-taking apps.
Please share your thoughts and favorites below and help other readers pick the best one.
Madhsudhan Khemchandani has a bachelor's degree in Software Engineering (Honours). He has been writing articles on apps and software for over five years. He has also made over 200 videos on his YouTube channel. Read more about him on the about page.