Regarding surveys and polls, only a handful of names come to mind. Two helpful names are SurveyMonkey and Microsoft Forms.
Both offer plenty of options, which is why this SurveyMonkey vs. Microsoft Forms debate is important to choose the ideal platform.
What are both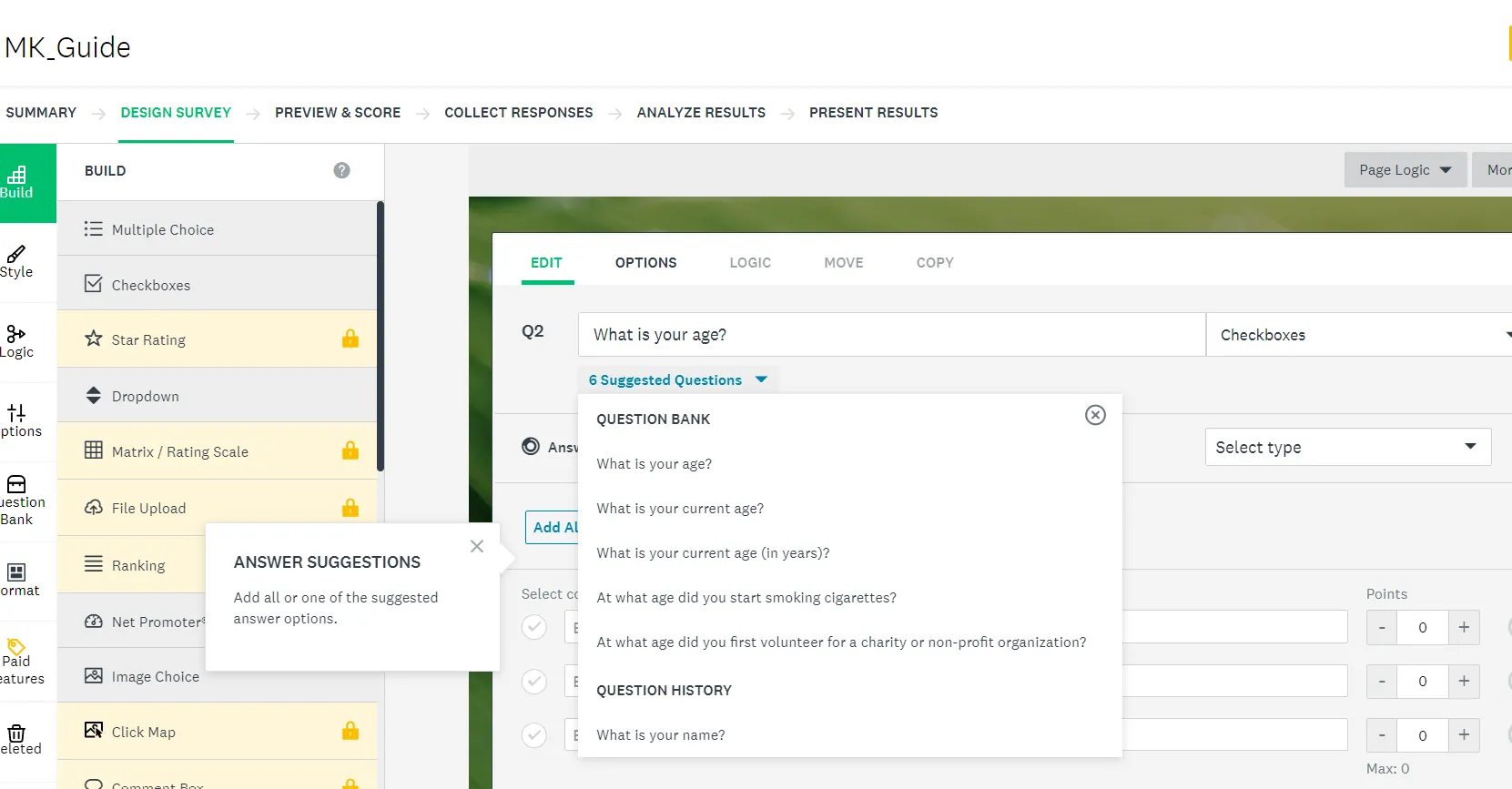 SurveyMonkey is a form service specially designed for surveys and questionnaires. It offers a wide range of options allowing you to use this program for multiple purposes.
You can make three different format forms:
One question per page
Multiple questions per page
Chat conversation style
It has a feature called "question bank," which provides sample questions for use in forms.
On the other hand, Microsoft Forms doesn't have as many form elements or customization options, but it is free and can be used for many reasons, including surveys, contact us, polls, orders, etc.
Both suggest questions as you start creating a new question.
Supported form fields
SurveyMonkey has 25 form questions, among which only 12 are free. Here is a list:
Multiple Choice
Checkboxes
Dropdown
Net Promoter Score
Image Choice
Single Textbox
Date / Time
Text
Image
Intro Page
New Page
Page Break
Star Rating (paid)
Matrix / Rating Scale (paid)
File Upload (paid)
Ranking (paid)
Click Map (paid)
Comment Box (paid)
Slider (paid)
Payment (Stripe – paid)
Matrix of Dropdown Menus (paid)
Multiple Textboxes (paid)
Contact Information (paid)
Text A/B Test
Image A/B Test
In comparison, Microsoft Forms has 8 form questions, but these general questions are enough for basic forms. Here is a list:
Choice
Text
Insert Media (option available next to each question)
Rating
Date
Ranking
Likert
Net Promoter Score
Form submissions
With a few great options, we can control what we receive. Microsoft Forms supports the following features:
Enable or disable responses
Start and end date for accepting response
Set time duration
Shuffle questions
Display a progress bar
Enable email notification for user form submission
Display a customized thank you page
In contrast, SurveyMonkey enables us to configure the following:
Multiple responses from a single user
Response editing after submission
Instant results (redirect users to a page where the graphical summary of the options chosen by other users will be shown)
Response visualization
Microsoft Forms display users' response data in basic textual and graphical format. However, it provides enough information to analyze the users' response behavior. You can also export all data in an excel file.
In comparison, SurveyMonkey provides more details about user responses. In the paid version, you can export data. It also categorizes the user responses into the following three sections:
Question Summary (answers of all users are displayed for each question)
Insights and Data Trends (provides information about total responses, completion rate, and time spent on each question in graphical format)
Individual Responses (responses from each user are visualized separately)
Related: Typeform vs. Microsoft Forms
SurveyMonkey vs. Microsoft Forms: Validations
SurveyMonkey has more options than its opponent. It lets us add validations and display custom error messages for each question.
For example, we can add the "Require" validation to a multiple-choice question and show a custom error message if the user doesn't answer.
On the other hand, Microsoft Forms options for the "text-based" questions. For other types, we only have the control to make the question mandatory. Here's a list of "Text" question validations:
Required
Long answer
The value must be a number
Text length (multiple rules)
Templates
SurveyMonkey offers over 100 templates in different categories, but most are accessible in the premium plans.
Only 20 templates are available for free. Here are some of the categories of those templates:
Microsoft Forms has only 14 free templates in a few categories.
Integrations
The next round of SurveyMonkey vs. Microsoft Forms is integrations. Like the other sections, this round goes to SurveyMonkey.
The app supports many third-party apps, but most are supported in premium plans.
Still, what we have on SurveyMonkey is more than Microsoft Forms. Here are some supported integrations:
G Suite and Office 365
Zapier
Google Forms
Microsoft OneDrive
Microsoft Forms only supports integration with Office 365 and Microsoft SharePoint apps.
Related: Jotform vs. SurveyMonkey
Form sharing options
SurveyMonkey is limited to sharing through web links for free. Other options, including QR code, email, etc., are available in the paid plans.
The premium team plans also support collaborations on designs, collectors, and results.
Microsoft Forms does not support collaboration, but it has a few sharing options:
Extra features (SurveyMonkey)
Quiz mode
The quiz mode lets users view correct answers and the final results while submitting forms. In the paid version, you can add custom feedback messages based on the user's performance.
Logic
Logic is a premium feature that lets us add conditional logic to questions and pages.
Related: SurveyPlanet vs. SurveyMonkey
Pricing and plans
Microsoft Forms is free to use, whereas SurveyMonkey has minimal options in its free plan.
Those include ten questions per survey and 40 responses per month. The app has two teams, three individuals, and one enterprise plan. The details of each plan are available on this SurveyMonkey price page.
The first team plan is called the Team Advantage, costs $25 per user per month, and unlocks:
Collaboration
Analyzing, filtering, and exporting results
Integration with collaboration services
50,000 responses per year
Unlock many customization options and form elements
Unlock question and page skip logic
Payment gateway
The second team plan is the Premier plan costing $75 per month per creator and offers 100,000 replies per year, access to all logic tools, removal of branding, and direct API access.
The Standard individual plan costs $35 per month, offering you infinite surveys and questions, 1,000 monthly user replies, a custom logo, data export, and an option to create skip logic surveys.
The second personal plan costing $34 per month (billed annually), offers a few more options. Those include:
15,000 user responses per month
Answer pipeline logic
A/B testing
Payment gateways
File uploading option
The last plan, Premier Annual, costs $99 monthly (billed yearly) and offers click map data visualization, unlimited filters, compared rules, data trends, and advanced branching features.
Although Microsoft Forms is free, you can get more storage and access to Microsoft Office 365 apps by subscribing to one of the plans.
Which one is for you
SurveyMonkey is for businesses relying on surveys to make money. If your business model surveys, you will benefit from SurveyMonkey.
Microsoft Forms is free and is best for teams wanting to improve their systems with user and employee feedback. For example, you can ask customers about new features using Microsoft Forms.
SurveyMonkey vs. Microsoft Forms: Links
Conclusion
This is the end of this comparison. Please let me know what you think of this comparison, and subscribe to the newsletter to stay in touch.
Madhsudhan Khemchandani has a bachelor's degree in Software Engineering (Honours). He has been writing articles on apps and software for over five years. He has also made over 200 videos on his YouTube channel. Read more about him on the about page.