Easy-to-use browsers with extensive features and plugins are everyone's need. For smooth working, every user looks for a fast, secure, and up-to-date browser.
Plenty of web browsers are in town, and two of those are Opera and Vivaldi. Although both use Google's Chromium projects, there are many differences. The debate Opera vs. Vivaldi is here to help you choose the right one.
What are both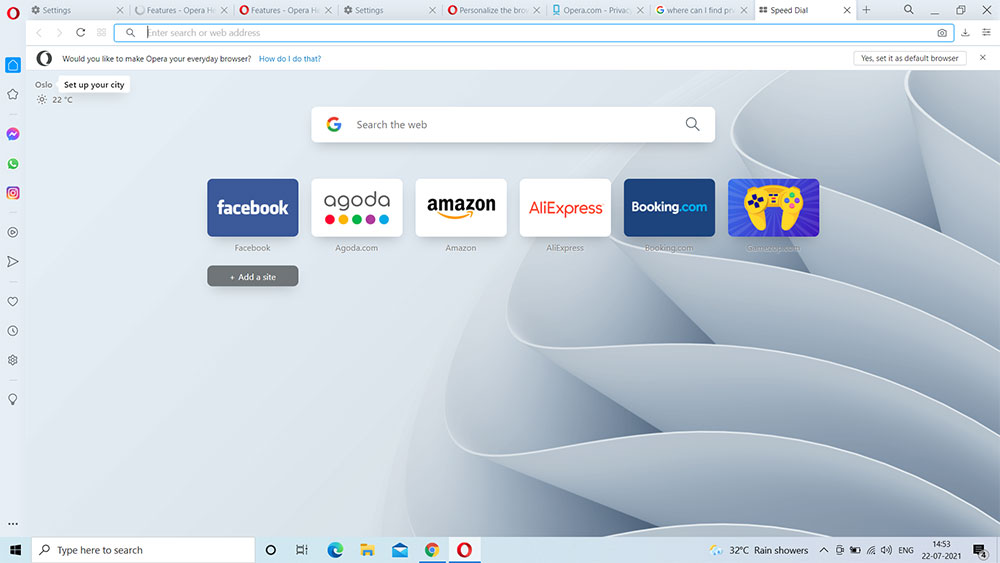 With its distinguished and clean user interface, Opera is a multi-platform browser famous for its small size and fast response.
Recently Opera introduced the Opera GX browser, which focuses on gaming and streaming. As of writing this article, it has a global browser market share of 2.12%.
Vivaldi is a modern chromium-based web browser developed by Vivaldi technologies.
It offers many built-in features like mail, notes, translator, etc., thus omitting the need for plugins and extensions.
It has more than 2.4 million active users and more than 1 million community members making it one of the popular browsers this year.
Opera vs. Vivaldi: Platforms
Opera is available on Windows, macOS, Linux, ChromeOS, Android, and iOS. A mini app is also available for low-end Android devices.
Vivaldi, on the other hand, is available on all the above platforms except iOS. If you are an iOS user, you must go with Opera.
Syncing options
Like most browsers, syncing is offered in both. Opera requires you to create an account to sync the data. After making an account, you can sync the following data:
Bookmarks
Tabs
Speed Dial
Settings
History
Passwords
You can start syncing your data using an account in Vivaldi as well. It offers to sync the following options:
Bookmarks and Speed dials
Settings and Passwords
Autofill data and personal information
History
Remote sessions
Reading list
Notes
Related: Opera vs. Mozilla Firefox
Opera vs. Vivaldi performance
To calculate the performance, we do the startup test to see how long both take to open. Both browsers were on the default settings including the extensions while testing.
In our tests, Opera took 2.01 seconds to open, whereas Vivaldi took 2.3 seconds to fully load. I have also noticed Vivaldi taking more time to load while using it personally.
Winner: Opera
Supported search engines
Opera has Google as its default web search engine. However, you can change the search engine from the settings.
Users can change the default web engine to Yahoo, DuckDuckGo, Amazon, Bing, and Wikipedia. You can also add customized websites from the settings.
On the other hand, Vivaldi has Yahoo as the default engine with Bing as a default image search engine.
You can choose Bing, Google, DuckDuckGo, Ecosia, Startpage.com, and Wikipedia websites.
Privacy and security options
Regarding privacy and protection, both provide multiple options.
In Opera, users can either allow or block all cookies. It also has the option to block third-party cookies in both normal and anonymous browsing.
It also offers a free VPN to change your location. The VPN has pro features such as choosing your location and device-wide protection for a few dollars per month.
You can also enable the ads and tracker blocker. Finally, sending a request not to track your activity with browsing traffic is possible.
Vivaldi also has protection levels. These are Essential, Classic, and Fully Loaded. All come with unique features and perks.
Ads and cookie tracking levels are separate, and regardless of the level, you can choose one of the below levels:
No blocking: No blocking at all.
Blocking trackers: Block just third-party trackers
Blocking trackers and ads: Block trackers and ads completely.
The selection of each level will affect the user experience and some website usage.
Passwords
As both are based on Chromium, we see similar password options. Both offer to save passwords in your browser account and access them by providing your account's password.
The master password options found on Firefox are not offered in both browsers.
Related: Vivaldi Browser vs. Firefox
Add-ons and extensions
Both support the extensions from Chrome Web Store. Opera also comes with its Add-On store that has mainly the same extensions, but we find some additional add-ons.
The same add-on store is used to install the Chrome apps. The add-on called Chrome extensions must be installed to install Chrome extensions.
Customization options
Opera comes with an extensive sidebar panel to add messengers and other stuff.
You can customize the panel and add as many workspaces as you want that will keep your tabs distinguished from each other.
You can label the workspaces with different names. Opera offers multiple color themes and wallpapers.
Vivaldi offers extensive customization options from double-stacked tabs to dual-screen. The feature to edit the toolbar is also available.
Other than that, as mentioned, Vivaldi comes with built-in mail, translators, and notepad options. Furthermore, you can also give commands to mouse gestures for smooth workflow.
Opera vs. Vivaldi: Links
Conclusion
Both Opera and Vivaldi have great options and an extensive add-on library. Their productive layout and advanced features enhance the users' efficiency with their manageable and easy-to-navigate arrangements.
While Opera is perfect for daily browsing, we recommend that Vivaldi would be an ideal addition to your devices for work purposes.