Mozilla Firefox is an excellent browser with tracking and privacy tools. Another software is Opera, developed by Opera Software, a chromium-based browser that offers a sleek interface.
Another program called Mozilla Firefox offers tracking controls and customisation options. What would it be like to cover Opera vs. Firefox? Well, let's find out in this article.
At their core
One of the significant differences is in their core engine. Opera is built on the Chromium project, which is also behind Google Chrome and most other browsers. Firefox contrarily is powered by the Quantum browser engine. The project is also specially designed for Firefox.
Platforms
You find both on Windows, macOS, Linux, iOS, Android, and Chrome OS platforms. The mobile version of Opera is available in Opera Browser and Opera Mini apps.
Sync
Opera does not have an account feature, so synchronisation is a bit of a process. To enable sync, you need to go to opera.com/connect on your desktop browser. At the same time, go to settings and find and find the option "Connect to a computer" on the mobile phone.
The app will open the camera app to scan the code on the desktop browser. Once done, the sync is enabled.
Mozilla Firefox, on the contrary, supports account setup, which can be used to sync history, bookmarks, and history.
Home screen and interface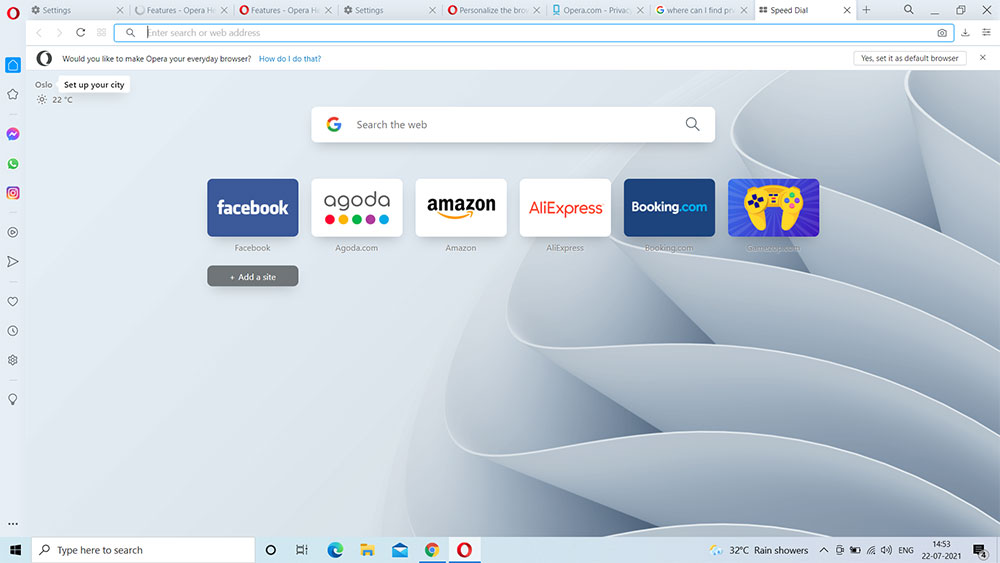 Both come with the search bar and website shortcuts, but Opera also displays a customisable sidebar showing social media apps, music, and workspaces.
The sidebar can be edited to suit your needs. The three tiny dots in the bottom-left allow editing workspaces and social media icons in the sidebar.
Apart from that, both come with a screenshot tool. In Firefox, you can take a screenshot by pressing Ctrl+Shift+S or right-clicking on a space and then clicking on the "take a screenshot" option. You can take a screenshot of a region, visible page, and even the whole page. It can be copied and downloaded as a png file.
With Opera, the screenshot tool can be accessed with Ctrl+Shift+5, allowing selecting the area. The taken screenshot can be saved as an image and a PDF file.
Finally, both allow adding and removing the home screen background wallpaper.
Related: Google Chrome vs. Brave Browser
Tests
In this round of Opera vs. Firefox, let's do a few tests.
Performance test
In this test, I went on three different websites on both browsers and timed the load time. The test gave me an idea of which browser is most likely to be faster.
From the video, Firefox won 2 times, while Opera outranked Firefox only once. So, this test goes to Firefox.
Battery test on Android
The battery test plays a video on an Android device and checks the battery after the video. Before the test, the battery usage of both browsers was at 0% to make it a fair Opera vs Firefox comparison.
After playing an eight-minute video on full HD on maximum volume, but stood at 0% battery consumption. So, this round is a tie.
Extensions
Regarding extensions, Opera gets the win. Even though Chromium powers opera, it comes with its own Opera Addon Store. But you can't install Google Extensions straightaway. The add-on called Install Chrome Extensions allows installing extensions from Chrome Web Store.
Firefox also comes with its own add-ons store. One can go to the settings menu to go to the store. You find extensions, themes, and even plugins to personalise Firefox. There is a recommended option if you want to browse the featured extensions.
Related: Mozilla Firefox vs. Brave
Privacy
Both are private browsers. With Opera, you get an ad blocker, tracker blocker, and a VPN to browse anonymously. Firefox also comes with trackers, but it does not block ads, nor do you get a free VPN. Other options you get are:
Private mode
Blocking cookies in private modes
Blocking third-party cookies
Blocking all cookies
Clearing history
Deleting cookies
Security badges
Firefox also comes with the same features, but instead of cookie options, you get tracking protection. The default protection is Standard, but users can change it according to their preferences. The program comes with:
Strict: The highest level of security.
Standard: To maintain the balance between security and functionality.
Custom: Works according to your preferences.
According to a post by ExpressVPN, Firefox is the second most private browser after Tor Browser, while Opera stood at number 8.
Opera vs Firefox: What's next?
The following steps are to download your choice from below.
Conclusion
While you may be confused about which application is better, both are good in their area and cannot be judged based on one aspect. Solely, it depends upon the user's requirements and mindset.
Anyway, the article Opera vs. Firefox has come to an end. Have you decided on which one to use? Share your answer with me in the comments so we can discuss more.