From offline to online, and from home to work, we use productivity tools to help us organise. Two of those software programs are Google Keep and Trello. The difference between the two is noticeable, but you might miss those little details that may help in the future. So, what to know about the two and how to compare them in 2021? The article covers Google Keep vs. Trello.
What's the difference?
Google Keep is a free note-taking application developed by Google. If you have something in mind or ideas to keep, Google Keep is what you can consider using.
Trello, on the other hand, is a task management application. If you are working on projects, Trello is what you can consider to organise them efficiently.
Google Keep
With reminding functionalities, Google Keep is one of the most straightforward note-taking programs. At the outset, you can:
add notes
add image notes
add checklists
add audio notes
add drawing notes
search for text and titles
create labels
create reminders
add users
In terms of rich editing, there isn't much to it. Google Keep does not come with rich editing features. Even if you paste a rich format text, the app will paste it in plain format.
One thing I must mention is when adding a grocery list, and the app suggests items. For example, in a checklist note, the app will suggest eggs if you type "eg.".
Trello
Trello, on the other hand, is a project management tool used for managing, distributing, and tracking the progress of your work. It offers many features, but those features bring the curve of learning this tool.
To understand Trello, you must understand three features: Workspaces, lists, and cards.
The

workspace

in Trello can be the project or even the whole work if you have multiple work locations.
The

list

is what you add under each workspace. For this website, I have: lists for ideas, articles in progress, published etc. Depending on your project type, the lists are the major parts of the project.
The

cards

behave like tasks. Under lists, you add tasks.
Moreover, each card can be opened to add details about that specific task. Under each card, you find:
card description
adding labels
adding members
adding checklists
attaching links and files
sharing that card
archiving that task
You can also add users to specific cards who have access to that workspace.
Signing up
Signing up for Google Keep is straightforward. You go to the website or open the app and log in with your Google account. The notes are synced online, or so you access them on any platform.
In contrast, we can sign up on Trello using one of the multiple ways:
Devices
Staring with Trello, you find the app on Windows Store, Mac App Store, Google Play, and App Store. Moreover, the tool can be opened online by going to the website and login into your account.
Related: Google Keep vs. Google Tasks
Google Keep is also available on Google Play and App Store, but it does not come as a native Windows or macOS app. One way to install on Windows is to install the app as a progressive web app on Microsoft Edge.
The app will use the browser's resources, but you can quickly access it without going to the URL in the browser.
Sharing and collaboration
Keep provides an option called "Add Collaborators, " enabling you to share notes with people by entering their email addresses. The advantage of this feature is that you can share a single note with others.
Trello also offers an option to add people to a workspace. However, adding people to a particular list or card is not provided. Another sharing feature that has already been discussed above is adding workspace people to specific cards. This helps in allowing people to focus on their tasks.
Google Keep vs. Trello: Reminding tools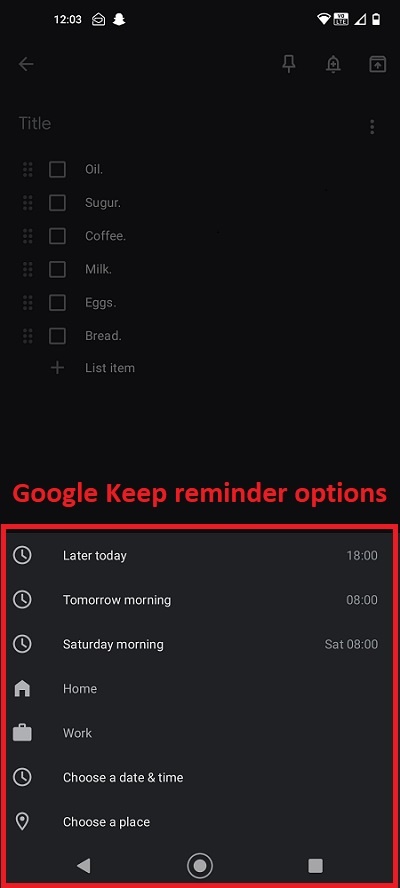 In Keep, you get location and time-based reminders. The app allows one reminder per note at a time. You also get options to change your default reminding times for morning, afternoon, and evening. The program also comes with a repeat option if you like to be reminded multiple times.
Trello too comes with reminding options. There is a due date option in each card, which shows different emojis depending on the time left. The option can further be edited to add a reminder. You get options such as remind five minutes prior, one day before, two days before etc. The different ways through one can be reminded:
Emails
Trello notification panel (changes notification button to red)
Desktop notifications on desktop
Mobile notifications on phones
Related: Google Workspace vs. Slack
Integrations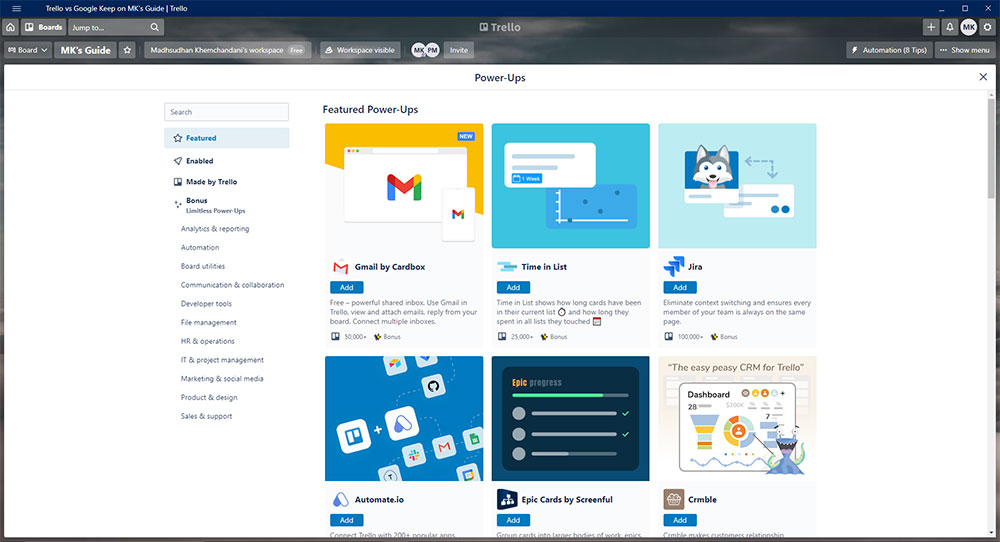 Google Keep is integrated with Google Docs, Gmail, Google Calendar, and Tasks. What each app offers:
On Gmail and Tasks website, you get a

link

to go to your notes.
Notes saved on Keep can be

converted

to Google Docs files.
Your reminders are

visible

on Google Calendar.
Trello, in contrast, comes with about 220 power-ups. Those make Trello an all in one management tool.
The tool separates the power-ups into different categories, and one of them is called "Bonus". All power-ups from this list can be added to your board free of charge, while only one can be installed from the standard power-ups on the free plan. Some of the power-ups are:
Backups for Trello
Jora
Gmail
Slack
Microsoft Teams
Google Drive
Voting
Countdown
Toggl
Templates
This section applies to Trello only because Google Keep does not come with any templates. While creating a board, you can check out over 100 templates developed by other users. Some include:
Video: Google Keep Tutorial on YouTube
Premium and Plans
Google Keep is free to use. Trello, in comparison, is also free, but you get limited options. The free plan offers:
10 boards per workspace
1 power-up per board
unlimited storage
unlimited cards and members
The Business plan is for teams looking for advanced options. The plan costs $10 per month per user on a yearly plan and $12.5 per month per user on the monthly plan. You get:
unlimited power-ups
unlimited boards
calendar view
map view
1,000 automated commands
advanced checklists
The complete list of features is available on the website.
Which one is better for you?
I think both can be used to improve your management lifestyle. Google Keep is a note-taking app and can't replace Trello, while the same goes for Trello. Google Keep can help you with your random ideas or your grocery needs, while Trello can help in organising those needs in a way understood by most people.
Links
Related: Trello vs. Evernote
The bottom line
With this rising online world, more and more things are happening on the internet, and with those, it's easy to get lost or forget vital tasks. This is where those productivity tools come in handy. It does not matter which tool you are using, but having at least one program is essential.
Anyway, it's time for Google Keep vs. Trello to come to an end with all been covered. But feel free to browse other articles on productivity and management. Also, have any thoughts? Please share them with the rest in the comments below.