Notion lets you see databases in different views. One of those views is Calendar, to help you see upcoming tasks and your history.
But it has thousands of templates, from budget tracking to content creation. Where to find the free and best Notion calendar template? This article covers the best ones.
Editorial Calendar
Editorial Calendar is a database of your projects and tasks. The table is where you add task details, status, task type, etc.
The calendar view lets you see all the tasks on a calendar to schedule your work properly.
Also, the template has a full-page calendar where you scroll down to upcoming dates and months. The template is for content creators, but it will only take ten minutes to modify it.
Resonance Calendar by Ali Abdaal
Ali Abdaal is a YouTuber who talks about productivity, and he has created one of the best Notion calendar templates.
The Resonance Calendar template is designed to store the things that interest you. However, you can use it for any work type.
The template has a calendar, a table, and a gallery. You can add tasks, events, information, or anything else.
Each page has an uneditable created date. The calendar populates the created date property.
Content Calendar
This advanced content calendar is perfect for creators and entrepreneurs. The table view is the default, but the calendar view lets you see all the list properties of a page.
You get to see the task's status, type, social media, and more. You can adjust those options to make the template you own.
Each database has sections to generate AI emails, ideas, video scripts, and more. You can insert the popular Notion AI commands and get help from generative AI.
Azm: Content Engine
Another best Notion calendar template is Content Engine. Specially designed to grow your social media.
It has the calendar view as the default to see your upcoming posts, newsletters, and meetings.
You can switch to board and list views. Down the bottom are the social media platforms to manage posts and uploads individually.
Roadmap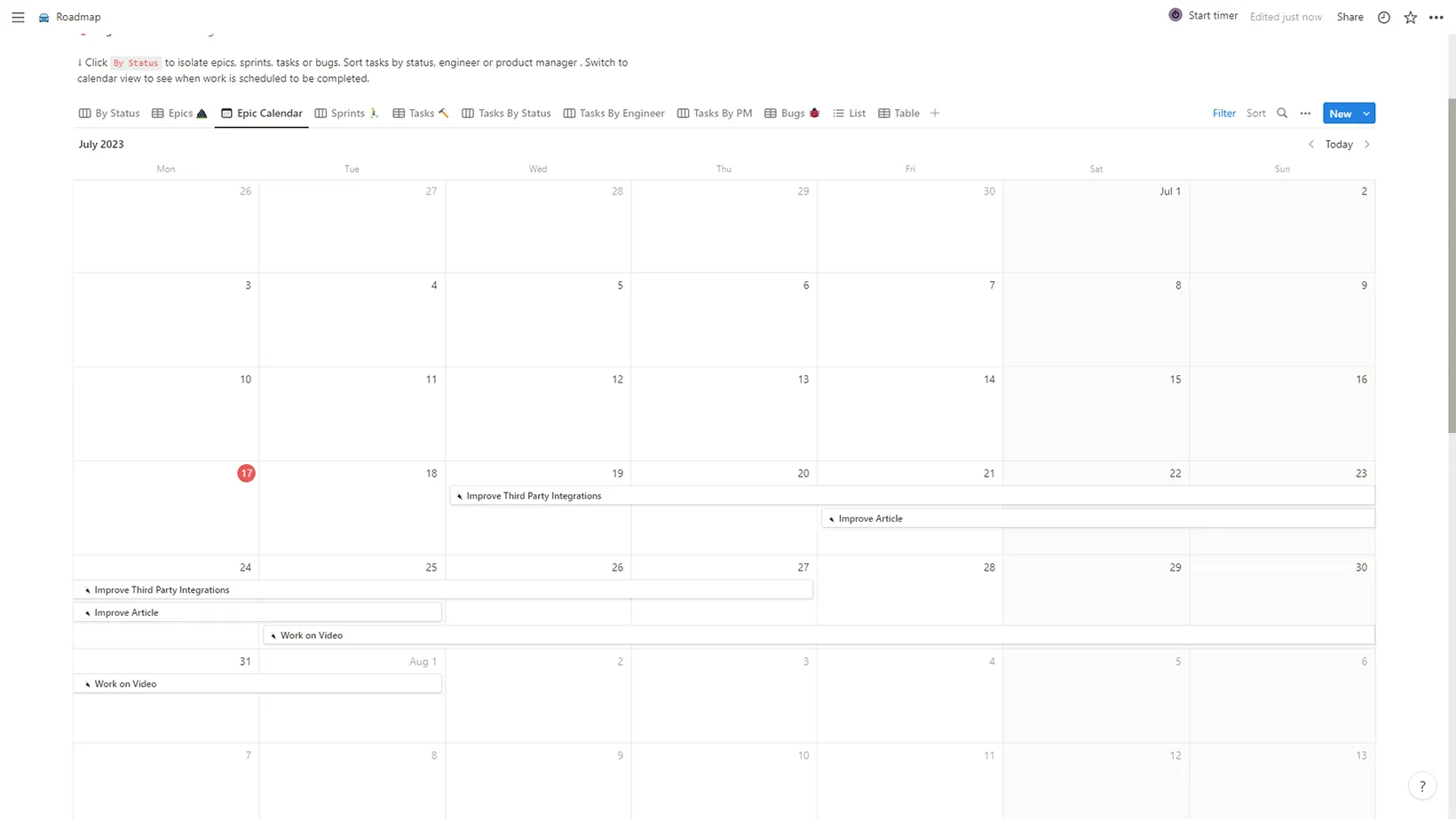 Roadmap is a massive template with 11 views, including lists, tables, and calendars. It is the only template on this list that utilizes the date range property.
If you have a task that will take multiple days, you can set the date range and see a stretched row on the calendar.
For example, it takes me two days to complete a YouTube video. I can specify start and end dates and create a solid calendar.
Roadmap lets you see and manage tasks and find them on different interfaces, making it one of the best Notion calendar templates.
The Mood Journal
The Mood Journal is to track your mood every day. The template has a monthly and weekly calendar view with example databases.
In those databases, you can write about the day, the food you ate, and your sleep hours.
The template has a mood status with many example moods. You can also fill in the weather and see it on the main interface.
Subscription Tracker
The second last Subscription Tracker best Notion calendar template lets you add and see subscriptions on a calendar.
Today, everyone has subscribed to streaming, social media, music, podcasts, and courses.
The template will help you see how much you are spending monthly and the next charging dates.
On the top is a gallery followed by a table with all active subscriptions. Lastly, the calendar shows each subscription on a calendar.
To Do List Calendar
Last but not least is a simple to-do list calendar to create and complete tasks. It only has a calendar view to add databases with task details.
You can add other views, like a table and a gallery, to organize multiple task types. Check the best habit-tracking templates for Notion.
My name is Madhsudhan Khemchandani. I have a bachelor's degree in Software Engineering (Honours). I have been writing articles on apps and software for over five years. I have also made over 200 videos on YouTube. Read more about me on the About page.