Notion is a note-taking, task management, and personal growth program used for various purposes.
It has hundreds of templates, and in this article, we are looking at the best habit tracker templates for Notion.
Habit Tracker
This is the simplest template on this list. It has a table to add your habits and mark them every day.
You also have a "habit stats" section to track your habit score. This section can be used for your yearly goals or tasks.
Lastly, it offers a calendar to add notes, tasks, images, documents, etc., for large tasks and projects.
My Daily Life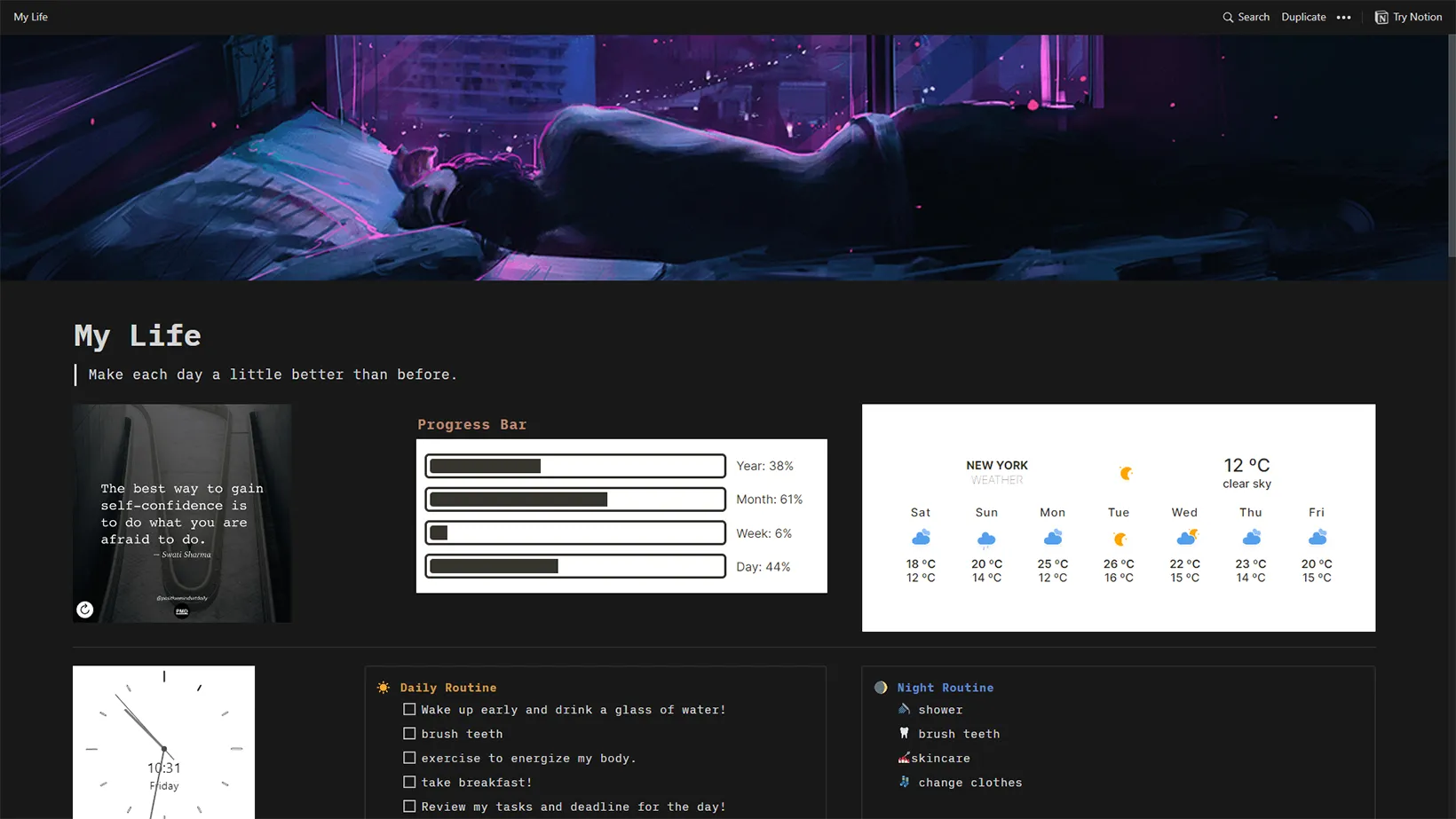 The next habit tracker for Notion is My Daily Life. Utilizing the concepts of some amazing Notion widgets, My Daily Life is a perfect example of tracking any universal habits.
The template has daily and night routine checklists to help you get things done. Then it has a big calendar to add whatever tasks you may have.
Moreover, it has deadlines, daily habits, and reading list sections for better time checking and habit tracking in Notion.
Habit tracker
This is one of the first habit-tracking templates utilizing repeating databases and buttons.
The template creates new habits daily, leaving the most important task in your hands. It also has buttons that allow you to check your habits as you do.
This makes tracking habits smooth as you get more time to focus on your habits. If you are a student, you might be interested in the best templates for students.
Habit Tracker by Notion
Another template for Notion is like the one discovered earlier. It has columns, including day, date, task, and screen time.
It works by adding rows as you go. The day label on the left is expandable to add a separate note for that day.
The option is handy for commenting or writing about your day. A little note icon displays next to the label if any comments are added to that day.
You can add or modify the columns to suit your needs. Under each task on each row, you see a checkmark to complete tasks.
Productivity OS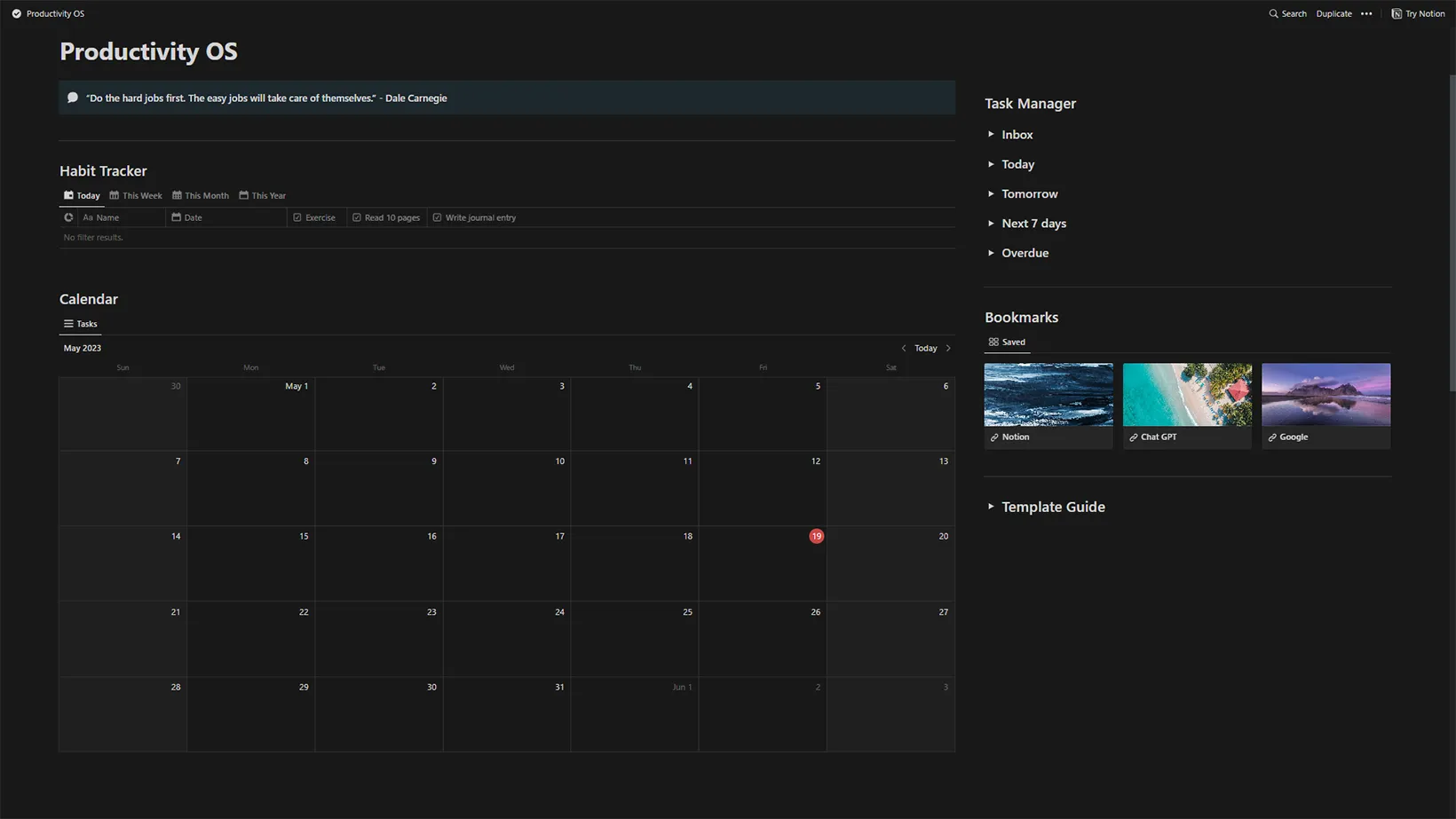 With a cool title, it adapts the technical terms to help achieve tasks. It has a "Task Manager" that shows your today, tomorrow, and the 7 days tasks.
We also have bookmarks where you save stuff. You can also add notes and a diary to the bookmarks. As usual, we have a Calendar and guide to learn to use it.
Goal-Project-Tasks Template
This one here is perfect if you have daily tasks and significant goals. The template has three sections:
Goals: This is where you will be keeping track of significant goals.
Projects: In this section, you will add your projects.
Tasks: In this tab, you will add your daily tasks.
The great thing about this template is that all the sections are connected to give you a better idea of what to do.
For example, adding a task lets you add the related project and goals. Each task can be opened to add further details.
While you are here: Best Aesthetic Notion Templates
Journal & Habit Tracker
Simple at the core, Journal & Habit Tracker does what it promises to. You get a table to add daily, weekly, and monthly tasks.
It has built-in columns; you can change those to set your style. For example, "Meditation" can be replaced with "Morning water" or "Status Email."
This is followed by a nice calendar to add daily checklists. Then we have some tabs specifying each day to add notes, more advanced tasks, daily updates, etc.
The template is free, but you must share your email with the creator to get the download link.
Habit Tracker by Taylor Milliman
This template by Taylor Millman follows a table structure with days, dates, and tasks on each row. The day cell opens up to add notes or comments.
Like the above template, an icon is visible when some information is added. You can filter, sort, add new columns, and search within the table at the top.
Using the template is easy because you add rows on the bottom. One thing you find different is the percentage instead of the sum below the table.
You can change it by tapping the option and choosing the sum function. The template is an excellent choice for tracking particular daily habits.
Habit tracking by Zoe Chew
The last habit tracker for Notion has a list view containing day, date, wake-up time, move, meditation, read, and other columns.
Under each column, it displays 0 and 1 labels, where "0" means not completed, and "1" indicates that the activity is completed. You can create your labels with background colors.
To the left of the "day" label, you see some icons representing the type of work, while on the right, you can open a page to add comments or notes of the day.
Down the bottom, you can count the sum, checked cells, unchecked cells, and more with different properties. The search button is on the top; you can add your columns and views to customize the table.
Madhsudhan Khemchandani has a bachelor's degree in Software Engineering (Honours). He has been writing articles on apps and software for over five years. He has also made over 200 videos on his YouTube channel. Read more about him on the about page.