From unique student templates to widgets and AI, Notion is full of wonders, and if you learn to use it, you can eliminate multiple programs.
However, we are not here to learn to use it. We are here to discuss the best budget templates for Notion.
Budget Tracker by Notion
If you want something simple, the Notion team has created this Budget tracker to add items and their cost.
The template is handy for seeing your overall spending in each category. Each expense has a date property that helps you sort expenses.
This is helpful to see if your spending is over in certain months and what you can do about it.
Budget Tracker by Gheorghe Listru
This Notion Budget Tracker template is more aggressive and for those who want to get into serious expense tracking.
It has Income, Expenses, and categories to help you enter every detail. Then you will see your spending habits as a whole and find places for improvements.
You can also save how much money you have in your account and in your hand to figure out how much you need until you get your next pay.
Notion Budgeting Template (50/30/20 Rule)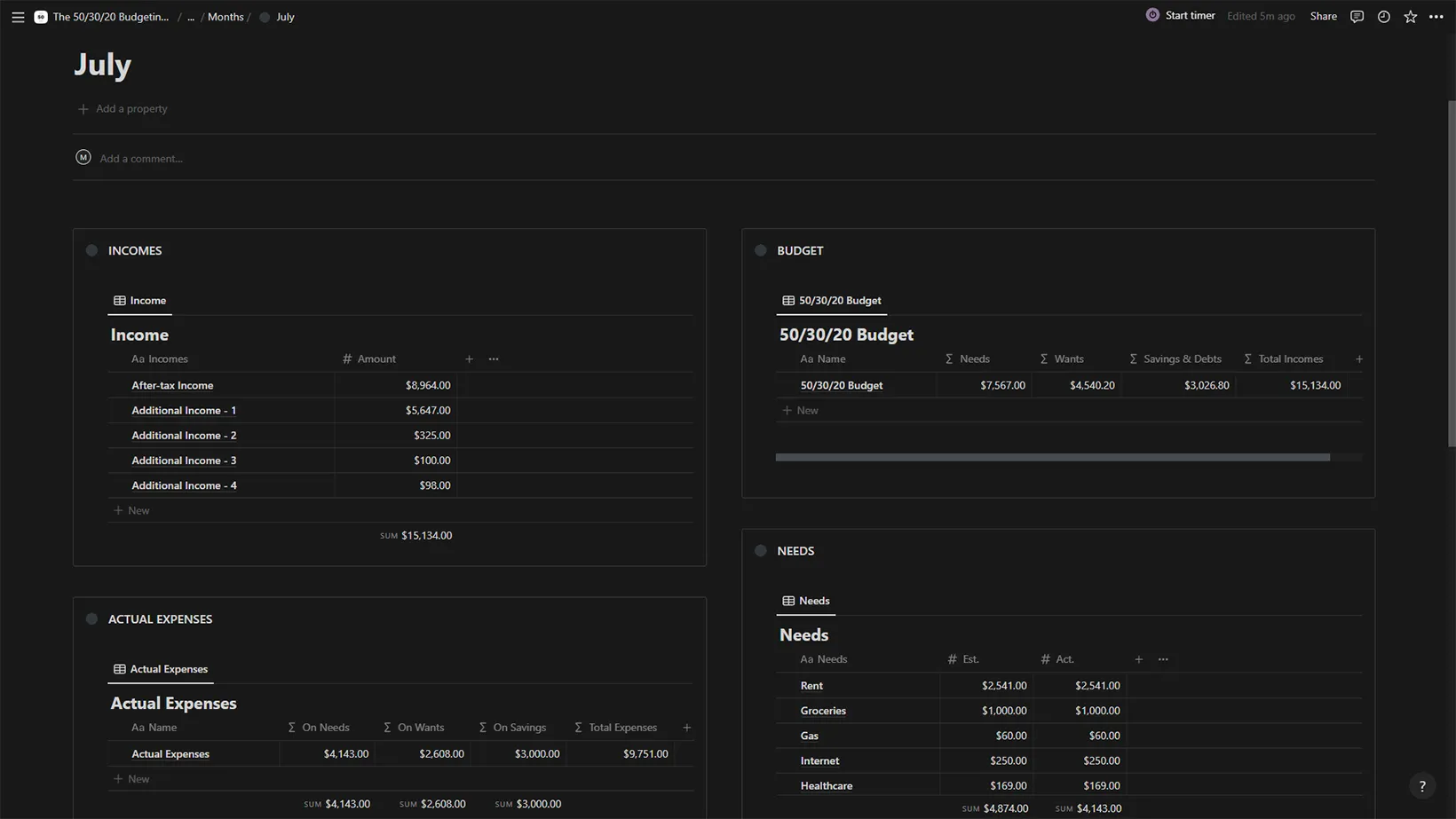 You should be familiar with the 50/30/20 rule. If not, then Investopedia explains it properly. The rule is about spending 50% on must-have things and 30% and 20% on savings and other spending.
If you like to follow this rule, the template will help you. The main template page is just the information. The goodness is when you click the template on the right side.
It has years; in each, you will find months, and under each, you will find income, budget, and expenses.
Student Budget Planner
Students who want to get an overview of the spending will benefit from this template. The planner has expenses and income sections to track earnings and spending.
It utilizes Notion buttons to add an expense or an income source. Each expense has a type, such as food, studies, and transport.
Modifying the template is easy, and if you adjust it correctly, you can save money and time.
Notion Paycheck Budget Planner
The next one of the best budget templates for Notion is for tracking your expenses. It is great for entrepreneurs and content creators who work independently and have clients.
It also has an annual income section to understand your income and sources. Lastly, you will find a client area where you specify how much money they owe or pay regularly.
By the way, check out the great content creation templates and manage projects efficiently.
Budget Planning by Notion
Like the Budget Tracker by Notion, this template is a simple budget planner. All it does is help you manage your finances.
It has no income sections, but you can add your monthly expenses and see how much you spend.
The template is perfect for me because my earnings vary every month, so I only calculate how much I spend.
You can add the routine expense reminder to be reminded before the day. I like to be reminded of my rent every second Monday.
Budget Planner (Minimalist)
With over 300 downloads and with an average 5-star rating, it's one of the best Budget templates for Notion.
As the name suggests, it is a minimalist design but rich in options. First, you add your bank accounts with balance and stuff.
Some of the options are automated, so adjusting one will reflect others. Then, it has expenses and income sections side-by-side.
The following area then lets you add payees, revenue, and payers. It has a sleek button to the left to quickly add a new account, expense, or income.
The template is available through Gumroad, but it costs nothing. You can tip the creator if you like.
Simple Finance Tracker
The next best Notion budget template is Simple Finance Tracker. The organized template lets you add your spending and manage them with categories.
It has a section to add recurring categories and a section to add expenses. A separate page is also available to see your spending to understand your finances and fix any issues.
Budget by Thomas
The template splits into three categories. You add your bank account and other finance accounts' details.
Secondly, you add your money outs and ins to see the big picture. The last is just categories for earnings and spending.
Like the rest, the template is easy to use and free and helps you see your monthly finances and make better decisions.
Simple Budget by Notion
The last template is by Notion, and where we started is where we finish. It's identical to the first Budget tracker template.
We see different entries and categories. Like the other template, it also has multiple views to track your budget from different angles.
My name is Madhsudhan Khemchandani. I have a bachelor's degree in Software Engineering (Honours). I have been writing articles on apps and software for over five years. I have also made over 200 videos on YouTube. Read more about me on the About page.