Pros
✔️ Private search
✔️ Secure
✔️ Accurate local search
Cons
❌ Not complete
❌ Takes some data from other websites
Remarks
Brave Search is a fine web engine, but it's not complete. It takes data from other websites.
It is usable, but don't be afraid to have a backup search engine, as you will need it for some queries.
Specifications
App type: Search engine
Supported devices: Web
Offline: No
Ease of use: Easy
Pricing: $0
Rating: 4 out of 5
What is Brave Search
Brave Search is a search engine from Brave, the company behind the Brave Browser. It was in beta for a long time, but Brave now encourages users to try it and make it the default.
Look and feel
One of the things I like about Brave Search is that it looks different from other search engines. First, it separates sections on the web, keeping the search tidy.
It also adds a Discussion tab in many queries where we find user discussions on websites like Reddit.
It's not complete
While testing, I realized that Brave is not complete yet. It does show the search results, but it lacks images and videos.
You must pick either Google or Bing, and the engine will display the results from that website.
Moreover, in every search query, I found a section called "Find elsewhere" that goes to other websites (especially search engines) to search for the same phrase.
This indicates that the company is aware that it's yet ready to compete with other search engines.
While you are here: DuckDuckGo or Brave Browser
How does it compare with others
Brave says that they do not get index data from other engines. For example, DuckDuckGo relies on Bing's index data.
Brave has created its own index, and the results are not from any other website.
However, I did not see many differences. I saw the same websites on the first page of Google, Bing, and Brave.
Brave shows more results than others. On some pages, there were over 20 results.
Brave does not have "Advanced search" or "Voice search," but it has Goggles. The idea of Goggles is to apply filters on websites to find things quicker.
For example, a Goggle titled "No Pinterest" exists to see search results, excluding the Pinterest website. Users can create and publish their Goggles online.
Local search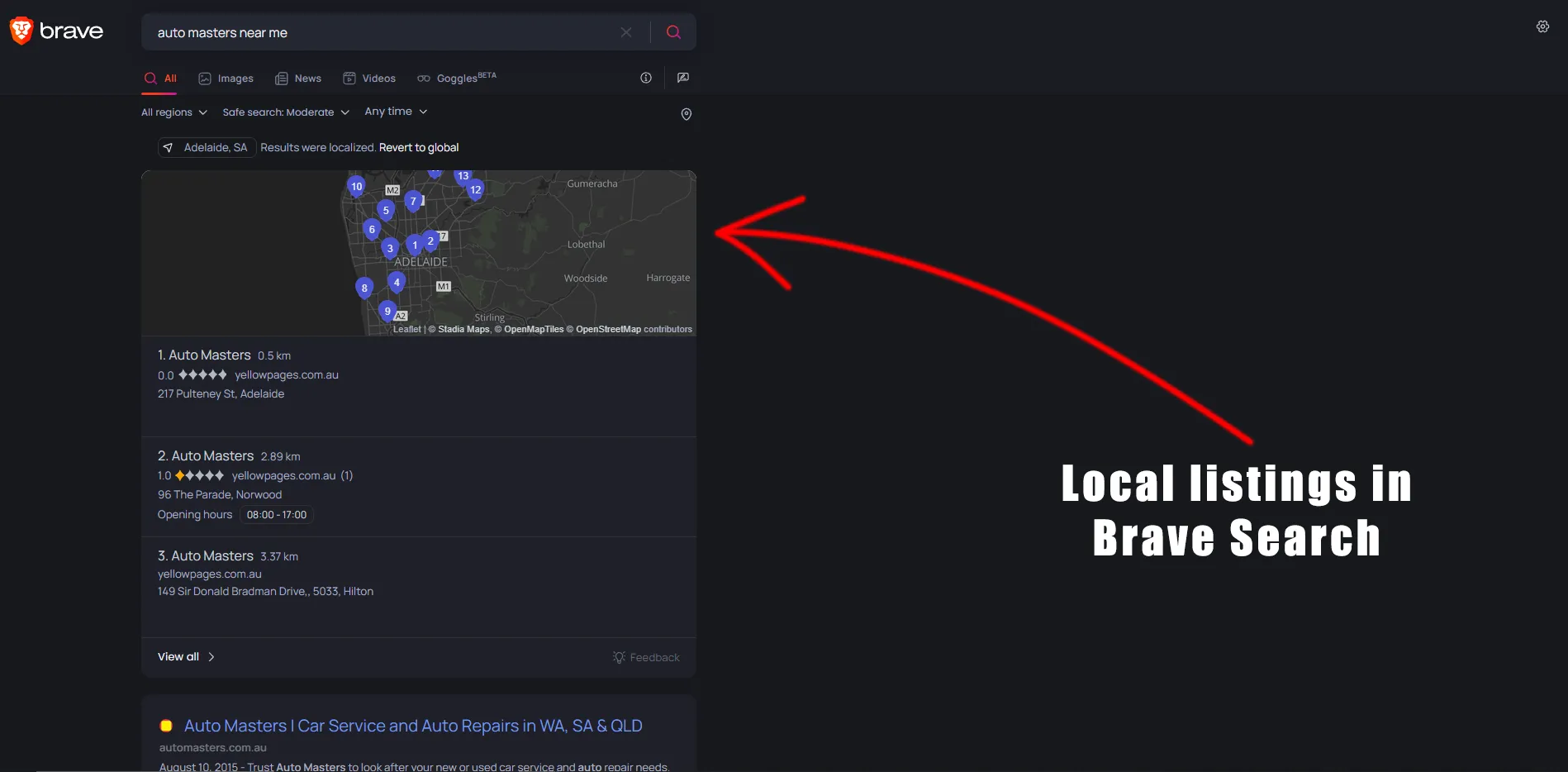 The next part of Brave Search engine review is how it stacks up in local search. Brave uses your IP Address like others to locate stores nearby.
It has a map with pinpointed data, but the map is from OpenStreetMap. The results, however, were accurate.
Also, it takes business data from other websites. For example, in Australia, reviews, business phone numbers, opening hours, websites, etc., are taken from Yellow Pages.
Overall, it uses multiple services but stands up to many types of local searches.
Use of AI
With companies shifting towards AI, Brave Search has released its Summarizer feature that summarizes your query.
It's similar to Featured snippets on Google, but instead of taking results from one website, it shows from multiple.
From my tests, the feature is not perfect. It just takes some sentences from the web and combines them, which doesn't feel natural.
Is it secure
This is one of the prominent sections of this Brave Search review, and it's also hard to answer. Many things go into security because the surface is the only visible part.
First, the website says Brave Search does not track you, and the engine is user-first. In a comparison table, Brave checks all the security features, whereas others lack some.
It has three Safe Search features. You can turn it off or set it to moderate or strict.
Although I did not see much difference between moderate and strict, there are some instances where you might see different results.
Another feature is "Anonymous local results." As the name suggests, the engine checks your IP Address while showing local results; however, they don't store this data on their servers.
Final verdict
I don't understand the idea of a private browser if it shows data from Bing and Google. Brave Search is a unique platform, but it's far from finished.
If you want a different user experience, Brave may provide that, but if you want a fully private browser, Brave is not one (not yet).
Its results are also not different from other engines, so there is no point in switching if you think that others are going downhill.
Madhsudhan Khemchandani has a bachelor's degree in Software Engineering (Honours). He has been writing articles on apps and software for over five years. He has also made over 200 videos on his YouTube channel. Read more about him on the about page.