Pros
✔️ 3 GB free storage
✔️ Tasks, documents, and webpages in one location
✔️ PDF file support
✔️ Collaborations
✔️ Built-in browser
✔️ Cost-effective plans
Cons
❌ No task reminder
❌ Dated interface
Final verdict
If you use a free tasks app, Bublup may be your next place to save tasks and keep your files. It has all you need to track projects, research, trips, and more.
Specifications
Platforms: Web, Android, and iOS
Offline access: Not really
Sharing: Sharing and collaborations
Pricing: $0 to $24.99 per month
What is Bublup
Bublup is a task-tracking app that allows you to track pretty much everything. You can track your projects, specific tasks, research, journeys, and so on. It has a unique interface for adding multiple data types on a single page.
What can be done
Bublup is an advanced version of to-do apps. It has a touch of apps like Notion, Google Keep, and Todoist. We create folders (something to track) and then add cards. It offers multiple options to add to the folder giving you access to advanced organization features displayed below.
Bublup review: Features
This section covers the features of this Bublup review text.
Options to add
On the main interface, we first add the folder, and inside that folder, you can add:
Folder
Link
Image
Video
Checklist
Note
File
Document
Roll
Combined, all those make it easier to track any type of project and task. The above are added as cards, where two cards are placed on each row on mobile phones. The app is interactive, and it supports displaying images, files, and web pages. For example, the link cards display the whole web page, and the PDF card shows the whole document.
Related: TeraBox Review
Roll
This is the most talked-about feature of Bublup. The roll option creates a webpage of your folder (project) containing all the cards except the checklist. The page then can be shared with anyone with a unique link.
Collaborations
Another feature of Bublup is adding others to collaborate on projects. The collaboration feature has lots of permission settings, including:
View and react
Add, edit, and comment
Invite others to the project
Along with a link share option, you can insert their username to add the end-user without sending them a link.
The built-in browser
The mobile app of Bublup comes with a browser, which has a plus button that adds the page to your folder. It asks for a cover image before adding it. The feature helps you browse the web for your projects without switching the app.
Other features
Comments: Comment on each card to remember your edits or collaborate effectively.
Example projects: The team at Bublup has created lots of example projects to help you use the app.
Visual keywords: The app gets keywords from the web pages you save and finds helpful articles from the web.
Favorites: You can make projects and cards your favorite.
Save emails: You get your own Bublup email to send or forward the emails to save in your account.
Review: Review projects created and edited by members.
Bublup nanobar extension: It's a toolbar from Chrome Web Store to add any webpage to your account with one click.
Google Docs, Sheets, and Slides support: You can create a new Google document in the app. You must accept a few permissions to make this feature work.
Google Drive support: The app supports connecting your Google Drive account to add documents.
Apps
The app can be accessed on a browser, while an extension for major browsers, including Chrome, Firefox, and Microsoft Edge, is available. The app is also available on both Android and iOS platforms.
Is Bublup safe?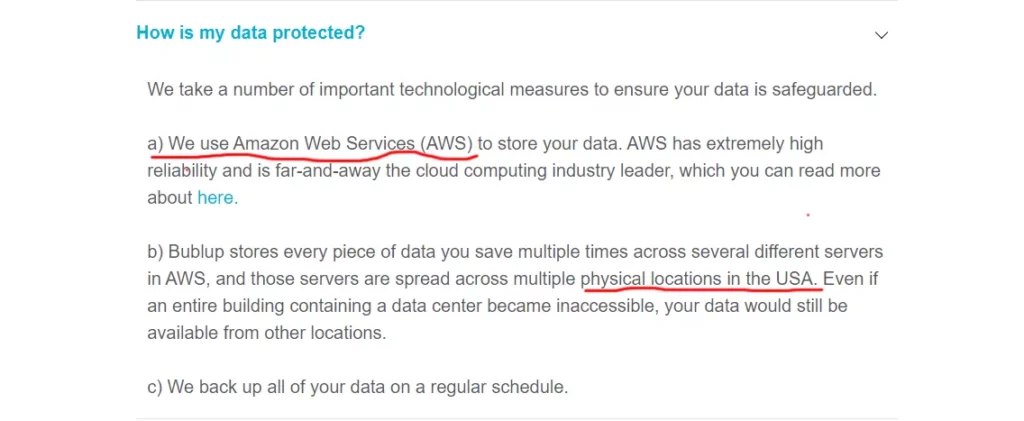 Yes, it is. The company stores your data on different servers in the US. It uses AWS, which is one of the leading cloud providers. They have also mentioned that they do not sell or share your data.
In certain circumstances, they might share data with the legal authorities, which looks reasonable.
Should you be using it?
The company has tried to provide many options in a single app, which may benefit some, but it's also challenging to understand. If you have apps to create lists and tasks and save data, this app may replace all those apps.
If you just use one of the above apps or are not a regular thinker, I don't think Bublup will benefit.
I could not find their physical address, which is crucial to a business's legitimacy, but they have an email contact option, which may help but not a lot.
How much does Bublup cost?
The free plan is more than enough because it supports 3GB of file uploads. However, if you need more, you can sign up for the Standard Plus plan, which costs $2.99 per month or $27 per year and offers two additional things:
100 GB storage
Increased streaming and downloading bandwidth
The Premium subscription offers a few extra benefits. It costs $6.99 per month or $66 per year and comes with:
Increased upload limit
Custom branding
Additional roll domains
Advanced search
Admin options
Bublup Pro and Teams plan cost $9.99 and $24.99 per month respectively. The Pro plan supports up to 10 members, while the Teams supports up to 1,000 members in the same organization.
Summary
The Bublup app is still new and will take time to gain popularity. Anyway, the Bublup review covered the essential features of this app. To read more of our reviews, check out the review section. Also, leave your comment below if you have any words.