One of the great things about Klarna is that it supports a wide range of stores and categories. One of those is booking flights.
In this article, we will learn how to book flights with Klarna online and in-store.
Quick answer
Klarna supports many local flight booking services, and you can go to their websites in the app or in-store and use Klarna.
Booking flights with Klarna online
Follow the steps below to book flights. Please note that I'm in Australia, so I will use Australian flight websites. You can search for the business in the Klarna app in your region.
Step 01
Open the Klarna app and tap on the search bar. Then search for a flight booking website. Tap on it. You can also put in Trip, Expedia, and other famous names.
Step 02
Each business website is different, so you must search for flights and enter your details.
Step 03
On the payment page, tap on the Pay button at the bottom. A small window will display. Tap the Pay with Klarna button.
Step 04
On the next screen, put in the exact amount you see on the flight website. I see $523.04, so I will insert this amount.
You must ensure that your spending limit is more than the listed amount. You can follow my other guide to check your limit.
Step 05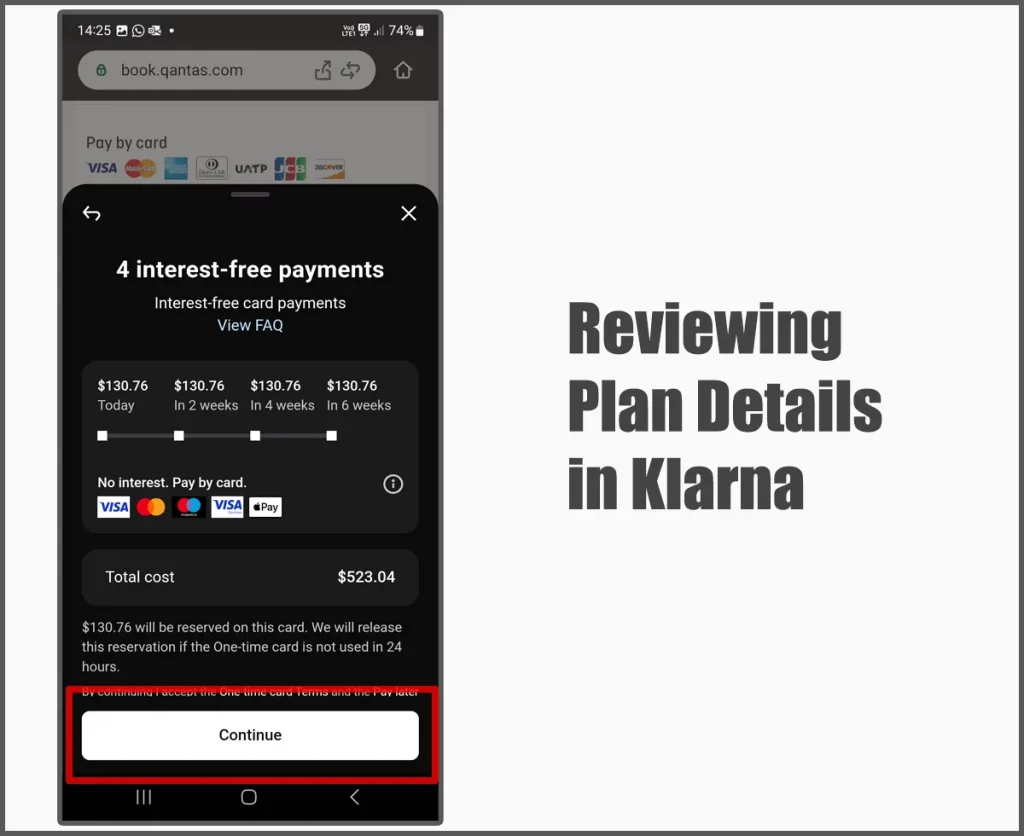 Review the plan details and click the Continue button.
Step 06
Another review screen will appear. Choose your payment card. If you don't have any, you must go to the settings and add a payment card.
Hit Confirm and continue to create a digital card. Please note the above image is an example image.
Step 07
Klarna will generate a digital card. The process may verify your payment method by sending a code to your phone number.
Copy the card number, expiry, and CVV by tapping on each and paste them on the website. You can put your name in the Name option.
Step 08
Tap the Pay or Place Order button to complete the flight booking through Klarna.
Booking flights with Klarna in-store
A few things are needed to book flights with Klarna in-store. First, you must have an NFC-supported phone with either Apple Pay or Google Wallet installed.
Check out my Google Wallet tutorial video to set it up.
The merchant must have a contactless terminal to pay through the phone. If all lights are green, follow the steps below.
Step 01
Open Klarna and tap on In-store. Then search for the place. If Klarna supports that business, it will be visible on the screen.
Step 02
Tap on Create digital card. The next screen will ask for the total amount. Put in the amount to spend. Then hit the Continue button.
Step 03
You will see the review screen with plan details. Hit the Continue button. Then check the repayment card and due amount and click the Confirm and continue button.
Step 04
Klarna may verify your payment method by sending a code. Once that completes, you will see the Add to Apple Pay or Google Pay button. Click on it. At this point, you will also be charged the first payment.
Step 05
Follow any additional steps, such as accepting terms and conditions. When you have the card ready, tap on it to open it.
Then, tap your phone against the terminal to complete the payment.
Pay in 4 or Financing
If you live where Klarna supports multiple payment types, I recommend choosing the Pay in 4 or Pay in 30 option because it won't affect your credit score.
The Financing option is expensive, and your score may be impacted if you don't pay the minimum.
Summary
Using Klarna to book flights is possible. You must search for the business in the search bar, generate a digital card, and use it on the website while booking.
You can pay on a desktop, but using the Klarna app will be easier.
Shopping in-store is also feasible if Klarna supports the business. Search for it in the In-store tab and create the card to add to your payment app.
My name is Madhsudhan Khemchandani. I have a bachelor's degree in Software Engineering (Honours). I have been writing articles on apps and software for over five years. I have also made over 200 videos on YouTube. Read more about me on the About page.