Klarna is a great buy now, pay later app. It's one of those that do not do any hard credit checks.
It uses a different term for your spending limit, and in the article, we talk about that and how to check your Klarna spending limit.
Klarna uses a different spending limit
Klarna does not have the term "Spending limit." Instead, the company uses "Purchase power," which shows overall spending power.
However, for many months, the company has been working on some new changes, so every time you check your spending power, you will get a few FAQs.
The good thing is the changes are location-dependent, so if it's working in your region, you can check your Klarna limit in the app.
How to check your purchase power
Open the Klarna app and tap on the "You" section. You will find "Purchase power" on the top left. Click on it.
The Klarna limit will be visible on this screen. As it's unavailable in my region, I see the unavailable screen with FAQs.
How to check your in-store per-order spending limit
You can also check your per-order spending limit. This is your order limit and is less than or equal to your purchase power.
Follow the steps to see your per-order Klarna limit.
Step 01
Open the app and tap the "In-store" tab at the bottom.
Step 02
Choose one of the retailers from the list. You can select any as we won't be shopping.
Step 03
Click on "Create digital card."
Step 04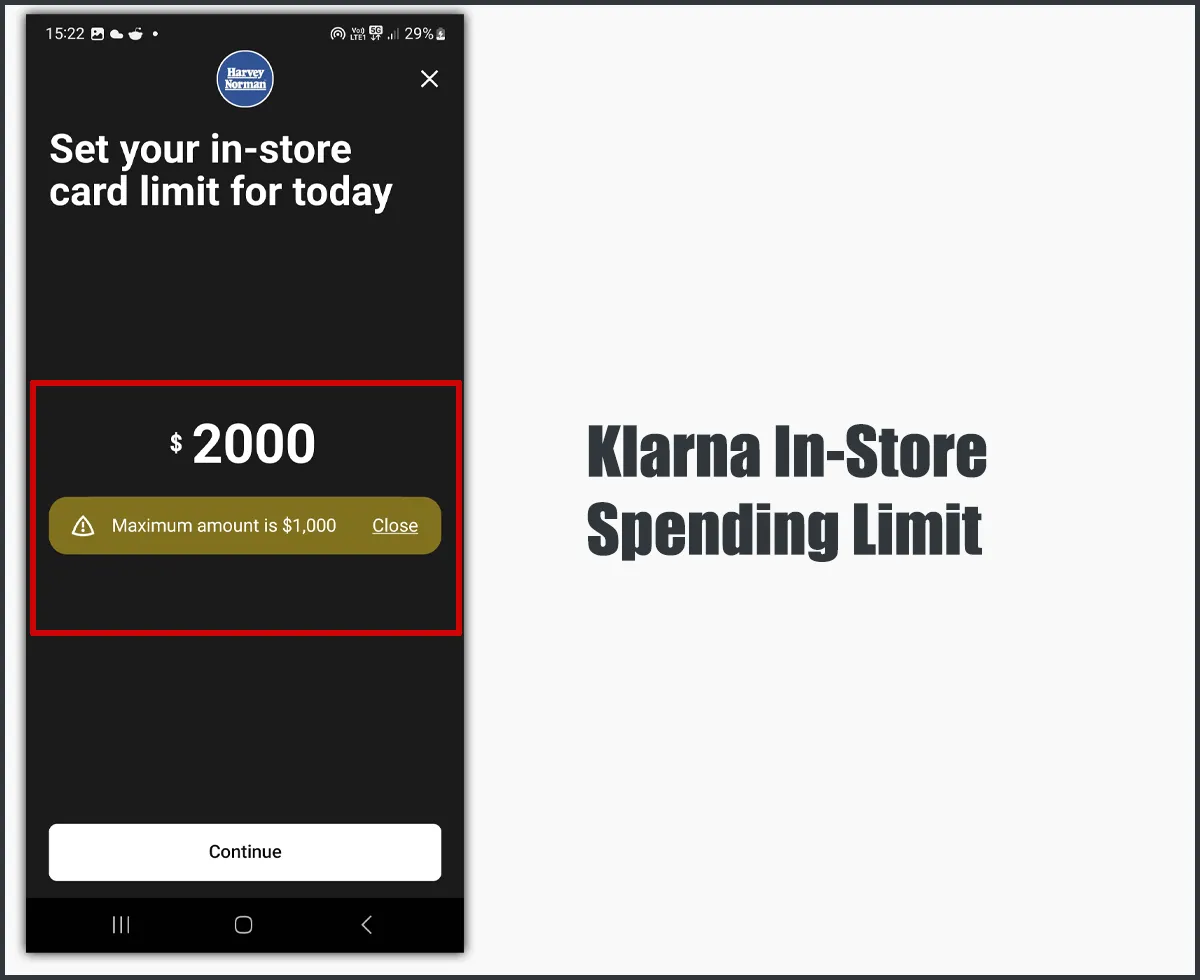 Put in an amount like $2,000 or something higher. You will see an error message saying that the maximum limit is this. My maximum limit is $1,000, so I can't put in more than $1,000.
While you are here: Buy Now, Pay Later Apps With No Down Payment
How to check your online per-order spending limit
We will follow the same tips to check our online limit. The online limit is most likely the same as in-store, but if you want to check, here are the steps.
Step 01
Open the Klarna app and ensure you are in the "Shop" tab.
Step 02
Choose a retailer or search for one. I recommend searching for an electronics store as they have expensive products.
Step 03
Add items to your cart. Add expensive items and reach $2,000 or more.
Step 04
Fill in the details and go to the checkout page.
Step 05
Tap on the "Pay with Klarna" button located at the bottom.
Step 06
The app should pick up the cart amount. If it isn't, put in the total amount. The app will display the same error message with the maximum limit.
Tips on increasing your spending limit
There isn't much to increase your Klarna credit limit. The best way to increase your limit is to pay back on time. Klarna automatically checks your history and increases your limit.
If you can't pay the fortnightly payment, you can request a payment extension by paying a couple of dollars.
If there is something wrong with your credit card or you can't make a payment, you can also reach out to the team.
Kalrna does not affect credit checks, but paying back on time is the best way to keep your relationship healthy.
For Klarna Financing, you must pay more than the minimum every month. The quicker you pay, the faster Klarna will increase your spending limit.
Also, not paying the Klarna Financing payment will affect your credit score, so it's beneficial to use their Pay in 4 option and pay fortnightly.
Before you go: Klarna versus Afterpay
Summary
Klarna brings multiple ways to check Klarna spending limit. The easiest is the Purchase power, and you can put in an excessive amount while shopping to see your maximum purchase limit.
My name is Madhsudhan Khemchandani. I have a bachelor's degree in Software Engineering (Honours). I have been writing articles on apps and software for over five years. I have also made over 200 videos on YouTube. Read more about me on the About page.