Note-taking and documenting come hand in hand. Notion is extensively a note-taking and project management tool to create awesome notes, whereas Google Docs is our good old famous document application to write and share words.
So, which is the one? Notion vs. Google Docs is here to find that out.
The difference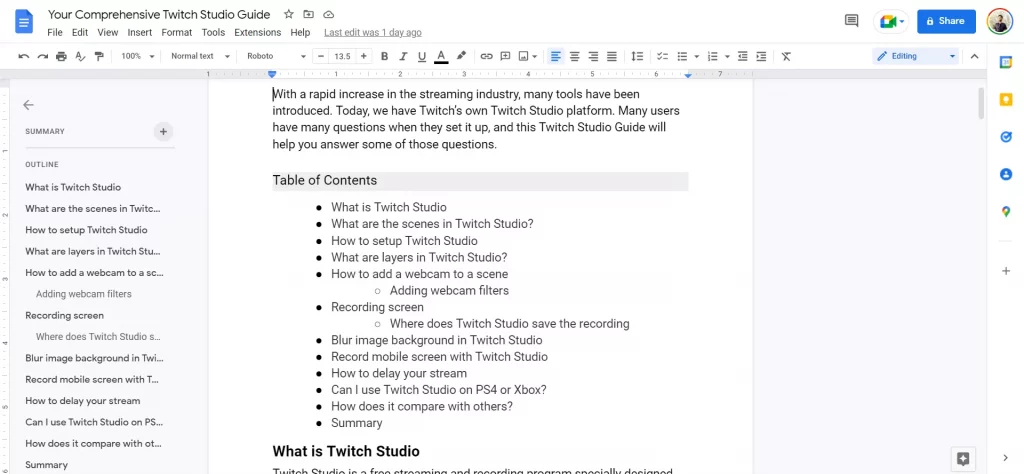 Notion is a note-taking program mainly used to store notes. It's used by individuals for general note keeping, planning, designing, and even tracking habits.
It's also used by teams to store communications, project files, wiki, and other company data.
The primary nature of Google Docs is to write, share, and print documents. Over 2 billion users take advantage of Google Docs, which is many times more than Notion's 20 million.
Both are cloud-based, so all the data is stored on the servers, and you get desktop and mobile applications.
Ease of use
Using Google Docs is easier than Notion as it has pages where you keep writing. All the tools, such as headings, fonts, colors, indents, lists, links, etc., are on the top.
Notion is a block-based program where you add blocks as you go. It offers 50 block types, from simple text, lists, and tables, to complex databases, embeds, and equations.
This block-based nature of Notion makes it super potent. In fact, it is more powerful than Google Docs, and it has almost all the options of Google Docs with many of its own.
Signing up
To sign up for both, you need an account. Of course, for Google Docs, you must have a Google account, but Notion asks for an email that can be of any brand. You can quickly sign up using your Google or Apple account.
Related: Notion vs. Dropbox Paper
Other features
Notion features
Advanced mathematical features: Notion has great mathematical options like Excel and Google Sheets.
Great page linking: Notion pages can be linked with other pages if needed.
Page icon and cover image: Each Notion note can have an icon and a cover image to make it look nice.
Formulas: Like Microsoft Excel and Google Sheets, Notion supports formulas.
Complex databases: Notion offers to create complex databases, where each object can be placed on a row, and under each object, you can have lots of object data types. The term comes from Object-Oriented Programming.
Task management: Notion is not just a note-taking tool. It is used as a task management program with tables, databases, and Kanban-style views.
Google Docs features
Edit suggestion: Users can suggest edits for the reviewer, for example, changing a word from "these" to "those." If the reviewer likes the edit, they can apply it with one click.
Advanced grammar checker: It's not Grammarly, but the grammar check is better than Notion's.
Page headers and footers: Google Docs supports adding headers and footers.
Page History: Docs has a free version history option.
Drawing: You can draw and add to the document. It also has the option to import one from Google Drive.
Charts and stuff: You can import your Google Sheet charts and graphs or create a new one to add to the document.
Page language: Google Docs supports many languages, including English, Polski, Hindi, and Filipino.
Translation: The service also offers a translation feature to convert docs if needed.
Voice typing: On Google Chrome, you can enable voice typing to convert speech to text.
Explore feature: The feature discovers the topics mentioned in the document and shows you the recent news.
Notion vs. Google Docs: Templates
Templates make both perfect, but I feel that Notion takes templates far. A new Notion page is blank and boring, but if you go to the templates website, you will feel like you are on another planet.
Templates show the real power of Notion, but those come with a steep learning curve.
Google Docs has many templates for resumes, letters, work, and sales. You can expect about 60 templates. Notion has templates for tracking habits, designers, engineers, and students.
One of the common terms searched Notion is about aesthetic Notion templates because templates can be artistic and beautiful.
Collaboration
Both offer real-time collaboration with permission options. By default, you can send email invites, but the public sharing option can share the document with anyone.
Notion supports enabling editing, comments, and page duplicate options, whereas Google Docs supports viewing, commenting, and editing options.
As you work with others, you see others in different colors to help you identify users. Google Docs also shows all the online users on the top.
Integrations
Both have third-party apps, but both offer different types of apps. Notion has a touch of productivity apps, including Trello, Jira, Google Drive, Zoom, and Dropbox.
If you use any of the apps mentioned on the integration page, you can connect both and save time.
Google Docs offers translating, highlighting, spell-checking, and table of contents plugins that improve its overall functionality.
Google Docs has a plus point: it's nicely connected with other Google apps in Google Workspace. For example, you can make a Google Meet call and present the document.
Its desktop app also has a sidebar containing other Google apps, including Google Keep, Tasks, and Calendar.
Related: OneNote vs. Notion
Exporting
Google Docs is the winner for this round. Why? Because along with Word document, you can download the file in:
OpenDocument
Rich text Format
PDF Document
Plain Text
HTML
EPUB Publication
It also supports importing common formats, including Word and OpenDocument formats.
Notion can export files in PDF, HTML, and Markdown & CSV formats. The tool can import Word and CSV files and form tools like Evernote and Trello, and Asana.
Pricing
Google Docs is free, and Notion's free plan is more than enough for individuals to small teams.
The free subscription offers to create unlimited pages, add up to five members, and upload up to 5 MB of files. The first paid plan, titled Personal Pro, costs $4 per month, providing:
Unlimited guests
30-day page version history
Unlimited file upload
The other plan is called the Team, which costs $8 monthly, giving you access to:
Advanced permissions
Unlimited team members
Collaborative workspace
Five timeline views
Which is the one?
I always put this section to help you decide the best program to use. Notion is a note-taking and documentation app with project management features. It should be used for this purpose only.
Google Docs is primarily a document program to create, edit, and print documents, and you should use it for that.
Notion vs. Google Docs: Links
The bottom line
Here we end this Notion vs. Google Docs article. I appreciate you for reading until the end. I request you to spend two minutes adding your thoughts in the comments and helping others benefit from this article more.