Notion is extensively a note-taking and project management tool to create awesome notes, whereas Google Docs is the good old document application to write, share, and print text.
Which app is for you? Notion vs. Google Docs is here to find that out.
The difference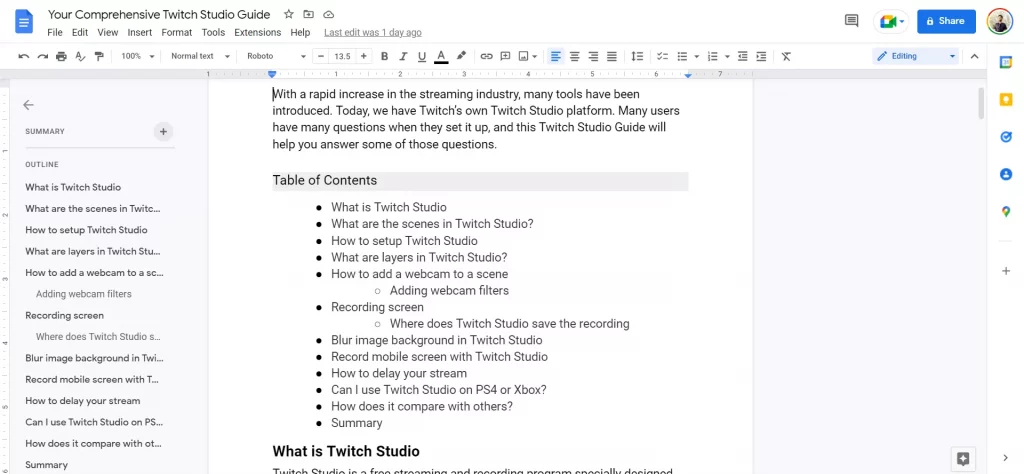 Notion is a note-taking program for note-keeping, planning, documentation, database storing, habit tracking, designing, and more.
The primary nature of Google Docs is to write, share, and print documents. Over 2 billion users use Google Docs, many times more than Notion's 20 million.
Ease of use
Using Google Docs is easier than Notion. All the tools, such as headings, fonts, colors, indents, lists, links, etc., are right there.
Notion is a block-based program where you add blocks as you go. It offers over 50 block types, from simple text, lists, and tables, to complex databases, embeds, and equations.
This block-based nature makes it challenging because you can add blocks inside of blocks. It has the potential to replace many productivity apps.
Notion views
The power of Notion lies in its views. It supports changing the view of a page to see it from a different angle.
For example, a table with a date property can be displayed in a calendar view. Similarly, an image gallery can be viewed as a table.
Notion vs. Google Docs: Templates
Notion takes templates far. If you want to see Notion's reach, you must browse its templates library.
Some popular categories include habit tracking, designing, health and fitness, and students.
Google Docs has templates for resumes, letters, work, and sales. Google Docs is a common tool supporting Microsoft Word formats, so you can expect many templates on third-party websites.
Collaboration
Both offer real-time collaboration with permissions. You can send email invites, and the public sharing option can share the document with anyone.
Notion supports enabling editing, commenting, and duplicate page permissions, whereas Google Docs supports viewing, suggesting, commenting, and editing.
Other features
Notion features
Advanced mathematical features: Notion has great mathematical options like Excel and Google Sheets.
Great page backlinking: Notion pages can be linked if needed.
Page icon and cover image: Each Notion note can have an icon and a cover image to make it look nice.
Formulas: Like Microsoft Excel and Google Sheets, Notion supports formulas.
Complex databases: Notion offers to create complex databases, where each object can be placed on a row, and under each object, you can have lots of object data types.
Task management: Notion is not just a note-taking tool. It is a task management program with tables, databases, and Kanban-style views.
Google Docs features
Edit suggestion: Users can suggest edits in writing. For example, changing a word from "these" to "those." If the reviewer likes the edit, they can apply it with one click.
Advanced grammar checker: The grammar check is better than Notion's.
Page headers and footers: Google Docs supports adding headers and footers.
Drawing: You can draw and add to the document. It also has the option to import one from Google Drive.
Charts: You can import your Google Sheet charts and graphs or create a new one to add to the document.
Explore feature: The feature discovers the topics mentioned in the document and shows you the recent news.
Usage of AI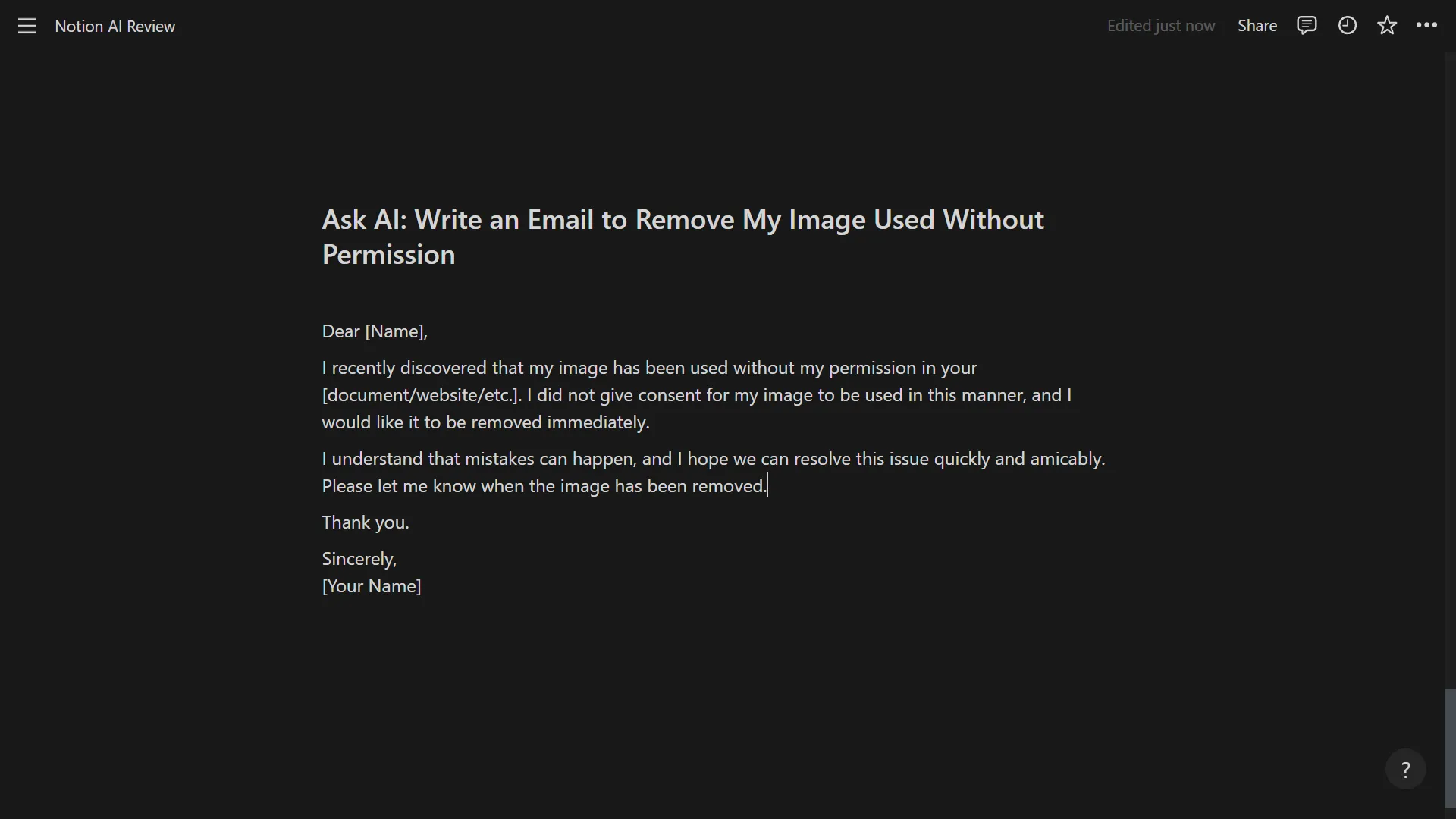 AI is being used everywhere. With Notion introducing its AI (similar to ChatGPT), Google Docs got its own AI tool.
The AI tool of both lets you generate ideas, write content and summaries, translate text, and do many more things.
Although more tests are needed, I asked both to write an email. Notion took a friendly approach that I loved. Google Docs went straight into the fifth gear and made an aggressive email (both images above).
Regarding pricing, Google Docs AI is free, whereas Notion AI gives you some free commands, but you must pay $10 monthly after some time.
Integrations
Notion has a touch of productivity apps, including Trello, Jira, Google Drive, Zoom, and Dropbox.
The integration page shows all the supported apps.
It also has widgets that work like blocks. If you don't find a block in Notion, you will most likely find a widget for it. Check out my top Notion widgets list to use.
Google Docs offers translating, highlighting, spell-checking, and table of contents plugins that improve functionality.
Google Docs has a plus point: it's nicely connected with other Google apps. For example, you can make a Google Meet call and present the document.
Its desktop app also has a sidebar containing other Google apps, including Google Keep, Tasks, and Calendar.
Exporting
Google Docs, along with the Word document, supports the following formats:
OpenDocument
Rich text Format
PDF Document
Plain Text
HTML
EPUB Publication
It also supports importing Word and OpenDocument documents.
Notion can export PDF, HTML, and Markdown & CSV formats. The tool can import Word and CSV files from programs like Evernote, Trello, and Asana.
Pricing
Google Docs is free, and Notion's free plan is more than enough for individuals to small teams.
The Free subscription offers unlimited pages, a 7-day activity history, 10 guests, and a 5 MB file attachment limit.
The Plus plan costs $8 per month per creator and provides the following:
Unlimited guests
30-day page version history
Unlimited file upload
The Business package for large teams costs $15 monthly per user and supports up to 150 guests to join the workplace.
Notion AI is a separate add-on offered for $10 per month on all its plans.
Conclusion
If you need an app to write and print documents, you should go with Google Docs. It's a straightforward app with many tools.
Notion is for the digital world. It can help with documents, tasks, calendars, project management, hiring, etc.
However, it isn't easy to use, so you must learn to use it. If you go with Notion, you won't need Google Docs, as it can do most of the things Google Docs can.
Notion vs. Google Docs: Links