Proton Drive is new and has a long to go, but it is one of the most popular. Dropbox is a well-known drive storage with over 700 million users.
However, it's not just about the numbers. Proton Drive is another program with robust security and privacy features.
Let's take a close look at Proton Drive vs. Dropbox to help you choose the right platform.
Interface and layout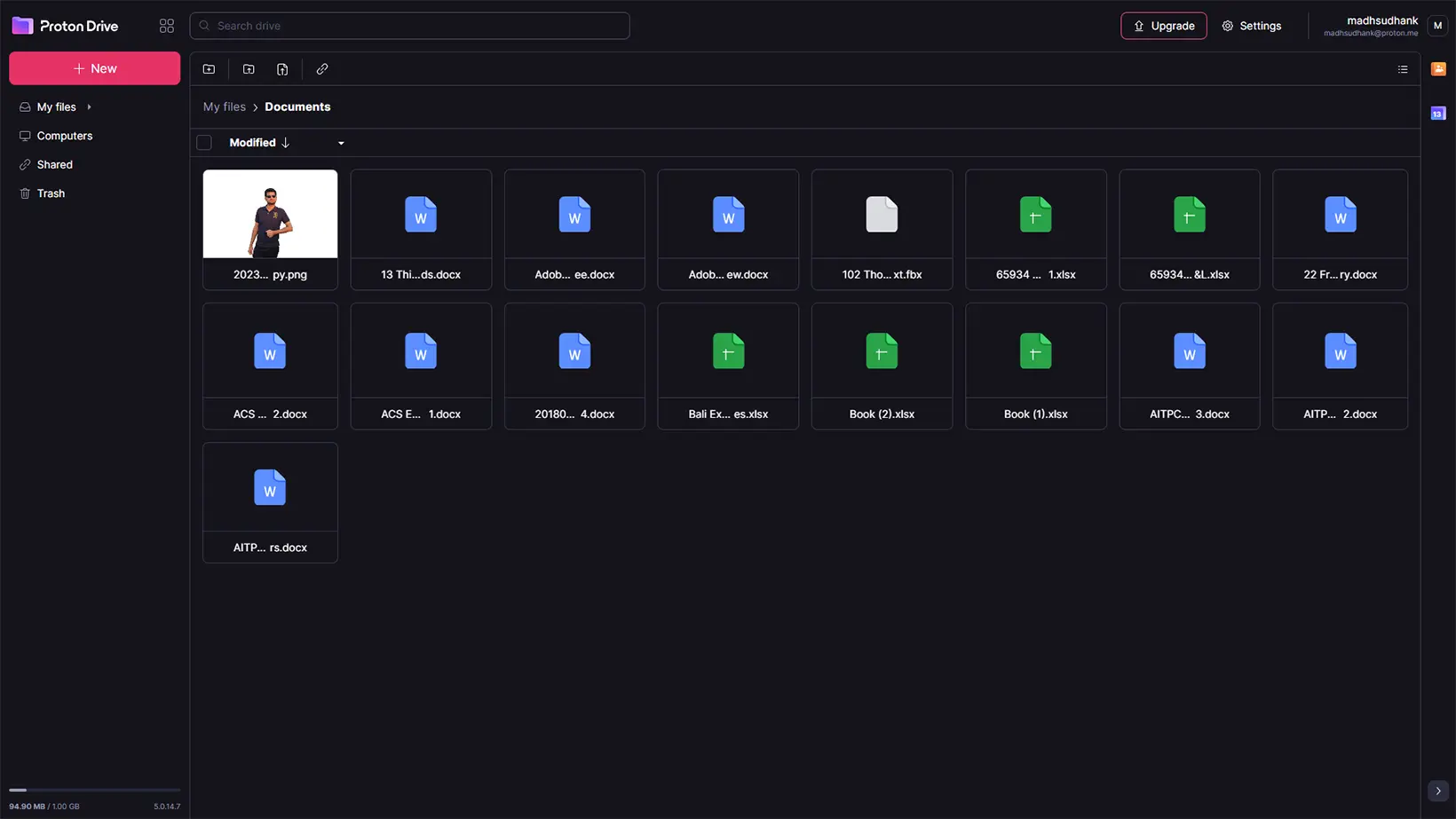 Proton Drive is more dashing and stylish in terms of layout. Its rich interface with themes makes it a more extensive program than Dropbox.
Dropbox has a basic layout, but it has a top row that shows the most opened files and folders. You can switch among the grid, large grid, list, and large list layout.
Both have a navigation sidebar that also shows the remaining storage.
Security and privacy
Security is one of the arrows in Proton Drive's quiver, and it has played it nicely. It is one of those platforms offering end-to-end encrypted storage.
Unless shared with the public, the file remains encrypted. On the other hand, Dropbox says that no one can access your files, but on rare occasions where legal authorities ask them, they are entitled to disclose.
Proton Drive vs. Dropbox: Total storage
Proton Drive gives you only 1 GB of storage. That's because it has to handle the end-to-end encryption.
However, its premium plans offer more storage and bring the goodness of other Proton products.
Dropbox offers 2 GB of initial storage, but premium plans offer 1 TB, 3 TB, and even unlimited storage for large businesses for uninterrupted service.
While you are here, check out my pCloud and Dropbox comparison.
File opening and previewing
This is one of the rounds of Proton Drive vs. Dropbox with significant differences. Proton Drive can open files, but it can't compete with Dropbox.
Dropbox supports more formats and lets you view and edit Microsoft Office and Google Workspace files. Only a few programs offer that, and Dropbox is one of them.
File sharing
Both let you share files, but Proton Drive has more free sharing features. You can set passwords to protect files or a link expiry to auto-delete it after completing a project.
This helps you share files without worrying about illegal access later.
Dropbox supports both file and folder sharing. The shared folders can be accessed and edited by all the members for a s smoother workflow.
It does not support password protection, link expert, and download disable options for free.
Pricing and plans
As discussed, Proton is a company behind many products, and its premium plans give you the benefits of each of its services.
Proton Drive's 200 GB plan costs $3.99 per month. You only get Proton Drive in this plan.
If you want secure email, calendar, VPN, and cloud storage, subscribe to the 500 GB plan that brings premium features to all the apps. The plan will cost $9.99 per month on the 12-month contract.
It has a 3 TB plan costing $24 per month, offering more advanced features of other services.
Dropbox also has multiple plans for every user type. The Plus is the first plan to get more than the default 2 GB storage. It will cost $9.99 per month for 2 TB storage.
You won't get the advanced sharing features yet. For that, you need the Professional plan, costing $16.58 monthly on the annual contract, offering 3 TB storage and sharing features.
Other plans include Standard and Advanced for teams to work on projects. You will get 5 TB and 15 TB storage to be shared among users.
Third-party file support
With hundreds of apps in the Dropbox app inventory, you are never alone. You can connect apps like Gmail, Canva, and Notion and connect apps like Dropbox Capture, Reply, and Sign.
This makes Dropbox one step ahead as you can do stuff without leaving the Dropbox website.
Proton Drive does not support third-party apps. It has some features of other Proton apps, but that's about it.
Before you go: Proton Drive against Google Drive
Applications
Both have a native desktop application to store and share files.
Both let you select folders to back up automatically, and you can save files to access when the internet connection is unavailable.
With this, you can open documents in third-party apps and auto-backup files as you edit. Both also have mobile apps to save files offline with options to save media.
Conclusion
Proton Drive is more for storing files, whereas Dropbox is for editing and sharing files.
If you are privacy-centric, you will benefit more from Proton Drive. It's Swiss-based, making it one of the great programs.
Dropbox is fine for documents, as you can edit and collaborate with members. It also supports many third-party tools and shared folder options for better collaboration.
Proton Drive vs. Dropbox: Links
My name is Madhsudhan Khemchandani. I have a bachelor's degree in Software Engineering (Honours). I have been writing articles on apps and software for over five years. I have also made over 200 videos on YouTube. Read more about me on the About page.