Fifteen million people can't be wrong. Yes, over 15 million people use pCloud to save files online. How about 700 million, then? 700 million people use Dropbox for their needs. Both are freemium, so we have a choice to make. This is the comparison of pCloud vs. Dropbox to help you choose.
The main difference
Both are cloud storage services available on desktop and mobile phones. pCloud has a few limitations, but you can get up to 10 GB of storage. Dropbox only gives 2 GB for free, but you find the tools to get most of your account.
You can purchase up to 2 TB on pCloud and unlimited on Dropbox's Advanced premium business plan.
pCloud gives you 10 GB, but you don't get it all by just creating an account. Signing up gives you 1 GB, and verifying your email gives you one more. You can score more by installing the app on PC and mobile phones and inviting friends.
Interface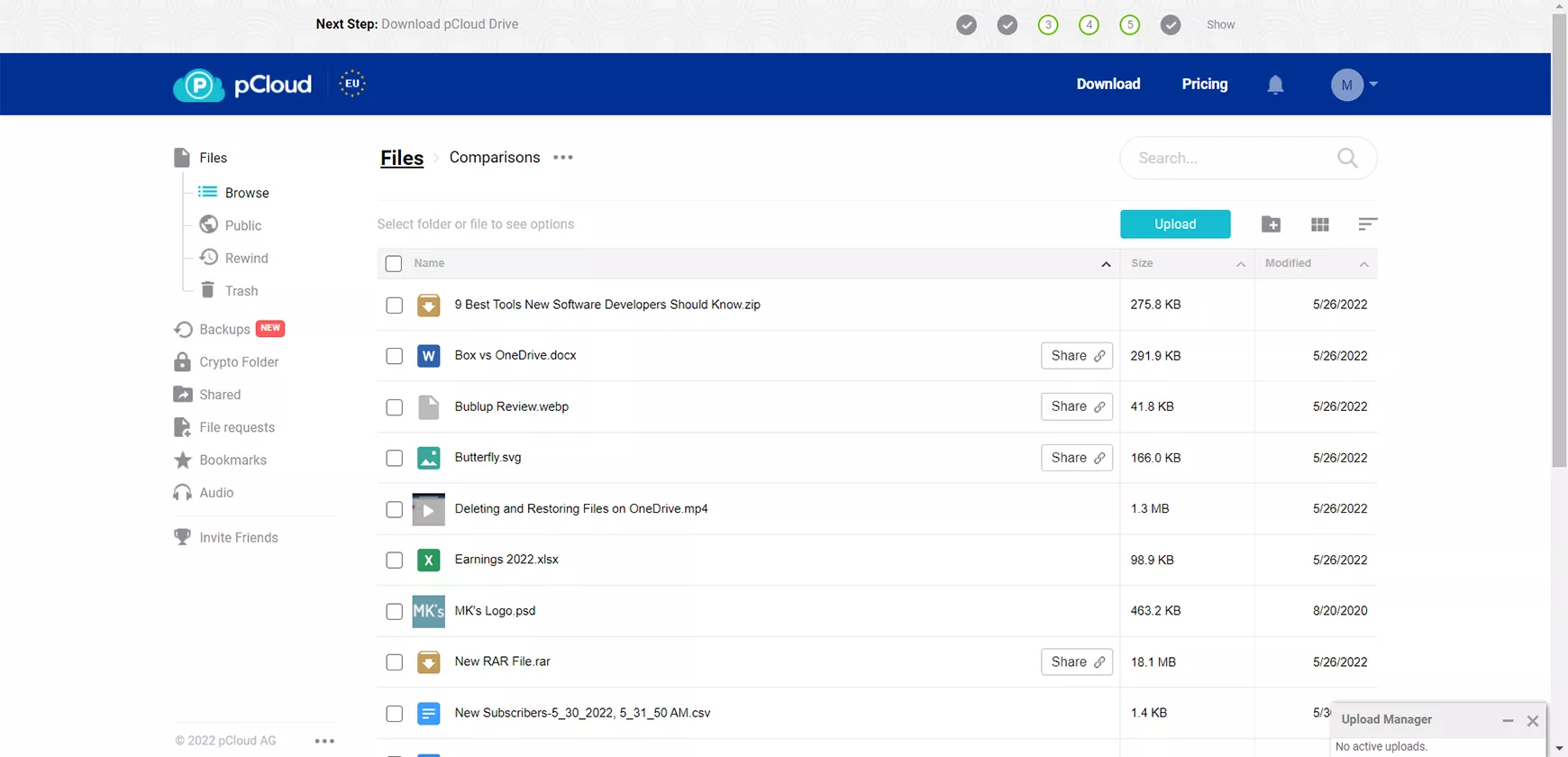 pCloud comes with a simple layout. You find files in the center with all pCloud services to the left. The trash and rewind (discussed below) are to the left as well. It comes with an upload manager to upload files.
Dropbox has more interface options than pCloud. The suggested, recent, and starred file sections are on the home screen. You find the navigation to the left and folder and file upload options to the right.
Sharing and collaboration
pCloud supports sharing files and folders. You can share files, but you can share a folder or invite someone to work on that folder. The options are the same, but the inviting methods are different. The link can be set to preview and download or just preview.
pCloud supports link password and expiry in the premium plans. However, you can add an image, cover photo, heading, and description that is shown on the top of the shared page. Finally, it counts the total link downloads.
Dropbox, in comparison, supports restricting people to email addresses. It can collect the link viewer's data if someone has a Dropbox account.
Both pCloud and Dropbox allow the creation of shared folders to invite collaborators straightaway.
Related: Sync.com vs. Dropbox
Supported file formats
Hands down, Dropbox is the winner for this round as it supports a wide range of formats. It is also integrated with Google Workspace and Microsoft 365, allowing you to create and open documents.
Here is a table comparing some of the common file formats. The "view only" label indicates that the program can open the file, but it can't edit it.
| File | pCloud | Dropbox |
| --- | --- | --- |
| CSV | ✔️ (view only) | ✔️ (view only) |
| DOCX | ✔️ (view only) | ✔️ |
| DNG | ✔️ | ✔️ |
| MP4 | ✔️ | ✔️ |
| PSD | ✔️ (loads very slow) | ✔️ |
| RAR | ✔️ | ✔️ |
| SVG | ✔️ | ✔️ |
| WebP | ❌ | ✔️ |
| XLSX | ✔️ (view only) | ✔️ |
| ZIP | ✔️ | ✔️ |
File format comparison table
pCloud vs. Dropbox: Integrations
As of writing this comparison, pCloud does not support any third-party apps. They have, however, mentioned that they are working on integrations.
Dropbox, on the other hand, massively supports integrations. As mentioned, it is connected with Google and Microsoft apps to create and open files. You can also connect apps, including:
Canva
Zoom
Slack
Adobe Acrobat Reader
Platforms
Both are available on popular platforms: Windows, macOS, Android, and iOS. Dropbox is also available on Linux and Windows Phone devices.
Related: Box vs. Microsoft OneDrive
Recycle bin
pCloud offers two options: Rewind and Trash. The Rewind feature lets you see the snapshot of your account in the past (30 days for free). For example, if you know that there was a file two weeks ago, you can't find it. You can go back two weeks and see your account files on that day.
The Trash option saves the deleted file for you to restore later. Both save data for 30 days, even on the paid plans. You can get the Extended File History add-on to save files for 365 days. It costs a one-time fee of $39.99.
Dropbox free also supports recovering removed files for 30 days. The trash storage is not calculated towards your total storage. The upper hand plans give you more days to save files.
Security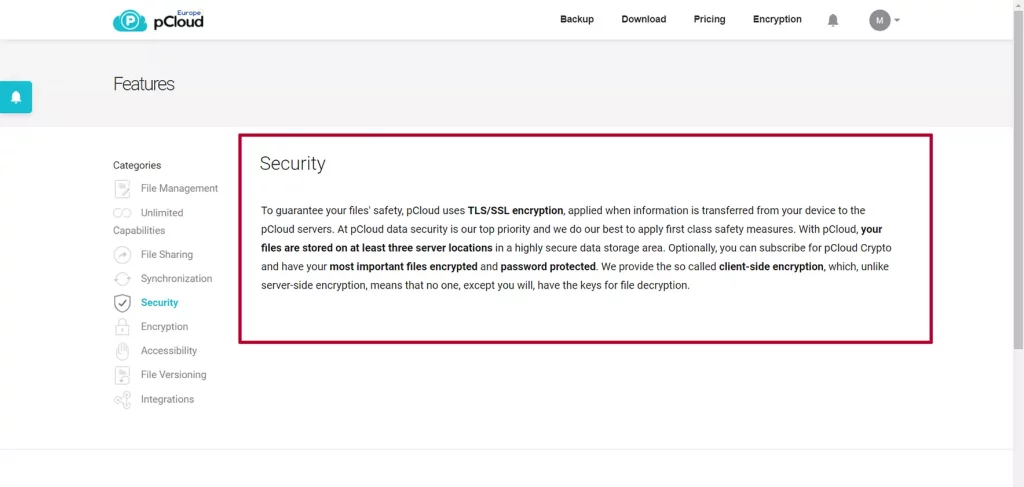 pCloud uses client-side encryption, which according to the website, is the same as end-to-end encryption. The platform also saves your files in three locations to keep your data safe and available.
Dropbox, in comparison, is not end-to-end encrypted. It has 256-bit encryption, which is also one of the best encryption technologies.
Similarities and differences
pCloud offers to choose your data center. It offers the US and Europe data centers to provide the fastest speed.
Both come with native desktop apps to sync your files automatically.
Both pCloud and Dropbox can back up your photos and videos from your phone.
You can automate tasks on Dropbox. It supports many automation types, such as converting supported files to PDF, unzipping all files, and converting videos to audio files.
Dropbox is not just online storage. The company offers several other services, including Dropbox Transfer, Passwords, Paper, etc.
Pricing
pCloud takes a simple approach. You pay annually or a one-time fee. The Premium plan which comes with 500 GB of storage and 30 days of trash, costs $49.99 per year. The exact storage costs a one-time fee of $175.
The 2 TB storage plan costs $99.99 per year, but you can pay $350 for the lifetime deal. It comes with add-ons, each costing a one-time fee.
You find two personal premium plans and three business plans on Dropbox. The personal plans come with:
2,000 GB of storage
Vault (PIN-protected folder to keep your files safe)
The Family plan offers to share the storage with up to 5 users. You pay $9.99 for the Plus and $16.99 for the Family plan.
The Business plans are Professional, Standard, and Advanced. You get 3,000 GB on the first subscription and recover files from the trash for up to 180 days. It is for individual business owners or self-employed people, costing $16.58 per month.
The Standard plan supports multiple users costing $12.50 per user per month. Each user gets:
5,000 GB of storage
Document watermarking
180 days of file recovery
The final Advanced plan has unlimited storage and the same 180 days of file recovery. It costs $20 per user monthly. The account admins also get the option to approve device logins.
The Business plans do not come with the vault as employees do not require it. However, both are HIPAA compliant.
You should also note that Dropbox prices mentioned here are on the yearly plans. The month-to-month cost is a bit more.
Which one is for you?
Here is the only thing you need to know. pCloud is your personal cloud storage, whereas Dropbox is an online business location that offers you storage and tools.
If you want just storage, you can choose pCloud or even any other program. Dropbox is for businessmen (even individuals), so it should be used by those.
pCloud vs. Dropbox: Links
Conclusion
This is all you should know to learn the differences between the two. I hope the Cloud vs. Dropbox article helped you decide. Please spare two minutes and share your review to help others decide.