So, let's start with facts, Dropbox has 700 million users, which is a lot compared to 1.8 million on Sync.com. Still, Sync vs. Dropbox is a tough competition because both offer industry-standard options.
Quick verdict
Both Sync and Dropbox are cloud storage providers offering many options to organize and share your files. Sync is a less known service, whereas Dropbox is one of the popular programs.
Sync comes with 5 GB of free storage, whereas Dropbox offers 2 GB. Dropbox also comes with more tools to organize and automate your work.
The main difference
Sync.com comes with two types of storage options: Files and Vault. The main difference is the vault is your personal cloud storage, whereas files in Files are shared across all your logged-in devices. Both are used against the total storage, and in terms of file sharing, both work similarly.
Dropbox also has a vault with similar options but not on its free plans. The app's power is its usage. It supports both Microsoft Office 365 and Google Workspace to create, open, and edit the supported documents. The option is missing from Sync.com.
Interface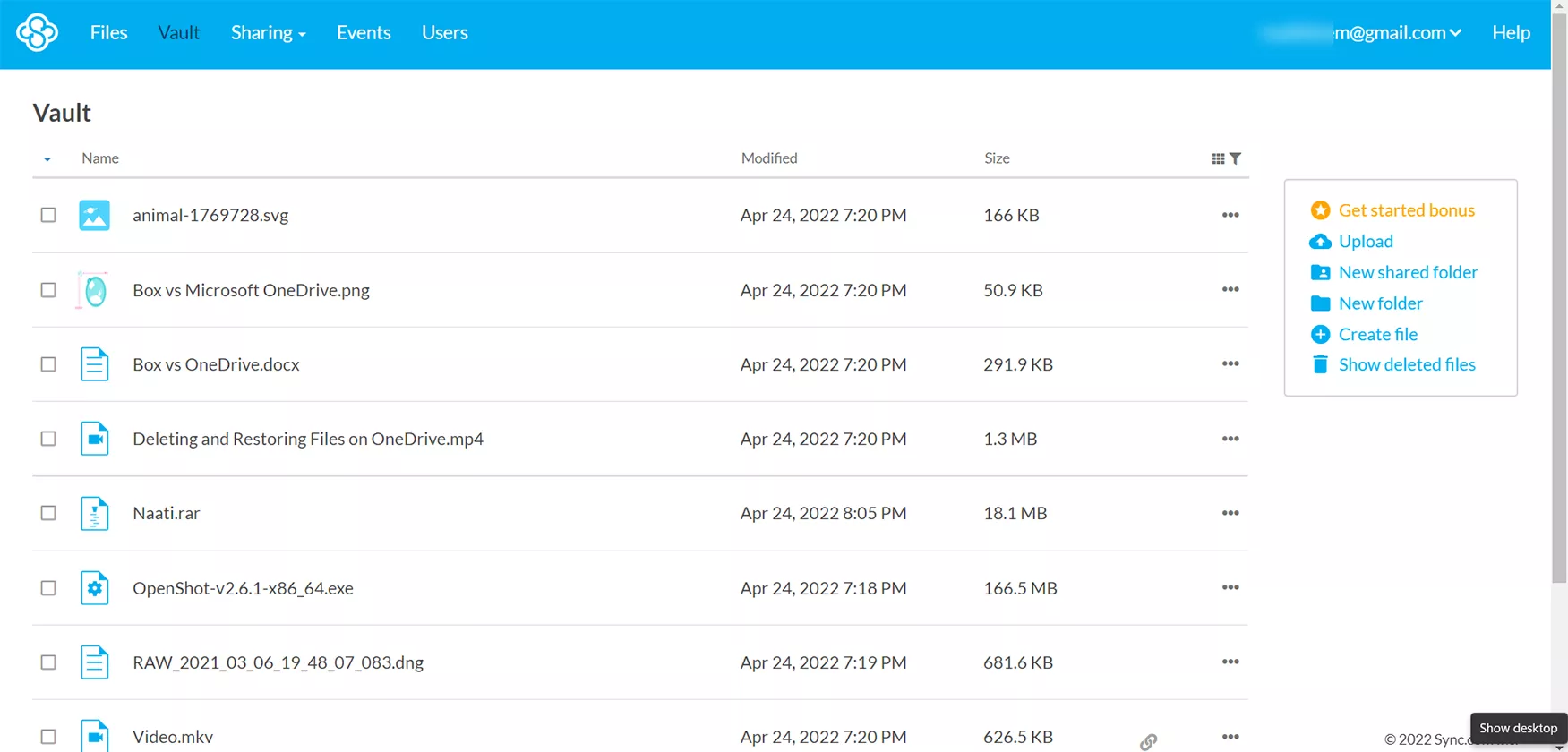 Dropbox, being experienced, has a more sleek design. You find suggested, recent, and starred files on the main interface. The left side has the navigation, and the right side comes with file and folder creating and upload options.
Sync shows all files and folders on the main interface. You can create and upload files and folders on the right.
Sharing and collaboration
Both Sync and Dropbox support file and folder sharing. The email must be verified to share files on Sync. One can create and copy a link or send link emails. The program has a few additional free features:
File password
File or folder label
File comments
Enhanced privacy option
Sync does not support most documents, so you can't collaborate in real-time.
Dropbox supports sharing to other Dropbox accounts. You can also share the link or send the link in an email. You can count the total file downloads.
Regarding collaboration, it supports creating and opening a wide range of files, allowing teams to work on the same file.
Related: pCloud vs. Dropbox
Supported file formats
So, file uploading is a different thing, and file viewing and editing are different. You can upload hundreds of file sizes, but Sync lacks the support for opening many file types. Here is the table with files that I tested.
| File | Sync | Dropbox |
| --- | --- | --- |
| DOCX | ❌ | ✔️ |
| DNG | ❌ | ✔️ |
| MP4 | ❌ | ✔️ |
| PSD | ❌ | ✔️ |
| RAR | ❌ | ✔️ |
| SVG | ✔️ | ✔️ |
| WebP | ❌ | ✔️ |
| XLSX | ❌ | ✔️ |
| ZIP | ❌ | ✔️ |
Sync vs. Dropbox File Format Support
Integrations
The section is unique to Dropbox because Sync.com has yet to support third-party apps. Dropbox supports plenty of apps to integrate. You find most of the popular apps, including:
Gmail
Canva
Notion
Zoom
Slack
Trello
Adobe Acrobat DC
Zapier
The full list is available on the apps page. If you use any of the apps, you can connect with Dropbox to work productively.
Platforms
Both can be accessed on major browsers. Sync has an app for Windows and macOS devices. You can also access it from Android and iOS phones. Dropbox, along with the above, supports Linux and Windows Phone computers.
Recycle bin
Trash is a major section of Sync vs. Dropbox. Sync saves the deleted data for 30 days. The trash data is not counted towards your total storage, so you can save additional data in the trash box if needed.
Dropbox also comes with 30 days of recycle bin, and just like Sync, it does not count towards your account storage.
The upper hand plans offer an extended number of days.
Note: I have compared Sync with Microsoft OneDrive as well if you are interested.
Security in place
Sync.com
Sync is one of the services offering end-to-end encryption, which means that you and whoever has access to the file can only access the file. It also supports two-factor authentication and PIN on mobile phones.
Dropbox
Dropbox, in contrast, is not end-to-end encrypted. It offers 256-bit encryption, an industry-standard encryption technology used by many VPNs. The applications and infrastructures are also regularly tested for any cyber security issues.
One of the things I hate about Dropbox is that if you lose the two-factor authentication as well as your backup codes, there is no way to recover the account. Even Dropbox support can't help you (personal experience).
Similarities and differences
Sync web has its own file downloader, which has limited options compared to the browser's downloader, which Dropbox uses.
Dropbox transfer speed is faster than Sync (personal experience).
Dropbox can automate your work. For example, you can convert all supported files to PDF with one click. Others include unzipping files, converting video and audio files, etc.
Both offer to create a shared folder and invite users with one click.
The Dropbox account is not just for Dropbox. The account can be used on Dropbox Transfer, Paper, Passwords, and other Dropbox services.
Sync vs. Dropbox: Pricing
Personal and business plans are offered on both. Starting with Sync, you get Solo Basic and Solo Professional plans costing $8 and $20 per month (billed yearly).
The Basic plan feature comes with 2 TB of storage, 180 days of file history, and advanced sharing features. The Professional subscription has:
6 TB of storage
One year file history and recovery
Options to add your logos while sharing files
The Teams Standard and Unlimited subscriptions cost $5 and $15 per user per month, respectively. Each user in the Standard plan gets 1 TB of storage and admin features.
The Unlimited plan, as the name suggests, offers unlimited storage. The business also gets admin settings and custom branding options.
All paid plans on Sync are GDPR compliant, and all plans except the Solo Basic are HIPAA compliant.
Dropbox has Plus and Family personal plans costing $9.99 and $16.99 per month. The Plus plan offers:
2,000 GB of storage
30-day file history and trash recovery
Vault
The Family plan comes with the same features, but it can be shared with up to 6 users. It has three plans for businesses: Professional, Standard, and Advanced.
The Professional plan offers 3,000 GB of storage, 180 days of file history and recovery, and file locking options. It costs $16.58 per month and only supports one user.
The Standard plan costs $12.50 per user per month and offers:
5,000 GB storage for each user
180 days of file history and recovery
document watermarking
1 billion API calls per month
The Advanced subscription costs $20 per user per month, giving each user access to:
Unlimited storage
180 days of file version history and trash recovery
Device approvals from the admin
Both Business team plans do not offer the vault option, but both come with admin tools and are HIPAA compliant.
Dropbox supports both monthly and yearly pricing. The mentioned prices are on the yearly contracts and are billed annually.
Which one is for you?
Sync is a cloud storage platform offering security, admin, and sharing options. It can't open many files for free. This is where Dropbox gets the cake because, regardless of the plan, it supports the most popular formats.
If you need a cloud-based collaboration space, then Dropbox is for you. If you just need some storage to save your files, Sync is the way to go.
Sync vs. Dropbox: Website
End
Alright, here is the finish point for this Sync vs. Dropbox comparison. Please share your thoughts in the comments as it helps other readers and me.