Samsung Notes is one of the great note-taking apps. Samsung brings new features on every new flagship release. Google Keep, also called Keep Notes, is a straightforward app. How do both differ? The blog post explores both and covers Samsung Notes vs. Google Keep.
Platforms and account
Samsung Notes is pre-installed on Samsung Devices, but it can also be downloaded on Android devices from Google Play. A Windows app is also available, but Samsung has not developed or synchronized it with the mobile app, but the interface looks identical to the mobile app.
Google Keep is offered on Android and iOS, while the extension and an app for Google Chrome are also available to download on PC.
Moreover, you can access the web version anytime by going to https://keep.google.com. Google Keep uses your Google account to synchronize the notes, and the account is mandatory to use the app. The data used is counted towards Gmail storage.
Mobile
Google Keep comes with a simple interface with all the notes on the homepage. The app has a dark theme, and the notes can be pinned for easier access.
Finally, it has a basic (white or black) background, but you can add one of the built-in background images.
Samsung Notes is also a straightforward app with all the notes on the homepage. The app comes with a dark mode which works with the device's dark theme.
Tools
Samsung Notes supports more tools and offers extended options for notes where a checklist can be added to a text note. Google Keep does offer to either add a checklist or text.
You can either create the checklist or the text note. Regarding tools, the app also crosses Google Keep because you can add lists, change text size and color, align text, underline, italics, and bold text.
Google Keep does not come with any of the mentioned features. Both support checklists, drawings, images, and audio notes with a tag system. Google Keep calls it labels, whereas Samsung Notes calls it categories. Both offer to search for titles, tags, and text within the notes.
Another thing Samsung Notes does much better is working with a stylus on the Note device. If the device is locked and the display is off and remove the stylus, the app automatically shows the note page to draw.
Related: Samsung Notes vs. Evernote
Reminders
Samsung Notes works with Samsung Reminder, and you can send the info to the app and create a reminder. Google Keep contrarily supports the reminder option, but you can only create one reminder per note.
Widgets
Samsung Notes comes with three types of widgets:
Create a note that comes with the text, draw, image, and microphone options.
Shortcuts and show notes do the same job. It is a matter of the size each takes on the home screen.
Google Keep, on the contrary, offers two types of widgets:
Note list offers to view all notes, pinned notes, reminders, and labels.
The second widget is called quick capture, which is similar to creating a note widget for Samsung Notes.
Sharing
Here is the tricky part. Samsung Notes only offers to share the file, but you get a few options. You can share in Samsung Notes (.SDOC) format, Microsoft Word, PDF, image file, and text file formats.
Google Keep contrarily does not come with as many options, but it provides a collaboration feature. The app offers to add other users to collaborate on a note. It also offers to send the note text in other apps.
Related: Google Keep vs. OneNote
Desktop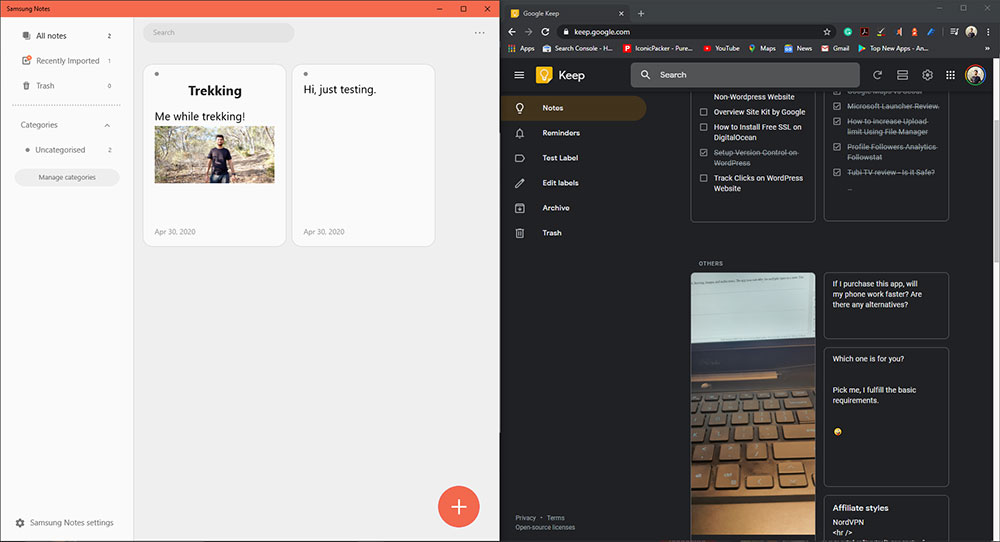 In this round of Samsung Notes vs. Google Keep, we will not cover a lot. Samsung Notes does not come with any official app (mentioned above) for desktop computers. The software developed by XDA Developers can open the .sdoc files on a PC.
Google Keep, as discussed, comes with an app and extension for Google Chrome, while the web version is easily accessible on any browser.
Other features
Samsung Notes
Sync: The app offers an option to enable or disable synchronization.
Password protect: You can password protect the notes.
Importing data: It provides an option to import data from a phone, Samsung account, and Google Drive.
Google Keep
Doc file: The app can create a doc file and send the note to Google Docs.
Colour: You can change a note's background color.
Related: Samsung Notes vs. OneNote
Which one is for you?
The simple answer to this question is that if you only use notes on your Samsung devices, you don't need to install another app. Just stick to Samsung Notes. But, if you also access your notes on other devices, you should install Google Keep.
Summary
The blog post: Samsung Notes vs. Google Keep covered the essential topics. The article is the first version and will be updated accordingly. I hope the information was useful.
Please let me know which app you will use, so visitors can easily choose between the two. Also, subscribe to the newsletter for future updates.