Google Keep and Microsoft OneNote are two popular note-taking apps. Google Keep can be called the Google version of OneNote, and OneNote can be called just OneNote.
The purpose of both is the same, but many tools make them different. How do Google Keep and OneNote compare? The article covers Google Keep vs. OneNote.
What are both
Google Keep is a simple note-keeping app offering text, checklists, images, voice, and drawing notes.
Microsoft OneNote is an extensive note-taking program supporting rich text editing, drawing, tables, passwords, etc., to create simple to complex notes.
Desktop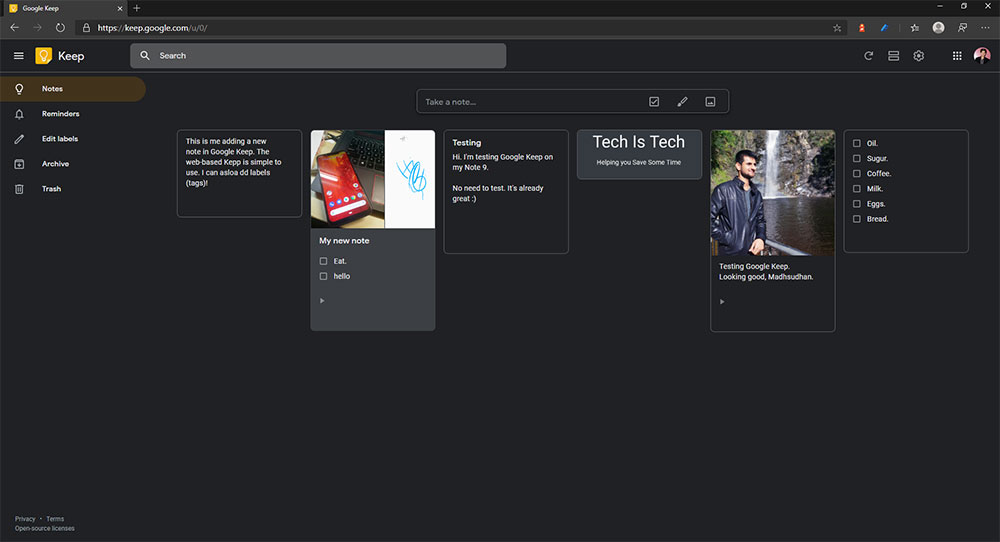 Google Keep does not come as a desktop application, but we have multiple options to access it on a PC.
Users can access notes on the website or access them on Gmail, Google Sheets, Slides, and Calendar websites in the right sidebar.
The Chrome extension and Chrome app can also be downloaded to access notes in Chrome.
The tool offers a simple interface with an option to enable dark mode.
All the notes are on the main screen with an input field and a search bar on the top. The left of the interface has five folders:
Notes
Reminders
Labels
Archives
Trash
Along with text, users can add images and drawings. The note-pinning feature can pin notes to the top.
OneNote is a multi-level app that offers notebooks, sections, and pages where pages are notes. The program comes as a desktop app and can be accessed online.
The web version has a few options missing compared to the OneNote desktop. Users can access the account by visiting https://www.onenote.com/.
The app has a unique feature of saving text, images, drawings, etc., in components. Those components can be overlapped. For example, you can draw over a text component (example image).
Note-taking tools
The most prominent part of Google Keep vs. OneNote is the editing tools. Google Keep desktop offers:
Text
Pictures (from computer only)
Draw
Link previews
Checkboxes (to-do list)
Reminders
Note labels (tags)
Shopping list (automatically suggests items as you type – example)
background-color change
One great thing about Keep is that you can take text from an uploaded image with a few clicks. Also, the app lets you mark all checkboxes within a note with one click.
The app has a reminder option, as mentioned earlier. You can set reminders and see the notes with reminders in a separate section.
The downside of its reminding option is it only allows one reminder per note at a time.
You can also set location-based reminders, where your notes open up when you reach the location—for example, a grocery reminder at a grocery store.
The app lets you create and set labels for notes. The searchable labels also take a separate section in the app.
Google Keep does not offer rich text editing tools. Even if you copy something from the web, the app will paste it in simple language.
The desktop version of OneNote has all the below tools:
| | | |
| --- | --- | --- |
| Fonts | Font size | Text bold |
| Italics | Underline | Text color |
| Highlight | To-do | Tags |
| Tables | File upload | Pictures (web & computer) |
| Links | Audio | Meeting details |
| Symbols | Heading (1 to 6) | Citation |
| Code | Quotes | Text indent |
| Draw (pen, pencil, highlighter) | Shapes | Lists |
| Subscript | Superscript | Text strikethrough |
| Live captions | Math equations | Immersive reader |
| Translator | | |
OneNote desktop tools
OneNote supports Bing image search that opens up a sidebar to search documents, websites, and images from Bing Images.
Other than the above, the program has some advanced options, including:
Assistant
Password protection
Dictate
OneNote Assistant is an AI-based tool that performs basic tasks such as pasting text, creating a to-do list, etc.
The sections can be password protected on the desktop (also on iPhone and iPad). Users can't open that section on any platform when a section is protected before inserting the password.
The dictate tool is another AI-based tool to help in converting speech to text. A user must speak for the AI to transcribe.
Also consider reading: Samsung Notes vs. OneNote
Mobile
On mobile, I tend to go more toward Google Keep. OneNote is crowded and confusing to use. The layout is not consistent.
Scrolling down and up sometimes moves the layout to the right or left, making it difficult to adjust it again. The app also has some other issues, as shown in the video.
Google Keep is a simple app that does its job. The app offers a dark theme that can be enabled in the settings menu.
We also get reminder timing (morning, afternoon, and night) and link previewing options.
OneNote also has a dark theme. On the iPhone, you can add storage accounts as well.
Note-taking tools
This is where both are very different. Google Keep offers additional options on mobile, whereas OneNote has reduced tools.
Google Keep, along with desktop features, comes with an audio recording option. The audio feature saves the audio and transcribes it to text to save a text copy.
OneNote mobile does not have the Assistant, dictate, and rich editing tools such as tables and headings. However, you will find the sticky notes option that is unique to the mobile app.
Related: Samsung Notes vs. Google Keep
Note sharing options
Google Keep is consistent regarding sharing and collaboration, whereas OneNote is not.
Google Keep lets you add people to collaborate, send a copy of the note via other apps, and convert and edit notes in Google Docs.
OneNote desktop offers to share notebooks with the view and edit permissions. The app does not allow sharing individual notes. However, you can send a copy of a note in text and PDF formats.
The iPhone version also supports sharing of notebooks with view or edit permissions. You can set an expiration date for the link and keep your notebook password protected.
The Android app of OneNote does not have any sharing features. You can send a copy of a note in a different format, but that's pretty much it.
Widgets
Google Keep offers two widget types on Android and a few on the iPhone.
A user can write instant notes using the quick capture widget, while the note list widget is for seeing the notes on the home screen.
It provides multiple options, including all notes, pinned notes, reminders, and user-created text labels.
OneNote comes with five widgets in total. A user can create notes, start an audio recording, start with a text note, start with a photo note, and open the recent notes.
Integrations
Google Keep can convert notes to Google Docs documents. The app is also connected to Google Calendar to show you reminders.
Microsoft OneDrive can integrate with multiple apps. Connecting each app is different, and the list is available on the main website.
Some of the integrations include:
Office 365
Zapier
AutoCAD
cloudHQ
Extra features
Google Keep
Background change: You can change the note's background to one of the provided images.
Save to Keep: Like the convert option, you can save text and images from a Google Docs document to Google Keep by highlighting and right-clicking.
Last edited date: Down the bottom, you see the last note's last edited date. If the date is today, you will see the edited time. If you hover over the date on the desktop, it shows the created date.
OneNote
Ink mode: Offers an ink mode and enables the drawing mode when the stylus is out on Note devices.
Disable sync: OneNote provides an option to control the synchronization by disabling the file and image sync.
Sticky notes: Unique to mobile, sticky notes quickly add notes on OneNote.
OneNote badge: The badge, exclusive to Android, is a floating icon that is always visible to create a note quickly. The icon can be moved and removed.
Spell check: The desktop version of OneNote supports basic spell check.
Note date and time: When you create a new note, the app adds the note's date and time on the top.
Web page import: In OneNote iPhone, you can import the webpage from your browser directly to OneNote.
Note sorting: Users can sort notes based on the edited dates, creation dates, or alphabetical order in the iPhone app.
Which one is for you?
The answer to this question relies on your work type. If you need an app just to take notes, go with Google keep.
If you want something specific that OneNote offers, then go with OneNote. If you are unsure, I suggest starting with Google Keep.
Google Keep vs. OneNote: Links
Wrap up
The Google Keep vs. OneNote article covered essential features. I hope the information was helpful. Please let me know your thoughts about both below to discuss more.