Microsoft has developed many programs to help users and businesses grow. Two of those programs are OneNote and Word.
Both are family because both come in the Microsoft Office package, but we use both differently. Let's dive into OneNote vs. Word and see which to use where.
Quick overview
OneNote is a note-taking app, and it should be used for note-keeping only. Microsoft Word is an extensive document app for writing, storing, and printing documents, and it should be used only for that.
Interface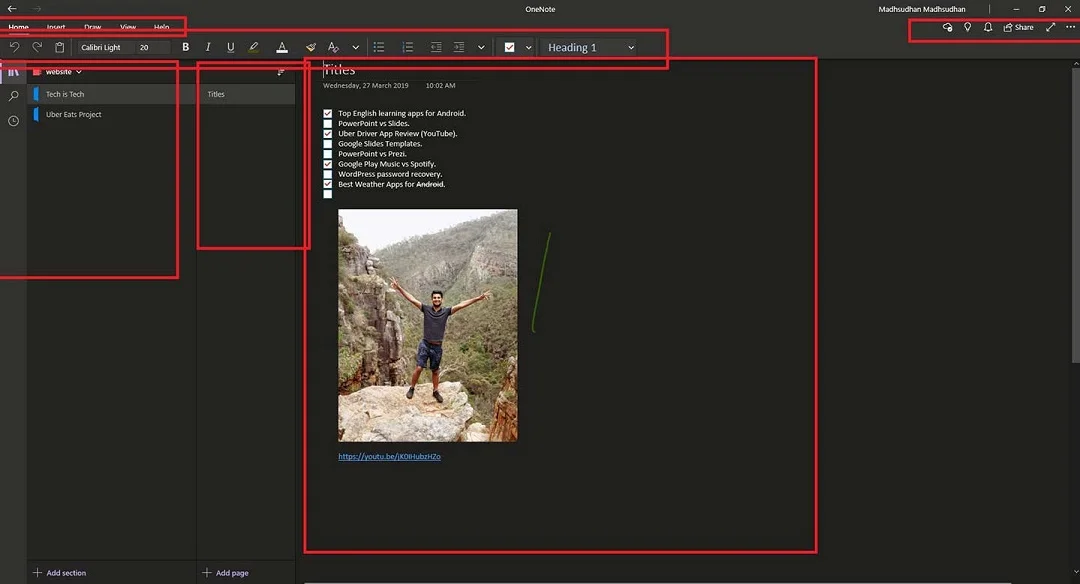 Being in the same boat, both use the same interface. OneNote offers levels where notebooks are above sections and pages live under sections. The opened note is in the center.
Microsoft Word has the main navigation on the top, with subtools sitting under the navigation. The file menu is where saving, printing, and exporting options sit.
Platforms
Both are offered on desktop PCs and mobile phones. OneNote has two desktop apps: OneNote and OneNote for Windows 10. The OneNote app has more features.
Its Android app is also limited. On Android, you can't share the note with anyone.
Microsoft Word web and mobile are free, but the desktop app costs money. The mobile app has fewer options, while the web version has enough but not as many as the desktop.
Features
Microsoft OneNote
File attachments: Unlike Word, OneNote supports attaching documents to a page.
Record audio: OneNote offers to record and attach audio files to notes.
Meeting details: OneNote and Outlook can be connected to store meeting details and get reminders.
Shapes: Many shapes are available to add to pages.
Password-protection: Sections can be password-protected on desktop computers. Of course, the password is then required on all platforms to access.
Send a copy: You can send a text copy of the note to anyone.
Assistant: The assistant can do simple tasks such as adding a table, pasting text, etc.
Customs tags: You can add tags in your notes and notebook.
Edit embedded files: OneNote lets you embed and modify files without re-embedding.
Immersive reader: The feature reads notes, including math equations.
Microsoft Word
Extended page layout: Because of its nature, you can adjust the page's layout.
Comments: Adding comments to specific words and paragraphs is supported.
Headers and Footers: Microsoft Word supports document headers and footers.
Text styles: Word offers many paragraphs and heading text styles.
Export to PDF and PowerPoint: Unlike OneNote, you can export files to PDF and PowerPoint formats.
Immersive reader: Immersive reader is a text-to-speech program to listen to words. It also offers grammar and reading preferences.
Table of contents: Word can automatically create a table of contents.
Downloading: Unlike OneNote, pages can be stored on a PC or downloaded from OneDrive. The file can then be used in other programs like Google Docs.
References: The program can help in referencing content.
Illustrations: Word offers illustrations like pictures, shapes, icons, charts, and 3D models.
Screenshot: It has screen clipping tools to take screenshots of an active window.
Watermark: You can add your watermark to your documents.
Linked notes: You can open any notes in OneNote that are linked to your document.
Compare: You can compare two documents and combine changes and revisions in a single document.
Reader view: Word has a reader view on both desktop and mobile phones.
Similar features
Templates: Both offer templates. Word has templates for resumes, cover letters, planners, etc., whereas OneNote desktop has a few templates.
Draw: Drawing in both is possible.
Dictate: You can use the Dictate tool to convert speech to text.
Translate: You can translate documents or text into another language.
Researcher: You can search for documents, websites, and images on Bing.
Collaboration
We can share documents, but both work differently. With OneNote, you can send the whole notebook's invitation links to an email address for them to either view or edit.
Setting an expiration date for the link or setting a password is possible.
Word, on the contrary, supports sending email invites and links. Users don't even need to sign up to edit the document. The users who are not signed in are displayed as Guests to others.
You can also track the changes in Word and accept or reject the suggested changes.
Spell check
Both programs work differently when it comes to spelling checks. Microsoft Word uses Microsoft Editor, which is an advanced spell-checking program.
It can be compared with grammar assistants like Grammarly. Furthermore, it supports add-ins like Grammarly.
OneNote makes minimal effort to find spelling issues. It sometimes finds one or two issues and suggests a fix, and that's pretty much it.
Spell check test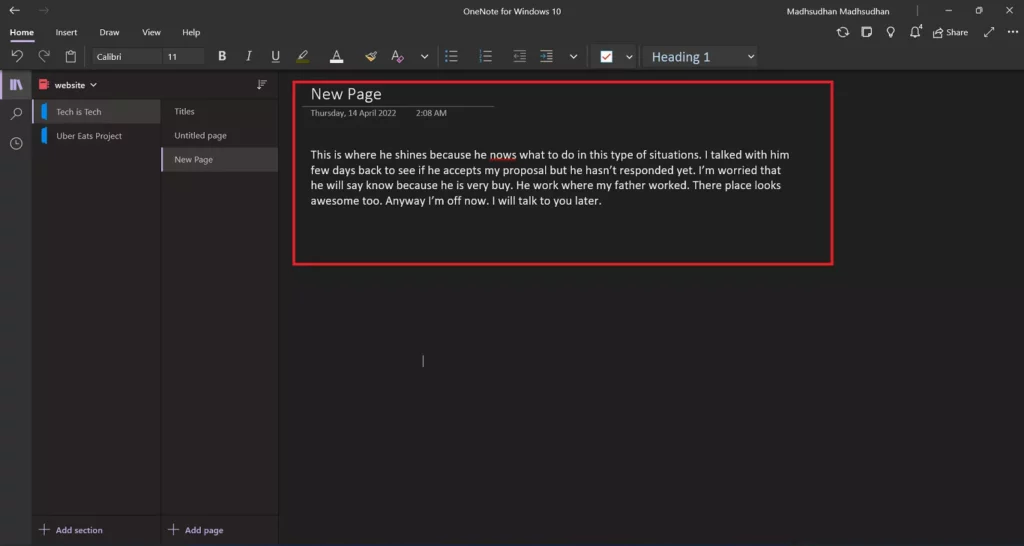 To see the differences, I tested both on a 68 words paragraph containing a few mistakes. Microsoft OneNote found one issue, while Word highlighted five errors.
Microsoft Word takes the cake in this test.
Related: OneNote vs. Notion
Apps
Let's discuss apps in this section of the OneNote vs. Word battle. Yes, both offer apps, and no, you don't have all the desktop options.
Microsoft Word offers essential features like fonts, size, and text decoration. You can print the document, share it with the world, highlight text, add a location to save docs, and a few more.
You can also dictate in the app and export your documents in OpenDocument, text, and PDF formats.
OneNote app also supports the basic features. You don't get features like videos, password protection, tables, equations, etc.
One thing you find in the OneNote mobile app is the sticky note feature, enabling you to add sticky notes to remember tiny tasks easily.
Integrations
Word gets this round because it can integrate with more apps. OneNote desktop can connect with apps Gmail, Microsoft 365 and Zapier, and a few other apps.
Microsoft Word supports almost 300 apps. Some of the important ones include:
Microsoft 365
QuickBooks Desktop Enterprise
Lucidchart
Adobe Acrobat sign
WPS Office
Related: Google Keep vs. OneNote
Pricing
OneNote is free. Even though it is under the shade of Microsoft Office, it's free to use on all platforms.
Microsoft also is lenient towards Word. As discussed, the web and mobile versions are free.
However, you must pay for a subscription to use the desktop application. The subscription also offers access to PowerPoint and Excel, Teams, Microsoft Editor, and 1 TB of Microsoft OneDrive storage.
The 365 Personal Plan is billed at $6.99 per month or $69.99 per year ($13.89 savings). The Family Plan of Office 365 is also available with the Family Safety app.
The plan can be used on six different computers (6 users), and each user gets 1 TB of storage. The plan costs $3 more than the Personal plan. You pay $9.99 monthly or $99.99 for the whole year ($19.89 saving).
Which one do you need?
As mentioned in the overview section, OneNote is a note-keeping app, while Word is a document app. Both should be used for their sole purposes.
However, suppose you can't afford Microsoft Word on the desktop. In that case, OneNote can be used as an alternative because it offers many of the core features of Word.
Microsoft OneNote vs. Word: Links
Summary
So, are you ready to decide on the right program? I hope you are. Anyway, this is all for this Microsoft OneNote vs. Word comparison.
Thanks for coming here, and while you are here, subscribe to the newsletter so we can connect in the future. Finally, enjoy the rest of the day.