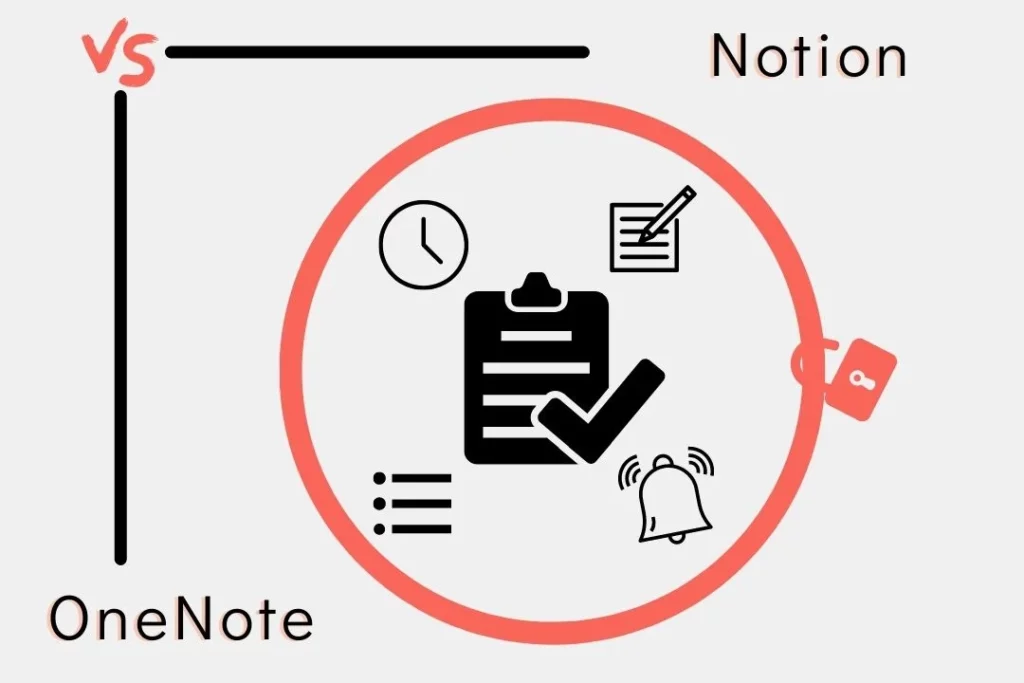 OneNote and Notion are two note-taking apps, but both are used for different purposes. OneNote is more for individuals, while Notion offers note-taking and task management tools. What else makes them different? The article explores both and covers OneNote vs. Notion.
What are both
OneNote is a basic note-taking app with rich text editing features. It supports drawing, images, online videos, tables, and more. Notion, on the other hand, is a block-based note-keeping and task management app. It supports what OneNote supports, plus more.
Desktop
Both offer desktop apps to access on Windows and macOS devices. The web version is offered if you don't want to install the software. You can visit https://onenote.com to access the web version of OneNote and https://www.notion.so to access the web version of Notion.
Both apps can also be installed as Progress Web App, also called PWA, on the Microsoft Edge browser.

Tools
Both offer several options, including headings, lists, and images. OneNote offers platform-specific options, which means you find fewer features on mobile than on desktop.
Here is a table comparing the features of both—the green features show that the competitor does not support that tool.
The OneNote desktop comes with: a dictate tool, assistant, drawing, and more rich editing tools. The dictate tool records your voice to save on the cloud, and the assistant can do the basic tasks such as insert a table, paste text, create a to-do list, etc.
Moreover, it supports password protection for sections. Those sections can be opened on mobile, but you can't edit or remove the password.
Notion, on the contrary, is challenging to understand at first. It's a block-based tool where some blocks support adding new pages and blocks. In the right hands, Notion can produce significant wiki-type pages.
It also supports commenting on each block, which is missing in OneNote.
Interface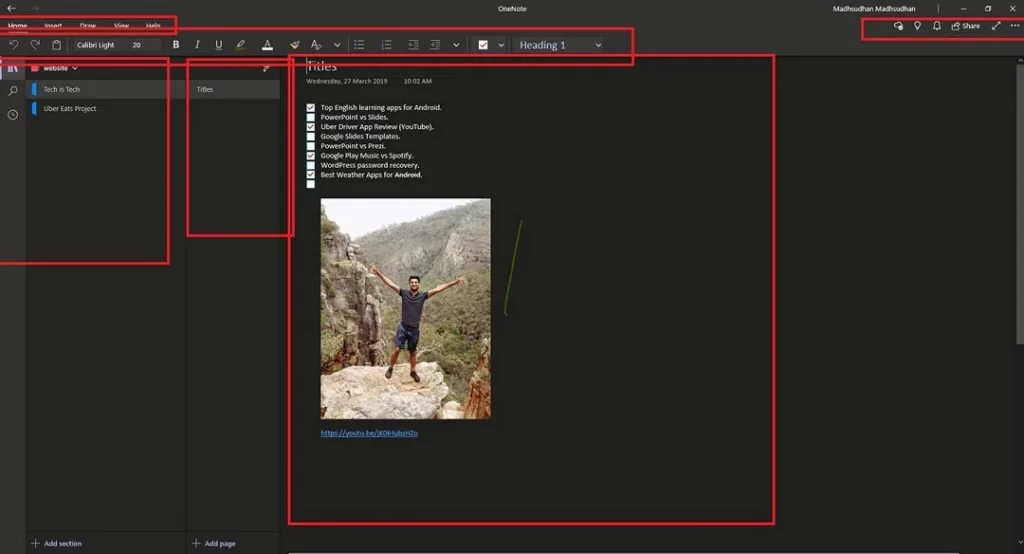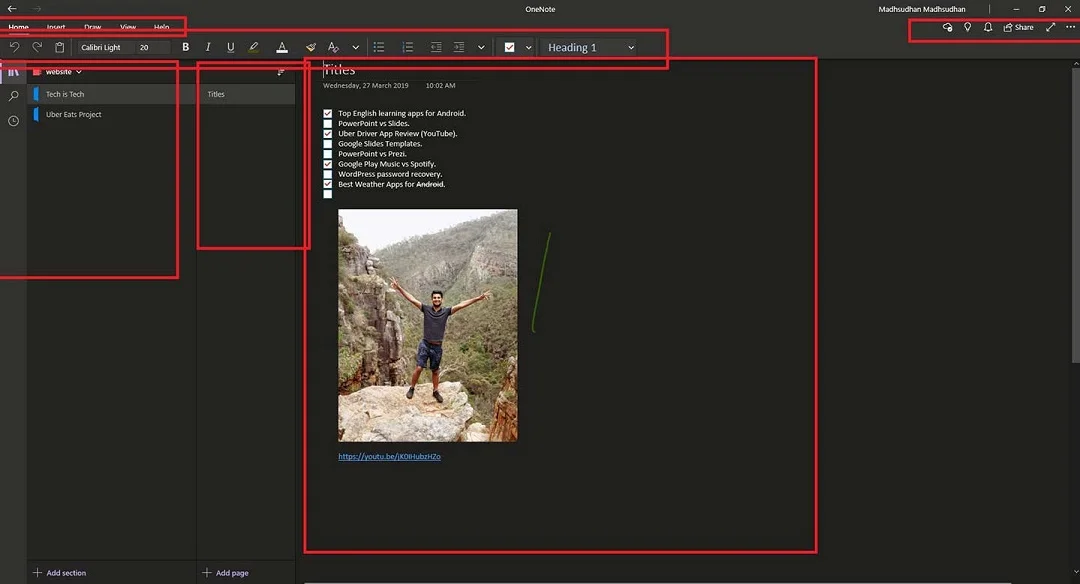 Both offer an easy-to-navigate design. You get notebooks and pages on the left on OneNote, while the opened page is on the right. Being considered a part of the Office family, it takes some of its look from other Office apps.
Notion also comes with notes on the left and opened notes on the right. You get options such as share, print, and others right above the note. The software comes with the primary Windows-style top navigation menu.
Integrations
Notion offers a handful of integrations, including Google Drive, Slack, Typeform, and Zapier. It also offers its API to create your own integrations.
Related: Slite vs. Notion
Mobile
Editing and tools
Regarding the functionality, Notion offers all the blocks available on the desktop. As mentioned, OneNote isn't fully developed on mobile. The app offers to:
bold text
indent left/right
add checkmarks
add a photo from the phone
record sound
attach file
add ordered/unordered list
italicize text
strikethrough text
draw
and add links
Interface
The interface of both is different from the desktop. OneNote uses the settings menu to the right, while Notion has this option to the left. Both offer the dark theme, search, and some other tools.
OneNote mobile also brings sticky notes, which are quick to add and edit. Those are not available in the desktop version.
Templates
Here is another round in favor of Notion. The tool offers lots of templates split into categories. You find templates for students, salespeople, HR processes, designing, etc. OneNote has yet to offer this option.
Sharing
OneNote desktop offers to add people with the view and edit permissions, while you can also send a copy of the note via email or Skype.
Like editing tools, OneNote mobile lacks some sharing options. It only supports sharing notes in plain text or PDF. The mobile app does not offer to collaborate and set permissions.
Notion mobile app allows sharing documents publicly, adding members, managing permissions, and copying the material to send in an email or any other form. You can also export a note in PDF, HTML, or Markdown sheets.
People also consider: Microsoft OneNote vs. Word
Pricing
OneNote is entirely free, and you can use the app on multiple platforms. On the other hand, Notion comes in three paid subscriptions: Personal, Team, and Enterprise.
The below image compares the free and personal plans. For educators and students, the personal plan is free.
Which one is for you?
Both are good for basic note-taking. Notion takes note-taking to another level, but those benefits come at the cost of learning to use the app.
If you are not tech-savvy and want to get things done in the easiest way possible, OneNote is for you. If you have complex ideas in mind and want to save those ideas, Notion is the way to go.
OneNote vs. Notion: Links
Wrap up
Notion can help you create complex structured pages and manage projects, whereas OneNote is used for saving text and other forms of data in the most simple way possible.
Thanks for reading OneNote vs. Notion. I hope the information on the page was helpful. Please let me know what you think and which one you will use, so others can easily decide.