Microsoft has published multiple OneNote apps. The OneNote app in the Office setup and OneNote for Windows 10, which is pre-installed on computers and available to download separately.
Both are the same, but a few unique options may attract some users. So, which one is for you? This is OneNote vs. OneNote for Windows 10 battle.
The difference
OneNote is a free app part of Microsoft Office 365. Its interface and sections are similar to Word, Excel, and PowerPoint.
In contrast, OneNote for Windows 10 is a pre-installed app and is a slimmed-down version of OneNote.
Editing tools
Both offer almost the same tools. Here is a list of options in both programs:
Font style and size
Bold, Italic, and underline
Subscript and superscript
Strikethrough
Bullet and numbered list
Text color
Highlight text
Text alignment
Text indent
Clear formatting
Text direction
Text styles such as heading and paragraph
Tags
Insert images and online videos
Tables
Attach files
Hyperlinks
Audio recording
Equation and symbols
In addition to the above, OneNote also offers the following options:
Insert spaces between paragraph components
Video recording
Timestamps to add current time in notes
Page setup
OneNote allows you to configure the page size and its layout. You can either choose from built-in page sizes such as letter, legal, A4, etc., or set a custom height and width of the page.
Furthermore, there is an "Auto" size option that modifies the size as we expand the content on the page.
In addition to this, you can adjust page orientation, margins, and page direction.
In comparison, OneNote for Windows 10 only lets you adjust page size through the Windows Print function when printing notes.
Recording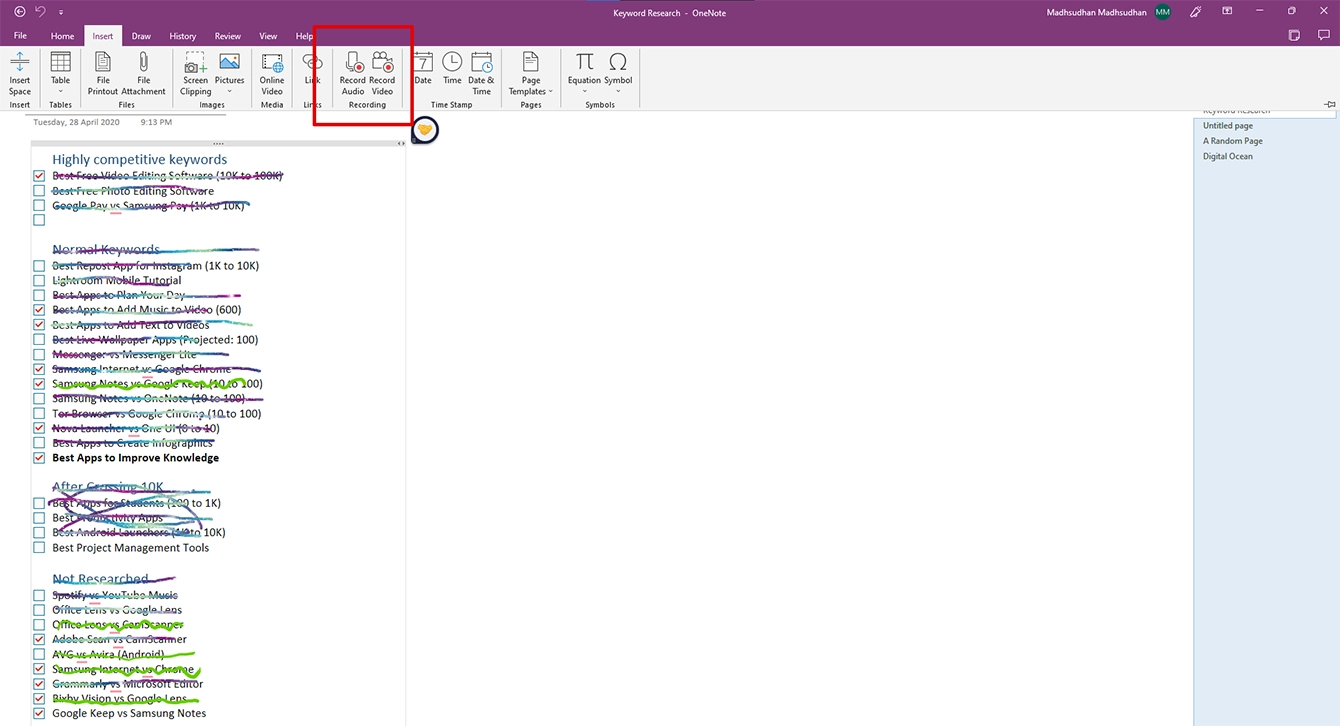 OneNote lets you record and insert both audio and video in notes. In contrast, OneNote for Windows 10 only supports audio recording.
Exporting options
OneNote is the winner of this round because it supports exporting notes in OneNote, PDF, XPS, and single-file web page format.
Contrarily, OneNote for Windows 10 offers to send notes in emails, but we can't export and save notes to our computers. However, there is a way of saving PDF and XPS documents from the Print note section.
Related: Microsoft OneNote vs. Word
Sharing options
There isn't much of a difference when it comes to sharing. Both let you add email addresses and manage the permissions. Both support view and edit permissions.
OneNote has a couple of extra options that only work if you have an Office subscription. You can set the link expiration date or password to protect notes.
Also, I must mention that the Android version of OneNote does not support adding users to view or edit notes. It only supports sending copies of notes.
Templates
Another major difference in OneNote vs. OneNote for Windows 10 is templates. OneNote for Windows 10 has no templates, whereas OneNote has over 75 free-to-use templates.
Most templates are basic, but you have the option to see and inspire yourself and find something perfect.
Synchronization
Both support synching of notes using OneDrive (cloud storage program). Any changes you make in one app will amend changes in the other OneNote apps regardless of the platform.
The app automatically syncs notebooks, but you can sync data manually.
Backing up data
OneNote lets you store backups of notebooks on local storage, but this option is not available in the Windows 10 version.
You can configure the backup interval and backup copies. Furthermore, the backup files are stored in the installation directory but can be modified.
Drawing tool
Both have the drawing tool, but there are some minor differences. The first difference is choosing a custom color for pens and highlighters.
In OneNote, you can choose from 52 colors. In comparison, OneNote for Windows 10 offers 17 colors, each with 19 shades.
Related: OneNote vs. Notion
Proofreading
Proofing is a part of the OneNote vs. OneNote for Windows 10 comparison. Both have a proofreading feature to identify and correct syntax errors, but the OneNote app lets you manage what to mark as an error.
Under the proofing section, you can modify the below settings:
Ignore uppercase words, alphanumeric words, URLs, and file addresses
Flag repeated words
Use uppercase letters with accents in French
Suggest from the main dictionary only
Add a custom dictionary file
French modes: Traditional and new spellings
Spanish modes: Tuteo verb forms only
Check to spell as you type
Hide spelling and grammatical mistakes
Check grammar with spelling
An option called "AutoCorrect Options" is available to change the options. For example, you can set it up so that certain words are replaced by a special keyboard and math symbols.
OneNote already has lots of built-in options for automatic corrections. For example, if you type "alpha," the "α" symbol will replace it.
On the other hand, OneNote for Windows 10 only lets you enable and disable proofing and auto-correct options.
OneNote only options
Here we see some extra options only available in the OneNote app.
Ruler
It helps you draw straight lines and align objects.
Arrange
This feature is used to move objects forward or backward.
Rotate
The option is for rotating pictures, drawings, and shapes.
Ink to Math
This feature helps us write complex math equations without searching for and using math symbols. It recognizes your handwriting on a drawing board and converts it into a math equation.
It saves time because finding mathematical symbols can be time-consuming.
Which one is for you
Although I don't see many differences, I suggest using OneNote for Windows 10 if you want just the core features. It is already installed on your PC.
The OneNote app gives you more control, and you will benefit from this app if you like having more features.
The app has templates, more sharing options, advanced proofing, and some other tools for advanced players.
OneNote vs. OneNote for Windows 10: Links
Conclusion
This is the end of the OneNote vs. OneNote for Windows 10 article. The interface of OneNote is like other Office apps, whereas the Windows 10 version is different and classy.
Please let me know what you think of both in the comments and share this article with your friends if they use either of those apps.