Whether you are a student or a content creator, a writing assistant is important. Two popular grammar checkers are Microsoft Editor and Grammarly.
If you are looking for Microsoft Editor vs. Grammarly with tests, this page is all you need.
Quick overview
Both Microsoft Editor and Grammarly are free writing assistants for major browsers. Grammarly is more accurate than Microsoft Word and supports more websites.
Microsoft Editor is also the built-in writing assistant on Microsoft Office apps.
Platforms
Microsoft Editor, as mentioned, is for chromium browsers. It works on many websites, but you don't get any desktop or mobile apps.
On the other hand, Grammarly supports desktop computers, office suites, and mobile phones. Here is where Grammarly can be used:
Chromium browsers and Firefox (extensions)
Microsoft Word (add-in)
Google Docs (extension)
Android (keyboard app)
iOS (keyboard app)
Desktop (native app can check mistakes from Notepads, Slack, and other desktop apps)
Related: LanguageTool vs. Grammarly
Languages
Microsoft Editor takes the cake in this round. Microsoft Editor supports over 50 languages to check your writing.
However, according to its settings page, the efficiency of checking mistakes in all languages is not the same.
Grammarly, on the other hand, supports the 4 English language variations. These include:
English American
English British
English Canadian
English Australian
Compatibility
After testing both on many websites, I can freely say that Grammarly supports more websites.
Microsoft Editor supports popular services, including Gmail, Outlook, Word, Docs, etc., but when it comes to smaller platforms, it does not work. Grammarly supports most of the websites, including this one.
Other Grammarly features
Grammarly has a few other features that we don't see in Microsoft Editor.
Grammarly, while suggesting a fix, shows the error type with more information. There is a button that goes to an article discussing that issue type.
It sends you the weekly statistics, including your productivity, mastery, and vocabulary score. It also shows the type of mistakes you make frequently.
You can double-click on a word in browsers to see its meaning and synonyms.
Finally, you can save personal words in the dictionary to stop the app from correcting you.
Related: Grammarly vs. Outwrite
Tests
To find the best tool, we must see both in action. In this section of Microsoft Editor vs. Grammarly, I'm conducting two tests and finding the most accurate tool. Both tests are recorded below for you to see for yourself.
Test 1
Microsoft Editor found six issues in the first test, while Grammarly found six grammatical issues, one language variant error, and one conciseness mistake.
Winner: Grammarly
Test 2
Like the first test, we see Grammarly winning in the second test. Microsoft Editor's AI found six mistakes. Grammarly, on the other hand, suggested fixes for nine issues.
Winner: Grammarly
Both tests prove that Grammarly is better at checking and fixing grammar and spelling mistakes.
Test 3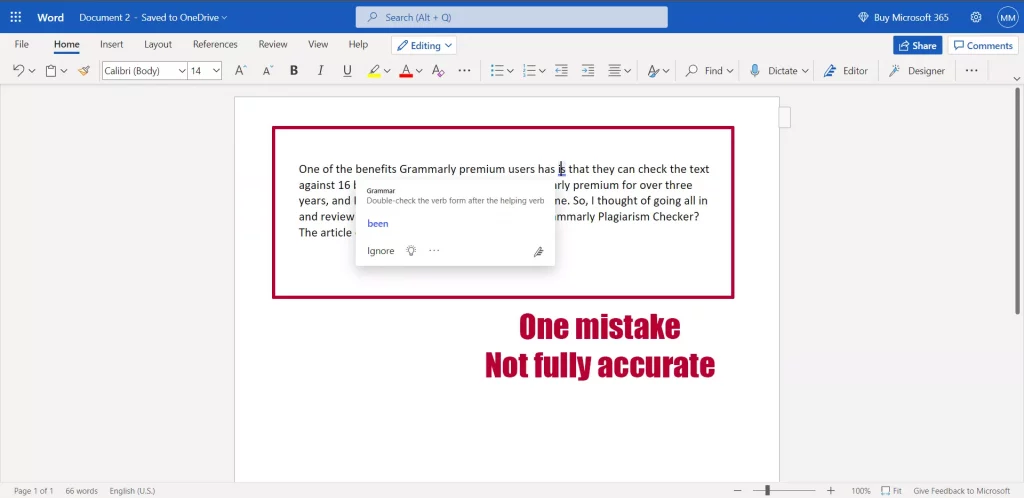 This time I did a quick test to see if Microsoft Editor has improved. Let me stop you there; it hasn't as of the 14th of May 2022. Take a look at the two screenshots (Microsoft Editor to the left and Grammarly to the right).
Winner: Grammarly
Premium and pricing
Pricing is the last and most important section of the Editor vs. Grammarly article. Microsoft Editor is a part of the Microsoft Office subscription. The free plan checks for basic grammar and spelling issues, while the premium app supports:
Advanced grammar checking
Clarity
Conciseness
Formal language
Vocabulary
Punctuations conventions
Microsoft Office 365 Personal costs $6.99 per user per month. The plan offers Office apps, such as Word and Excel.
The upper-hand plan is Microsoft 365 Family costing $9.99 per month. The features are the same, but you can add up to six people to use the Office apps and Microsoft Editor.
Moving to Grammarly, you have a couple of options. Grammarly offers one premium plan for individuals and one for businesses.
One can pay month to month, quarterly, or yearly. The one-month plan costs $30, the quarterly plan costs $60 ($20/mo), and the annual plan costs $144 ($12.20/mo). You can expect features such as:
Clarity
Tone adjustments
Plagiarism checking (see it in action)
Word choice
Formality level
Fluency
Additional advanced suggestions
The business plan is for three or more users. In this plan, you track your team's performance by evaluating brand tones, style guides, and snippets.
Related: Grammarly vs. Linguix
What's best for you?
One thing I don't like about Microsoft is not testing the program correctly. When Microsoft Editor came, it was useless. It did not work correctly, and still, it sometimes shows the exact nature.
Moreover, from the tests, we found that Grammarly free performs better than Microsoft Editor. So, at this point, I don't see any reason to use Microsoft Editor. We may see improvements from Mircosoft's end, but let's focus on Grammarly until we don't.
Microsoft Editor vs. Grammarly: Links
Conclusion
From people who type over 500 words a day to occasionally typing, having one of those tools can benefit in many ways.
Even though there are a couple of downsides to using writing assistants, the benefits outweigh those disadvantages.
Anyway, I must stop writing the Microsoft Editor vs. Grammarly article now because I have covered everything you need to know to decide on the right program.
Feel free to leave your remarks in the comments to help improve this article.