Todoist has come a long way, but other apps are also here with some amazing features. Microsoft has its own To Do app for tasks.
What will happen when we compare the two? This is the ultimate Todoist vs. Microsoft To Do comparison to help you decide.
The difference
Todoist is an advanced task management program offering to create and complete tasks, whereas Microsoft To Do is a simple to-do app with reminder and My Day features to help you get things done quickly.
Features
Both have so many similar features. Here is what you find in both apps:
Tasks and descriptions
Task due dates
Task reputation
Projects
Collaboration
Task assigning
The below sections cover the specific unique options offered by both.
Todoist
Task priority: You can prioritize tasks by applying priorities. Priorities (four by default) change the task's color so that the most important ones are visible even in the crowd. The P1 tasks are in red, while the P2 tasks are in orange.
Sections: You can create sections and add tasks under each section. Sections help organize tasks, especially in a project.
Task comments: You can add comments to a task. The comment feature can also be used to notify anyone in the project.
Kanban boards: With the help of sections, you can change the list view of tasks to a Kanban-style board. See an example video.
Goals: Todoist tracks tasks and shows goals. The app also tracks your overall performance and calculates your productivity level.
Quick add: The quick add feature uses natural languages to automatically set task details. For example, if you type "3 pm" after the task's title, the app automatically sets the due time to 3 pm. This also works for days, priorities, and more.
Activity history: The feature specific to Todoist is seeing the task activity.
Filters: Filters manage your workflow. You can create new filters, but the app does not allow attaching filters to tasks. Those automatically find tasks based on the settings you provide while creating them.
Quick delay: On desktop computers, you move the task to tomorrow by dragging it to the bottom.
Calendar integrations: Todoist can be integrated with the common calendars, including Google and Microsoft Calendars.
Related: TickTick vs. Todoist
To Do
Reminders: You can set reminders for tasks. This feature is available in Todoist but only in the premium plans.
My day: The main interface is the "My day" section when you open the app. Here you can quickly add tasks due today.
Important tasks: Like priorities, To Do can make a task important. Those tasks are displayed in a separate section called "Important."
Platforms
Both support desktop computers, standard browsers, and mobile platforms. Todoist is offered on Linux OS too.
Todoist can be downloaded from the official website on Windows PC, whereas To Do is available on Microsoft Store.
Related: Trello vs. Todoist
Integrations
This section is more specific to Todoist because it supports over 65 apps to connect for free. Some of the popular integrations include:
Toggl Track
Slack
Zapier
Evernote
Jira
Zoho Mail
It may only support 65, but the automation tool Zapier can connect Todoist with hundreds of productivity apps, so in all, you have many options.
Microsoft To Do is integrated with other Microsoft apps, so it becomes easier if you use Outlook and Microsoft Calendar, but that's pretty much it.
Pricing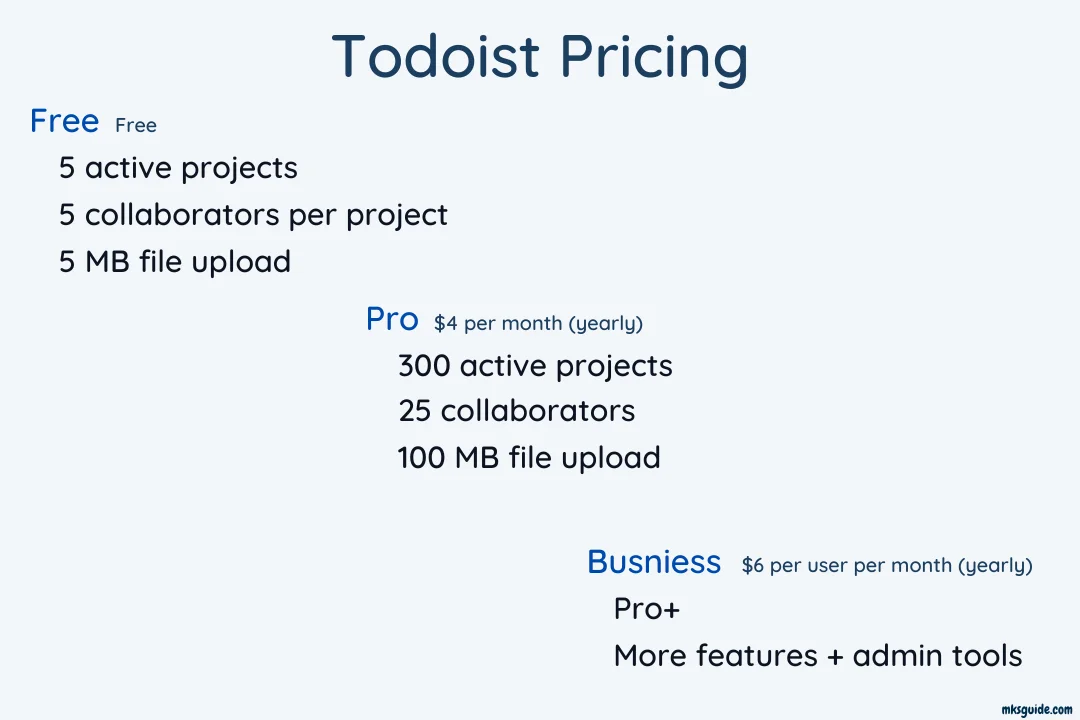 As mentioned, Todoist is freemium, while To Do is free. In this section of Todoist vs. To Do, we look at the premium plans of Todoist.
The free plan comes with all the features mentioned above, but the app is limited to the following:
Five active projects
A maximum of five people per project
Five MB file upload limit
Three filters at maximum
1-week activity history
The premium plan called Pro can be subscribed to monthly for $5. You can also pay $4 per month on the annual contract. The plan extends the functionality of the free plan and offers:
300 project limit
25 people per project
100 MB upload limit
150 filters
Reminder feature
No limit on activity history
Auto backups
Themes
The upper-hand plan, Business, costs $6 or $5 if paid yearly and offers additional features. This plan suits teams and groups.
Which one is for you
You should go with To Do if you want a simple app for personal or work projects.
Todoist is for individuals and teams but is more focused on the commercial side of things. If to-do is important to your business, you can get Todoist. However, the free plan has limited options.
Todoist vs. Microsoft To Do: Links
Summary
I have used both, and I can say in this Todoist vs. Microsoft To Do that both will work fine.
Microsoft To Do integrates with Microsoft Calendar and other Microsoft apps, whereas Todoist supports other calendars benefiting in this part.
Madhsudhan Khemchandani has a bachelor's degree in Software Engineering (Honours). He has been writing articles on apps and software for over five years. He has also made over 200 videos on his YouTube channel. Read more about him on the about page.