Adobe Audition is premium, while Audacity is free. Both work fine if you want to start recording audio for yourself. The problem begins when you want more features.
This is where you think of an open Adobe Audition vs. Audacity comparison. Let's discuss both and see which one is right for you.
Quick overview
Both Adobe Audition and Audacity are audio and music recording programs. Adobe Audition offers a rich interface and tools, but it is costly.
Audacity has a dated interface, but it is free and good enough for beginners to start their journey.
Interface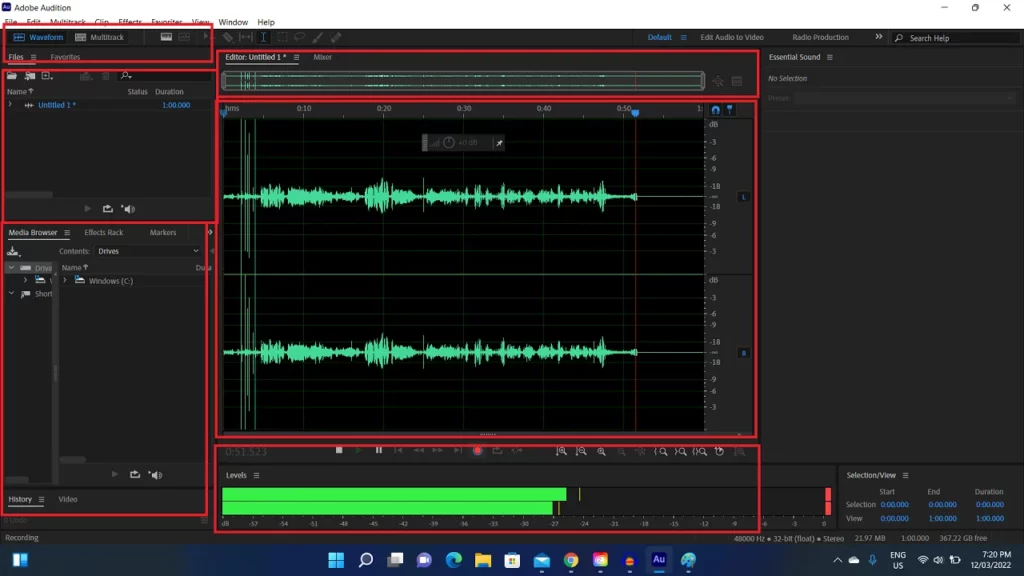 Adobe Audition has a sleek design, while Audacity gives an old vibe. It uses basic colors and an old layout.
Adobe Audition has a few distinctive options, including file properties, radio production mode, waveform editor, and help section. Audacity also has a few particular options, such as playback loop, microphone and speaker volume bars, project rate, etc.
Features
Let's explore the features of both that can benefit you in this Adobe Audition vs. Audacity article.
Adobe Audition
Highly customizable interface: The interface is highly customizable, allowing you to add, remove, and change sections to suit your style.
Compatibility: Adobe Audition is connected with other Adobe apps. For example, you can send Premiere Pro sequences to Audition. You can also export audio from Audition to Premiere Pro and Media Encoder.
Radio production: A separate editing mode for radio shows.
One window for all projects: The program supports managing multiple recordings in one window. Audacity opens up a new window for the new project.
More removing tools: Compared to Audacity, you find multiple quick background remover options.
Audacity
Repeat the last edit: Audacity has a great option to repeat the last process. The option is visible at the top of the effect menu after an effect has been applied.
Meta Tags: Before exporting the file, you get an option to insert the file details, such as artist name, track title, album title, and year.
Similar features
History: Both offer an option to view and restore edit history.
Audio effects: You get many audio effects to enhance your recording.
Markers: Both allow you to add markers. On Audition, press M, while on Audacity, you can hold Ctrl + B.
Shortcuts modification: You can modify the shortcuts to make programs your own.
Related: Filmora vs. Premiere Pro
Effects
In this section, we will compare some common effects and how both perform. On Audition, you find effects categorized in the effects navigation menu, while Audacity displays effects alphabetically.
It also separates the "generate" effects in a separate navigation menu. Look at the table below to see all the supported effects.
Audition
Audacity
Invert
Reverse
Silence
Generate noise
Generate speech
Generate tone
Match loudness
Selection auto-heal
Amplify
Channel mixer
DeEsser
Dynamics
Dynamics Processing
Fade Envelope
Gain Envelope
Hard Limiter
Multiband
Normalize
Single-band
Speech Volume
Tube-modeled Compressor
Analog Delay
Delay
Echo
DeClicker
DeClipper
Delete Silence
Mark Audio
FFT Filter
Graphics Equaliser (10, 20, 30 Bands)
Notch Filter
Parametric Equaliser
Scientific Filter
Chorus
Chorus/Flanger
Flanger
Phaser
Capture Noise Print
Noise Reduction
Learn Sound Model
Sound Remover
Click/Pop Eliminator
Hiss Reduction
DeNoise
Adaptive Noise Reduction
Automatic Click Remover
Automatic Phase Correction
DeHummer
DeReverb
Convolution Reverb
Full Reverb
Studio Reverb
Surround Reverb
Distortion
Doppler Shifter
Guitar Suite
Mastering
Loudness Meter
Loudness Radar Meter
Vocal Enhancer
Center Channel Extractor
Graphic Phase Shifter
Stereo Expander
Automatic Pitch Correction
Manual Pitch Correction
Pitch Bender
Pitch Shifter
Stretch and Pitch
Amplify
Auto Duck
Bass and Treble
Change Pitch
Change Speed
Change Tempo
Click Removal
Compressor
Distortion
Echo
Fade In
Fade Out
Filter Curve EQ
Graphic EQ
Invert
Loudness Normalisation
Noise Reduction
Normalize
Paulstretch
Phaser
Repair
Repeat
Reverb
Reverse
Sliding Stretch
Truncate Silence
Wahwah
Adjustable Fade
Clip Fix
Crossfade Clips
Crossfade Tracks
Delay
High-Pass Filter
Limiter
Low-Pass Filter
Noise Gate
Notch Filter
Spectral Delete
Spectral edit multi-tool
Spectral edit shelves
Studio Fade Out
Tremolo
Vocal Reduction and Isolation
Vocoder
Generate Chirp
Generate DTMF Tones
Generate Noise
Generate Silence
Generate Tone
Generate Pluck
Generate Rhythm Track
Risset Drum

Audition vs. Audacity Effects
Even though Audition offers more effects, most of the common effects are available in Audacity too.
Noise reduction
In this round, I reduced the noise of an audio file in both. In Adobe Audition, the noise was reduced using the DeNoise tool at 31%. In Audacity, the default settings were used to eliminate noise.
Amplify
Like noise reduction, I applied the amplify effect on the same audio file in the normal settings. Let's hear the difference below.
Storage
Audition occupies about 0.98 GB of storage which is more than 87 MB of Audacity. Audition's design and rich interface are two reasons for its size.
Also consider reading: Photopea vs. Photoshop
Multitracking
The way both handle multitrack recording is different. Audition offers two modes: waveform and multitrack. The waveform mode focuses on the single track, while you focus on multiple tracks in the multitrack mode.
Audacity, on the other hand, allows adding tracks with one click. It does not follow the concept of the modes mentioned above.
Saving and exporting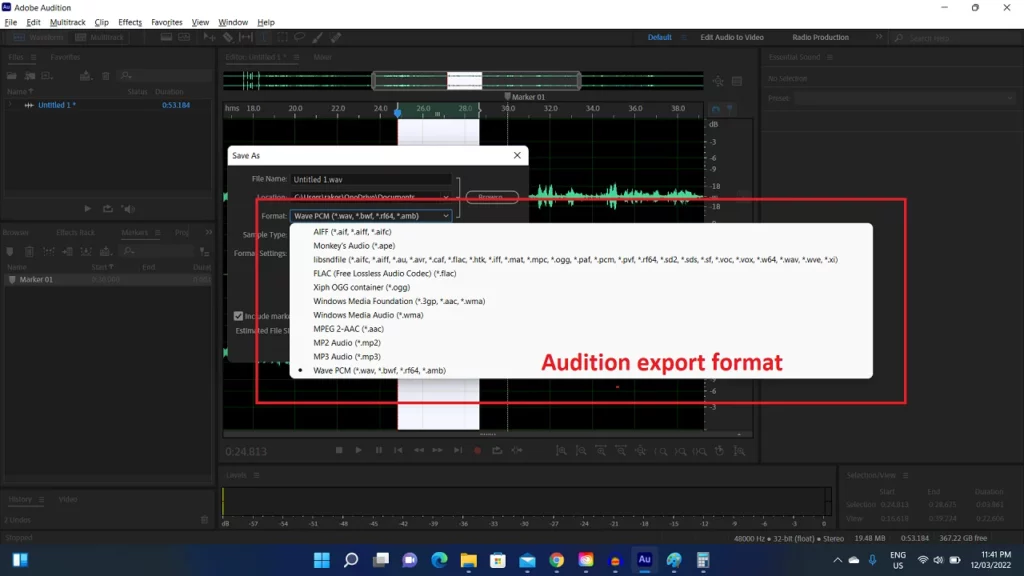 Adobe Audition does not use projects. In the waveform mode, it saves the audio as the WAV file that can later be opened in Audition and other audio and video editing apps. In the multitrack mode, the program saves projects as sessions.
Audacity saves the project with its own file format. With the file, two other files are created, so it's good practice to save the project in a separate folder to keep all the files safe.
You can also export files in other formats. Audition natively supports over 20 audio formats, including OGG, MP3, MP2, and AIFF.
The latest version of Audacity also supports multiple formats natively. You can export audio in OGG, WAV, MP3, and MP2 files. Overall, Audition supports more formats.
Also, the older versions of Audacity do not support MP3 by default, so a plugin that Audacity suggests while exporting for the first time is required.
Pricing
As discussed, Audacity is free for everyone. On the other hand, Audition is a subscription-based program with several pricing options. You can use it by subscribing to one of the below plans:
$20.99 per month on the yearly plan
$31.49 per month on the month-to-month plan
$239.88 for the annual plan. The plan costs about $19.99 per month.
If you are into video editing, photo editing, and graphics, you might consider the Creative Cloud package, which gives access to 22 Adobe apps. The plan starts at $52.99 on the annual contract.
Adobe Audition or Audacity
If you are starting and want to save some bucks, I suggest starting with Audacity. Its interface is old, but overall it has all the options you will need for at least a year.
Once you understand how those DAWs work and you want more advanced settings, Adobe Audition will be appropriate then.
For those who already have experience and are not afraid to spend some money, Adobe Audition will suit them better. Its relation and compatibility with other Adobe apps make it a great platform to record your voice and songs.
Adobe Audition vs. Audacity: Links
Wrap up
There is no best tool. Each has pros and cons. The best thing we can do is find the most suitable program. Anyway, the article Adobe Audition vs. Audacity compared both tools equally. I hope it helped you find a convenient service.
Please share your views in the comments and subscribe to the newsletter to receive updates.