There are many free video editing tools. Two of those are Shotcut and OpenShot. The article delves into the two and covers Shotcut vs. OpenShot.
Interface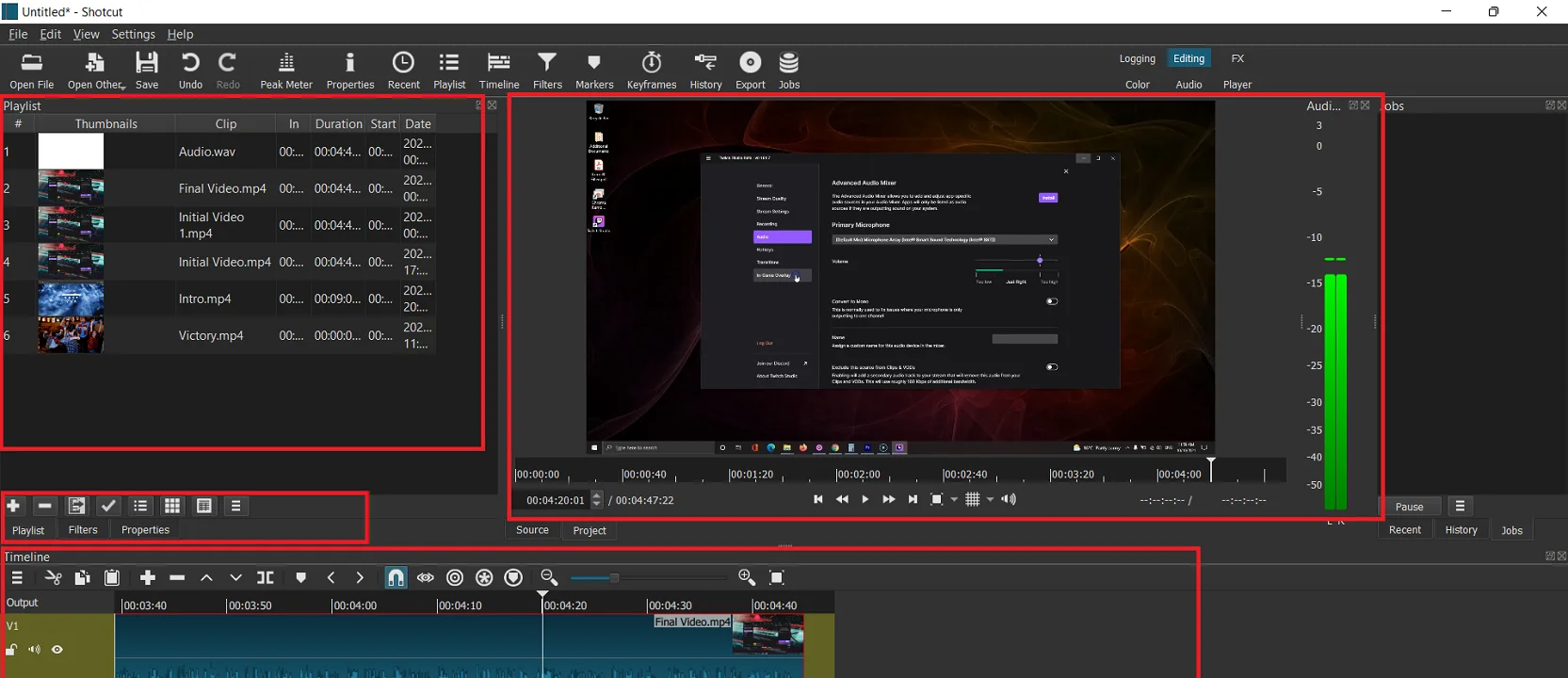 Both use a bit dated interface. You get files to the left and the main preview to the right. The timeline is at the bottom, with the main navigation at the top.
One different thing about Shotcut is that it uses modes and workspaces which are not available in OpenShot (discussed below).
Platforms
Both are available only on PC. You can download both on Linux, Mac, and Windows.
Tools
Text titles
Shotcut does not come with title styles. Instead, add three text types: simple, GPS, and rich. Both simple and rich text filters come with ten presets. Those presets are for text positions and styles.
OpenShot offers over 45 text titles. You can find the text title section on the top navigation bar. It opens as a separate window where you can edit the text.
Transition effects
OpenShot gets the win in the round of Shotcut vs. OpenShot. Shotcut only has 24 transition effects. You can also add custom transitions depending on your video style.
OpenShot comes with 400 transition effects. Adding transitions on OpenShot is quicker as you go to the transitions, drag an effect, and drop it between two clips.
In Shotcut, you must make a section by overwriting the two clips. In that transition section properties, you will find transition options and details.
Related: Shotcut or DaVinci Resolve
Ease of use
As mentioned, Shotcut has lots of modes on the top. As you click on any, the files section changes to that.
For example, if you click on markers, the program shows markers instead of media files. Also, in total, it has six workspaces:
Logging: Project properties, history, and media files.
Editing: The main editing interface.
FX: Filters and filter keyframes.
Color: Color grading of the project.
Audio: An audio editor to improve and edit audio separately.
Player: To play the project video in a big and enhanced video player.
The layout changes according to the workspace selected.
The OpenShot interface is easy to navigate. It does not offer workspaces, but we see two views: easy and advanced.
The easy mode displays the most options, whereas the advanced mode shows all the panels. Of course, you can customize the tool for better editing.
Note: Several times, OpenShot crashes when I work with effects, which is a major drawback. If you consider using it, saving the project when possible would be helpful.
Other features
Shotcut
MKV support
OpenShot does not correctly support MKV formats, while Shotcut supports this format.
Other filters
Besides text and transitions effects, you find many video and audio effects. These include deinterlacing, 360-degree video, video scopes, tone generators, and more.
Color grading
Shotcut has a 3-way color grading and correction tool that can be enough for social media videos.
Additional editing
Shotcut has various other editing tools. Some include a clip trimmer, a timeline with a ripple option, hide or lock track controls, a custom name for clips, a notes-taking panel, etc.
GPU acceleration
Shotcut supports GPU video rendering, while OpenShot uses CPU to render videos.
Timecode and frame rates
The simple text option allows displaying the video time, date, and frame rates in the video.
Filter keyframes
You can get a keyframe option for filters.
Display and monitoring
Shotcut offers multiple features for monitoring displays, like a detailed media properties panel, a recent files panel with search, an on-screen grid, safe areas with snapping, and editable keyboard shortcuts.
OpenShot
Emojis
OpenShot has over 1,100 emojis free to add to the video.
Organized media
You can only see videos, audio files, and images by clicking on the filter buttons on the top.
Animated titles
Powered by Blender, OpenShot offers 20 animated titles. The only problem is that Blender is required to use those.
Profiles
OpenShot has profiles to save your video settings for other projects.
Similar features
Other effects
Like the transition and text effects, you find many audio and video effects.
4K export
Both support 4K video exporting.
Proxies
Both programs support proxies to decrease the program's effect on the computer.
Read next: Kdenlive or OpenShot
Tracks
Shotcut comes with zero tracks by default, and when you add a video, a new track is created.
To add more, your only option is to right-click on the timeline and go to the add "tracks section."
Shotcut also separates audio and video tracks. You can also alter the height and the length of the track.
OpenShot, by default, comes with five tracks. The plus option is right above the timeline to add a track. The added track can be used for audio, video, and emojis.
However, there are factors where Shotcut works better. While using OpenShot, I encountered crashing issues on Windows 11, especially while using MKV files.
Summary
OpenShot is more suitable for beginners. Shotcut has more features, making it a bit challenging but an advanced tool.
For quick social media videos, OpenShot will be fine. If you want more than simple videos and are unafraid of challenges, go with Shotcut.
It's like comparing Filmora and Premiere Pro. Both are fine; it's just both are for different audiences.
Shotcut vs. OpenShot: Website links
My name is Madhsudhan Khemchandani. I have a bachelor's degree in Software Engineering (Honours). I have been writing articles on apps and software for over five years. I have also made over 200 videos on YouTube. Read more about me on the About page.