Photopea and Photoshop are image editing and manipulation programs offering several options. Along with similar interfaces, you find tools with the same names.
How do both differ? This is the Photopea vs. Photoshop comparison to help you see the differences.
Quick overview
Photopea is an excellent alternative if you can't afford Photoshop. It may not have all the Photoshop options, but it comes with basic photo editing tools.
What are both
Photopea is a free web-based photo editing program offering over 40 editing tools, including lasso, crop, and clone.
Adobe Photoshop is a computer and mobile application supporting a few more options than Photopea, but it's a SaaS program, meaning you will pay as long as you use it.
Ease of use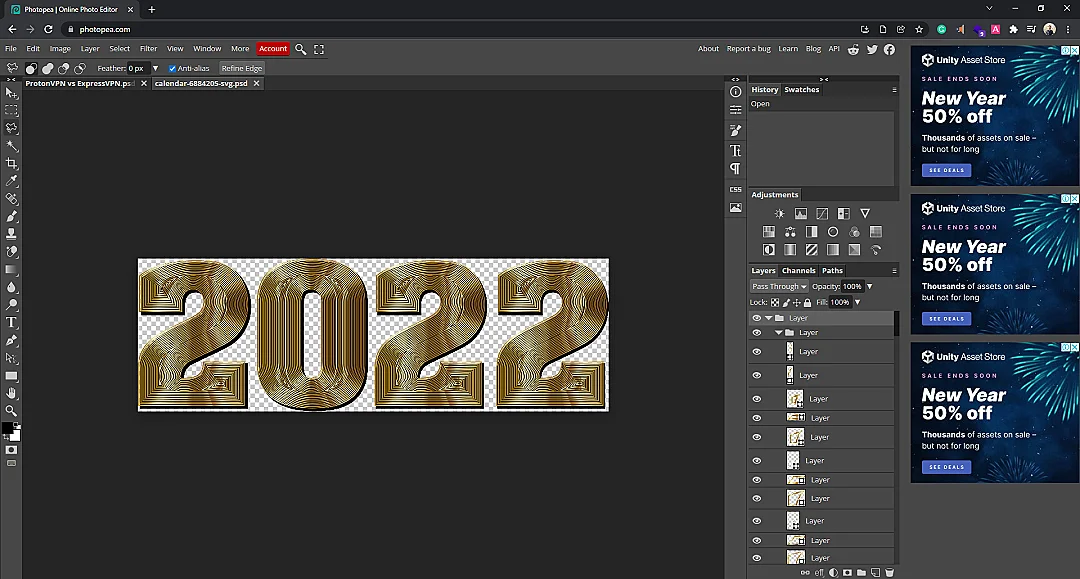 If you are starting, you will find Photopea more user-friendly. Although both look alike, Photoshop is crowded with panels.
With that in mind, there are some drawbacks to Photopea. The tool sometimes lags while editing, and some features are not as smooth as Photoshop.
Editing tools
Even though Photoshop has more options, Photopea is a world on its own. Here are the common tools available in both:
Common edits in both
Layers management
Layer blending
Layer opacity
Move tool
Artboard tool
Rectangle select
Ellipse select
Lasso tool
Polygonal lasso select
Magnetic lasso select
Magic wand
Quick selection
Object selection
Crop
Perspective crop
Slice tool
Slice select tool
Eyedropper
Ruler
Spot healing brush tool
Healing brush tool
Patch tool
Content-aware move tool
Red-eye tool
Brush tool
Pencil tool
Color replacement
Clone tool
Eraser tool
Background eraser
Gradient tool
Paint bucket tool
Blur tool
Sharpen tool
Smudge tool
Dodge tool
Burn tool
Sponge tool
Type tool
Vertical type tool
Pen
Free pen
Curvature pen
Path select
Direct select
Rectangle draw tool
Ellipse draw tool
Line tool
Parametric shape
Custom shape tool
Hand tool
Rotate view
Zoom
Swatches
Filters
Reapply the last filter to the selected area
Photopea
Here are a couple of features that are missing from Photoshop:
Open images from the URL
PSD templates
Photoshop
Photoshop combined with the above tools comes with the following features:
Single-row select tool
Single-column select tool
Magic eraser
Frame tool
3D material eyedropper tool
Colour sample tool
Note tool
Count tool
Mixer brush tool
Clone stamp tool
Pattern stamp tool
History brush tool
Art history brush tool
3D material drop tool
Freeform paint tool
Add anchor point tool
Delete anchor point tool
Convert point tool
Vertical type mask tool
Horizontal type mask tool
Path selection tool
Direct selection tool
3D text
Subject selection tool
More selection tools
Related: Photoshop vs. Photoshop Elements 2022
Supported file formats
Both support many image types. Here is a list of some of the popular formats:
Raster (PNG, JPG, TIFF, PSD, PCX, OpenEXR)
RAW (DNG, NEF, CR2, ARW)
Vector files (SVG, AI)
When you open a RAW image, Photoshop shows a RAW editor. The editor can be used for adjustments before importing the photo. You can also save the RAW image as JPEG before/without opening it.
The program also shows a resize window when you open a vector file. This option is missing from Photopea as well.
Photopea vs. Photoshop: Exporting
Photoshop supports more formats, but Photopea supports a few that we don't see in its opponent. Let's take a look at the common ones first.
PSD
PSB
BMP
DCS 1.0 and 2.0
GIF
JPEG (multiple)
PDF
RAW
PNG
Portable Bitmap formats (limited in Photopea)
SCT
TGA
TIFF
Here is the list of file formats that only Photopea supports:
SVG
ICO
WebP (plugin in Photoshop)
EMF
DXF
Lastly, below are the formats that we find in Photoshop:
Related: Photoshop Express vs. Lightroom
Platforms
Another advantage Photoshop has is that it is available on iOS and Android devices. However, the mobile app is independent of Photoshop desktop, so you must pay separately to use its premium tools.
Furthermore, Photoshop mobile is not as advanced as some free mobile photo editors.
Photopea is web-based but can be installed as a Progressive Web App on desktops and mobile phones. The app is mobile responsive and can run smoothly on modern devices.
Templates
Both come with hundreds of templates for inspiration. Photopea has a section to see and use all PSD templates. It categorizes templates in social, resumes, memes, and more.
On the other hand, Photoshop shows templates while creating a new photo. Under each preset option, you will find several free templates.
On the bottom, you will also find a search bar to search for templates on Adobe Stock. Some are free, while some templates are premium.
Other Photoshop options
As I have mentioned, Photoshop is vast, and in this section, we cover the additional features only in Photoshop.
Plugins
Photoshop can bring additional functionalities with the help of plugins. You will find several free and premium third-party apps to take it to the next level.
For example, the free Watermark 3 app can easily insert a watermark into your photo. Similarly, you can use the PixelSquid to use 3D objects in Photoshop.
Collaborate
Photoshop supports sharing designs and getting feedback from team members. Team members can comment and add annotations to the photo. The feature is available on the desktop, web, and iPad.
Power of Adobe
Photoshop is integrated with other Adobe apps to provide a better experience. You can use Photoshop files in Premiere Pro, After Effects, and other Adobe apps.
Pricing
Here is the breaking point of this Photopea vs. Photoshop article. As mentioned above, Photopea is free to use. There are no limitations on photos and edits.
The premium plan costs about $3.33 per month, which removes ads and offers advanced edit history.
Photoshop, on the other hand, is not free. You can pay $10 per month or $119 to use the tool for a year. The plan comes with 20GB of cloud storage and the Lightroom program.
A more expensive Photoshop plan is also available that does not include Lightroom, but you get 1TB of cloud storage.
Related: Krita vs. Photoshop
Which one should you use?
Honestly, it all comes down to features and cost. Photopea has what beginners to intermediates need. If you are starting, then, Photopea is the one to choose. It is also free, so you won't be spending any money.
Another reason to use Photopea is that it looks similar to Photoshop, so even in the future, if you decide to move to Photoshop, it won't take much time to learn.
If you are already a photo editor and want access to all possible options, go with Photoshop. It will give you the power to take your career to the next level. Of course, unless your imagination stops you.
Links
Summary
The Photopea vs. Photoshop article compared the essential options of both programs. I hope it helped you choose a suitable tool for yourself.
Please let me know if you missed or did not like something, and I will get back to you as soon as possible.